It's a familiar story, you find a hotel with one excellent review after another, but it doesn't meet your expectations when you get there. Reviews influence the majority of our decisions, everything from healthcare to Amazon purchases. Tap or click here to find out why Apple just removed an app that spots fake Amazon reviews.
So it might disappoint you to learn that reviews posted to forums like Google Play and Apple's App Store aren't monitored as closely as you'd like. Business owners even pay for some reviews for positive exposure.
In some extreme circumstances, bad reviews can even be posted to competitors' websites to affect their business. If your interest is piqued, here's why you shouldn't believe all those positive app reviews.
Does Google Play and the Apple App Store allow fake reviews?
Big Tech companies like Google and Apple don't 'allow' fake reviews on their platforms. If you spot one, you can report it, so it's taken down.
RELATED: Dangerous apps can ruin your phone – How to protect yourself
Unfortunately, they don't go through reviews with a fine-tooth comb, and many fake reviews make their way to each platform. That's why you'll want to learn how to spot an honest review from a fake one.
How to spot a fake review
A valuable review can save you a lot of time and money when trying to select the best product and service, and their a few pro tips for picking out the spam. Watch for these signs that a review could be fake:
Typos
Many fake reviews are written by people who don't speak English as a first language or by those not paying close attention. Grammar and spelling mistakes are your first red flag. If they didn't have time to spellcheck their review, they don't care that much about their reviewing service.
Short responses
When you have a truly fantastic experience, you have a lot to say. A negative experience normally induces an even longer review. Those posting falsehoods typically leave a five-star review with minimal details. They are vague and lacking detail, and this should clue you in that it's unlikely the reviewer used the app or product at all.
Duplicates
Have you ever come across a bunch of reviews that look similar? That's a sign of fake reviews. It's easy enough to make a fake profile and repeat the same response multiple times to get as many good reviews as possible. If you see duplicate reviews for an app, it's probably fake.
Fake reviews on Google Play
If you head to the Google Play Store, look at the reviews for Hidden Devices Detector. It's a free app that allows you to detect devices using radiation signatures from electronics. However, if you read the reviews, it's hard to find one that isn't suspicious.
First, several of them have misspelled words and minor grammatical errors. If you look closer, the reviews are lacking details. And many of them are written very similarly, like using the app to find your remote. The rest repeat over and over again that the app is fantastic.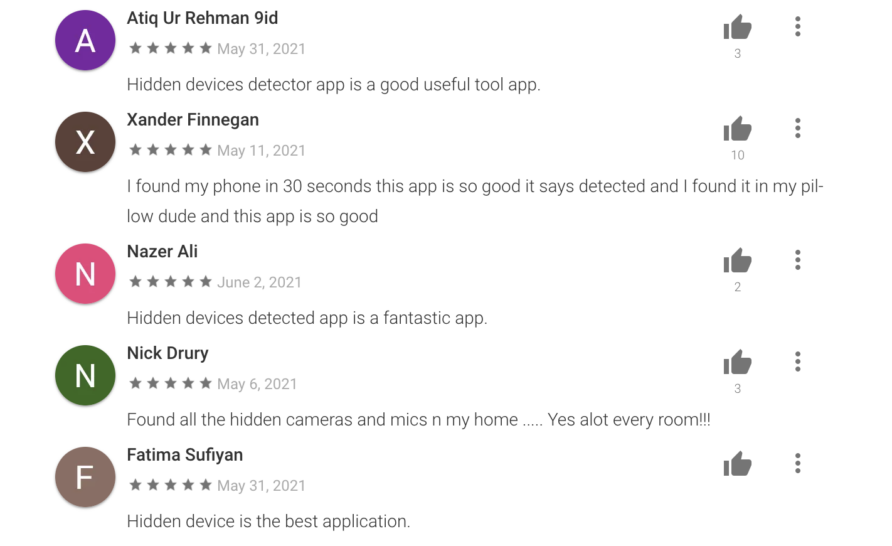 Fake reviews on Apple
Google Play's fake reviews aren't alone in the marketplace. Apple has its fair share of them as well.
Apple's App Store is a hot spot for hackers who use apps and fake reviews to steal your money. Take a look at these fake reviews from the app Heart Rate Detection:
This app has a 4.1 rating on the App Store even though it offers almost no features. It also tries to charge people as much as $69.99 for its services under the radar. A closer look at the reviews shows dozens of fake responses to bolster the app's reputation quickly.
RELATED: Hackers are creating fake apps that mimic real ones – Don't be fooled
How to report a fake review on the Apple Store
If you spot a fake review, you should report it to Apple immediately. Apple makes it easy to report one, even if it's not so easy to take it down:
Choose the app with the fake review in the App Store.
Scroll down to Ratings & Reviews.
Select the review you think is fake and want to report.
Hold down on the review.
On the pop up, select Report a concern.
Fill in the information that makes you think this is a fake review.
Hit Submit.
How to report a fake review on Google Play
If you are an Android lover, you might be wondering how to report a review as well. Google gives you two options. From the Play Store on your smartphone or your browser on your computer.
From a smartphone
Choose the app with the fake review.
Scroll down to Reviews.
Choose the fake review and tap on the three dots in the corner.
A pop-up will open.
Choose from three reporting choices: pointless review, offensive content or spam.
Tap on an option to finalize your report.
From your computer
Open the Google Play Store in your browser on your computer.
Search for the app you want to report in the search bar.
Find the review you wish to report and tap on the three dots in the corner.
A pop-up will appear.
Choose from two options: Spam or Unhelpful.
Select an option to finalize your report.
You should always use caution when counting on reviews to make purchasing decisions. Outside of fake reviews, each user experience is different, and yours might not be the same. Worried about reviews on other websites? Tap or click here to learn about a recent Amazon review scam.