Anyone who regularly browses the internet needs antivirus software. Think of it as a life jacket. It's there to keep you safe in case of an emergency.
And when malware strikes at your defenses, it's code red. You're afraid that you'll lose everything, your emotions are high and you might not be in the right state of mind to find a good solution. That's why preventative measures make a world of difference.
The best way to set yourself up for success is by having a good antivirus solution on your devices. We recommend our sponsor, TotalAV, an industry-leading security suite that provides the best protection in the business. You can get complete protection for a whole year at ProtectWithKim.com for just $19!
So you just found out malware's infected your phone or PC. Now what?
You'd like to think you're safe on the internet, especially if you avoid shady websites. But, sadly, viruses can pop up everywhere — even in unexpected places. So if your PC comes into contact with malware, you want your device to be able to fight it off.
1. Install a virus scanner to see what you're up against
Before you can even start thinking about a good defense, you'll want to confirm your fears with a virus scanner or your antivirus software of choice. We recommend TotalAV. More on that below.
2. Disconnect from the internet to prevent further damage
Your virus found you online, so you'll want to disconnect from the internet to make sure it doesn't spread. Unfortunately, disconnecting a computer from the internet doesn't fully disable the malware. It just stops the malicious program from damaging your device even more.
3. Protect yourself by running a disk cleanup
Next, you need to run your PC's native Disk Cleanup. This removes the lingering junk hurting your computer. (Plus, it also speeds up your system.) Follow these steps to run a disk cleanup on Windows 10:
In the search box on the taskbar, type disk cleanup.
Then, select Disk Cleanup from the results list.
Pick the drive you want to clean up and tap OK.
Under Files to delete, find the file types you want to get rid of. (Want a description of the file type? Just select it.)
Hit OK, and you're good to go!
Are you worried about a virus on your phone? Tap or click here to clear up your iPhone's cache.
4. Trigger safe mode by rebooting your computer
This special mode puts Windows in a basic state that uses a limited amount of drivers and files. It helps you protect your PC while you fight the virus. Here's how you can reboot your computer in Safe Mode:
Tap on your keyboard's Windows logo key. At the same time, hold down the R key. You'll see a box called "Run" pop up.
Type msconfig into the box.
Then, select OK. Your screen should look like this:
Now, you'll open a new window called "System Configuration." Navigate to the Boot tab.
Once you're there, go down to Boot options. Check the box next to Safe boot. Then, hit OK. Your screen will look like this: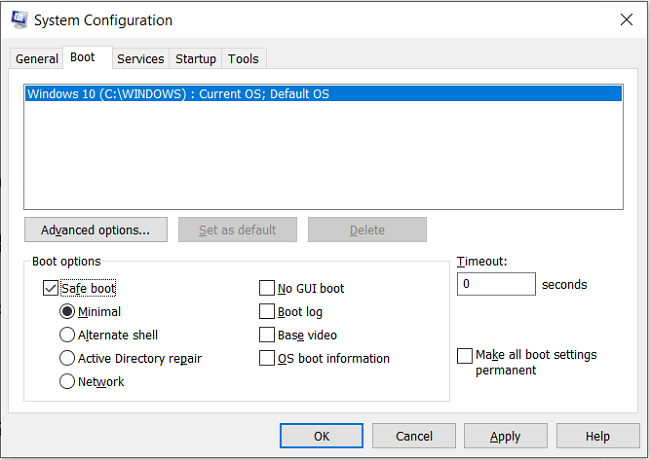 Now, you should reboot your computer to open up Safe Mode.
If the problem's on your phone and not your PC, don't worry. We've got helpful tricks that can help you save your mobile device. Tap here and scroll down to step six for the Safe Mode solution.
5. Now it's time for a virus scan
This is the most critical step. Run a virus scan using your antivirus software. This will identify the dangerous files that you can now delete or quarantine to boot the virus off your computer permanently.
While at it, don't forget to scan your computer to ensure you've eliminated the threat for good. Find any new threats? Delete or quarantine the files again. Lather, rinse, repeat.
When it comes to antivirus software, there's no better choice than our sponsor TotalAV
For one, TotalAV is available for both your phone and computer, so all your devices are protected. This security suite protects all your devices from the scariest threats on the web, like ransomware, spyware, adware and (of course) malware. Its WebShield feature provides advanced protection against malicious websites, and it even blocks bad guys from stealing your data.
Even better, TotalAV is 100% compatible with Windows PCs, Macs, iPhones and Android phones. You get complete protection from cybercriminals since it protects your routers and your smartphone, computer or tablet. It doesn't hurt that TotalAV can make your tech run faster!
What are you waiting for? Sign up to get an annual plan with TotalAV for only $19 at ProtectWithKim.com. That's over 85% off the regular price, just for you!