Viruses have been things to fear in the world of personal computing for decades, but it's just as important to protect your Android device as it is your PC. Especially when you consider how much private information we store on our phones from credit card information to passwords and more.
Before you start proactively protecting yourself from intrusions on your Android device, it's important to make sure your device is not already infected. Tap or click here to learn how to tell if your Android device has a virus.
From malware-laden apps to dangerous links sent by email or text, there are many ways viruses can find their way onto your Android device. Thankfully, there are just as many antivirus options, and we've rounded up five in no particular order so you can choose the software that's right for you.
Bitdefender mobile security
If you're looking for a one-stop-shop to handle all your security needs on Android, Bitdefender Mobile Security is the app for you. If you can spare $15 a year for the service, Bitdefender Mobile Security has top of the line malware protection and useful features like remote access and email monitoring, as well as a minimal impact on system performance and battery life.
The Good:
Great malware protection
Lots of features
Minimal system impact
The Bad:
$15 price-tag without a free version
Bitdefender Mobile Security is a no-frills, comprehensive, premium take on Android security anyone can download and feel confident about their mobile security with.
Avast mobile security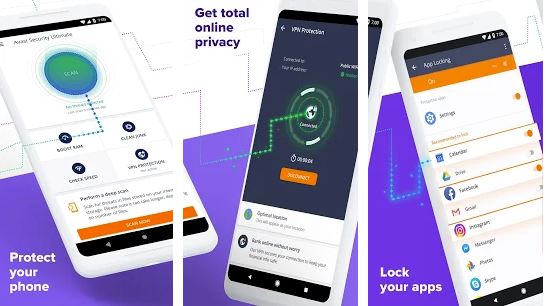 In 2020, paying upfront for a mobile application makes some uncomfortable, and for those, there's Avast Mobile Security. Much like its longtime PC counterpart, Avast Mobile Security comes in both a free and a paid version, which runs you $24.99 a year for Android.
Both versions of the app boast the security features you'd expect and then some, like extensive potential threat blocking, remote access, performance enhancements, and insights into your usage.
The Good:
Solid malware performance
Tons of features in both versions
One of the most popular antivirus apps
The Bad:
Malware protection outclassed by more premium services
The ad-supported freemium version can be an annoyance
Comparatively expensive at $24.99 a year
Upgrading to the premium version of Avast Mobile Security removes all the ads, which is a bigger deal than you might imagine, as well as unlocks anti-theft tools, advanced app control, and tech support.
You may also like: 3 apps to make your Android run smother and faster
McAfee mobile security
Much like Avast expanded into the mobile market, so has McAfee with McAfee Mobile Security. Coming in both a free and a premium version, McAfee Mobile Security is eminently easy to use with tons of useful tips peppered throughout the app and features include risk protection, personal data security, anti-theft tools, and a performance booster.
The Good:
Ease of use
Robust feature-set
Free version
The Bad:
Expensive premium option
Only decent malware protection
Overbearing ads in free version
McAfee Mobile Security's premium comes in at a hefty $29.99 a year and offers protected web browsing, a guest mode, app locking and phone support. It also removes the ads.
Malwarebytes anti-malware
Malwarebytes, too, has a mobile version of security software for Android, Malwarebytes Anti-malware. With the usual options between either a free or a premium version, Malwarebytes Anti-malware has an impressively clean and functional interface as well as all the features you'd expect, like malware protection, scanning, and more.
The Good:
Easy to use, especially for Malwarebytes users
Good free feature-set
The Bad:
Only decent malware protection
Other services offer more features with better protection
Expensive
Malwarebytes does offer a month-long free trial of its premium Android protection. Once your month is finished you will have to pony up $39.99 a month to protect whichever device of your choosing with Malwarebytes premium. The premium version comes with a host of more advanced real-time protection features as opposed to the free version.
Sophos Intercept X for Mobile
With no advertisements and no price-tag, Sophos Intercept X for Mobile is completely free and targets the more advanced Android user, offering robust privacy control over your device. Sophos, an IT leader and client of many companies and governments across the world, offers dependable features like malware protection, link checking, privacy advice, secure QR code scanning, and much more.
The Good:
Huge list of advanced features
Free
Excellent protection
The Bad:
If you're looking not to break the bank and like exercising a little more control over your privacy rather than setting and forgetting an app, Sophos Intercept X for Mobile is the antivirus software for you!
Once you've picked the right antivirus software for you, there's still more you can do to stay safe when using your Android device. Tap or click here to learn about 3 crucial security settings for your Android.
By clicking our links, you're supporting our research, as we may earn a very small commission. Recommendations are not part of any business incentives.