When you think about the simple things in life of the 21st century, what comes to mind? How about the ability to watch just about any movie or TV show you want through on-demand streaming.
Then there's the ability to live your entire digital life through the computer you keep in your pocket that also makes phone calls. Even more simple, getting your hands on a cold soda or bottle of water without having to leave your desk, thanks to a tiny appliance you might barely realize is there.
Not only can it keep what's inside cold, but you can also flip a switch to keep your lunch warm or take it with you on a road trip. But is this personal cooler worth it?
Uber Chill Personal Mini Fridge
This is the Uber Chill Personal Mini Fridge, which looks like a scaled-down version of a retro refrigerator. It can hold up to six standard-size soda cans (12 oz.) or four bottles of water (16.9 oz.), thanks to a removable shelf.
According to Uber Appliance, this mini fridge uses "state of the art" and environmental-friendly thermo-electric technology to keep contents cold or warm. That means you won't find the usual compressors or condensers that come standard on everyday refrigerators.
That's both of benefit when it comes to this one, and limiting depending on how you look at it. When it comes to the Uber Chill, it just somehow works.
My experience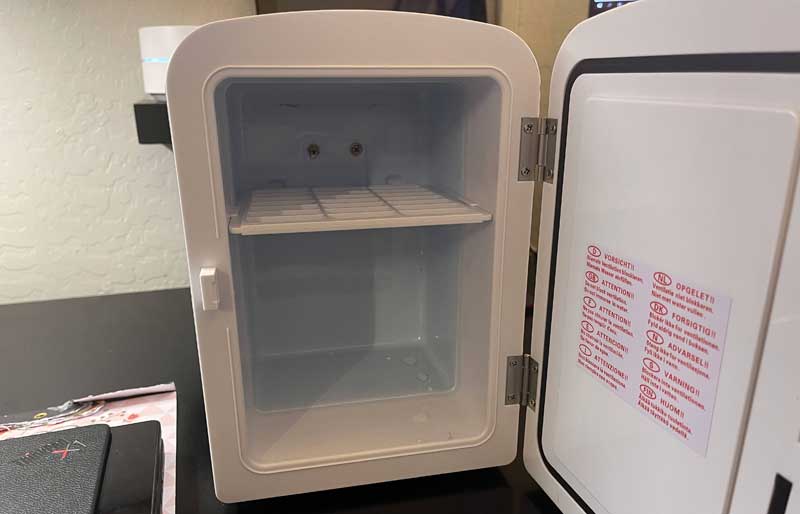 As you can see in the photos, there's just not a lot to the Uber Chill. At 11 inches tall, about 7 inches wide and 10 inches deep, it also doesn't take up a whole lot of space.
That part is appreciated because it also makes it more portable, and the built-in handle at the top helps that. But it's also deceivingly lightweight and feels almost fragile because it's mostly made out of plastic and aluminum.
For storage, it works as advertised and fits up to six cans — just barely. It can also hold the promised four bottles of water or a few sandwiches, which brings me to the temperature …
There is no way to adjust the temperature. You just have a choice between hot and cold. When I first plugged it in to cool off drinks, it took about two hours to get them as cold as a normal refrigerator would. Uber Appliance says it gets down to about 32 degrees, and while I didn't take the exact temperature, it sure seemed cold enough.
The Hot setting will not cook whatever you put inside. It heats up to about 150 degrees to keep something warm, such as the previously mentioned sandwiches.
As you can see in the image below, there are two power ports: one for standard 120V electricity at home and a 12V for your car. Both power cords are supplied and work as expected, although it takes a little while to cool down in the car.
The verdict
The Uber Chill is not something that everyone needs. While it's convenient to have a tiny refrigerator on your desk, I actually prefer getting up once in a while to walk 75 feet to the kitchen down the hall. Those Apple Watch exercise rings aren't going to close themselves.
Here's how it would be of benefit:
Smaller spaces, like a dorm
For people who can't move around as easily
As supplemental storage for coffee creamer, etc.
Road trips
Uber Appliance also lists other possible uses, such as keeping cosmetic supplies cool. I didn't test it out in that regard.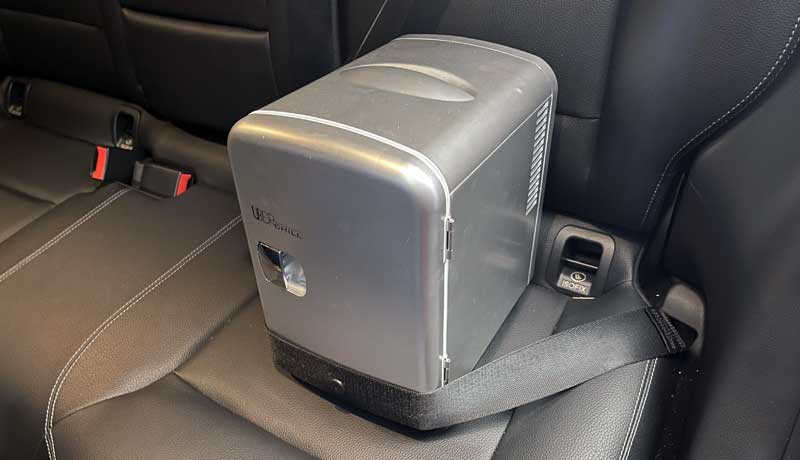 Is the Uber Chill Personal Mini Fridge worth it?
I worry a little about its overall durability based on the materials used. It's not as noisy as a traditional fridge, but it's not all that quiet either and you can hear the thermo-electric tech working if you're in a quiet room.
I also don't leave it plugged in all time and instead use it as needed. I certainly don't leave it plugged into the DC port when the car isn't running.
For me, this adds only a slight convenience when at home and is more worthwhile as a cooler to take with you. In that situation, the Uber Chill is worth the $49.99.
By clicking our links, you're supporting our research. As an Amazon Associate, we earn a small commission from qualifying purchases. Recommendations are not part of any business incentives.