I've lost track of how many strands of Christmas tree lights I've purchased over the years. Cool white, warm white, red, green, or multicolor with some twinkle and others that wave. Incandescent, LED and fiber optic — I've had them all at one point or another.
I'll also be the first to admit that I'm picky about lighting and decor, even with temporary holiday setups. But if you can buy smart bulbs and other fixtures with millions of colors to choose from, why can't you do that with Christmas lights? You can.
Italy-based Twinkly is one such company that makes smart LED lighting for use around the holidays, and there's no shortage of ways these lights can be customized. That is if you have the extra cash to spend and a little patience to spare.
Twinkly RGB Multicolor LED String Lights
Twinkly manufactures all kinds of smart lights, but for this review, I will focus solely on the company's app-controlled RGB LED string lights. That includes the Generation II 250-multicolor LED set, with these key features:
Wi-Fi and Bluetooth connectivity
App used to apply and create effects, dim lights, set timers, etc.
Mapping tool uses your phone's camera to locate and map the position of each light
Alexa and Google Assistant compatibility
IP44 rating, which protects against water splashing from any angle
Yes, they're a little pricey, but these aren't simply lights you can turn on and off using your voice. They do a lot more, as I found out with the 250-light set sent to me for review.
Tree size matters
My family and I are known for putting up more than one Christmas tree each year, so we needed to decide which one the Twinkly set would best be used for. What's nice is that Twinkly has an LED calculator on its website that can help you determine how many lights to add based on tree size.
Just enter the tree height, the type of Twinkly lights being used and whether you're planning on placing lights only on one side of the tree (versus all the way around). You can also choose a decoration level based on coverage of lights: Good, Fantastic or Fabulous.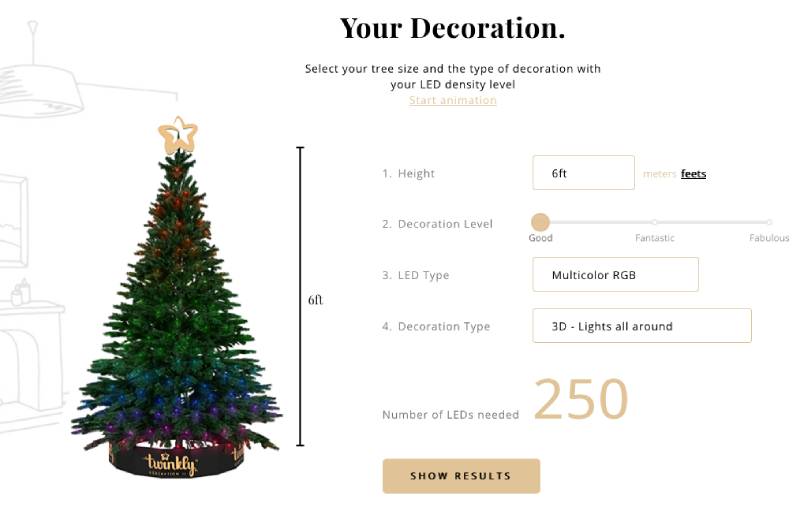 As you can see from the screenshot above, 250 LEDs would work for a six-foot tree with lights all around, but only at the "good" decoration level. I can confirm this, as we set these lights up on a similar-sized tree.
Now let's say the Christmas tree in the living room is much, much larger. I plugged those numbers into the calculator: a 12-foot tree with lights all around and sticking with the base "good" decoration level. For that tree, the calculator recommended 1,200 LEDs. So I went shopping …
Big tree = more lights
Did I mention I enjoy decorating for Christmas? I ended up buying two sets of Twinkly's 600 LED strings and got to work on the massive tree.
I unboxed them and plugged them in to ensure there were no issues, then downloaded the Twinkly app for my iPhone (it's available for Android, too). Once you set up an account, use the app to find and connect your lights to your home's Wi-Fi.
It's a pretty easy process, but it led to me making a statement that I would not have understood even a decade ago — "Just a minute, I'm updating the Christmas lights' firmware." What a time to be alive.
After I finished wrapping the lights around the tree, I opened the app back up to map the location of each LED. It might sound scary, but the app makes it easy by using your phone's camera.
The easy option is to select 2D, which is best if your lights are on a single surface. Choose 3D mapping if you have lights going all the way around the tree, as it analyzes images taken from multiple angles to determine each LED's location. That part took less than 5 minutes.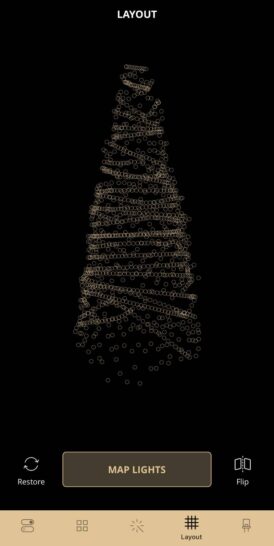 Fine tuning and the sound of music
You can rest easy once the lights are mapped, knowing the effects will correctly render across the tree. Since I ran two sets of 600 lights, the next step was to create a group using the app so effects would look like they appeared on a single strand of lights.
Now let's talk about those effects, shall we? The Twinkly app comes loaded with a number of preloaded effects, with some meant for the holidays and others for different occasions. I'm quite fond of the Candy Cane setting. Other effects can be downloaded.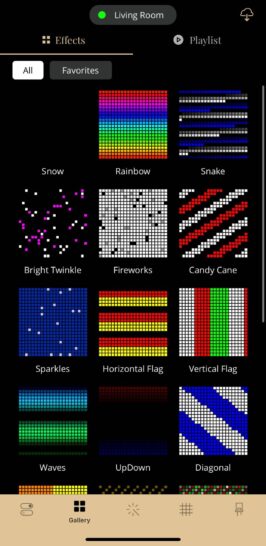 You can also create your own effects based on a few different templates, but I've found the existing options work well enough. That's not all you can do …
Add the Twinkly Music USB dongle to have your lights respond to your favorite holiday playlist. I set up a Bluetooth speaker near the tree in the living room, plugged this in nearby and started up a Christmas playlist on Apple Music for some pretty impressive results.
You can choose from a few different drivers for how the lights respond to the music, like VU Meter, Psychedlica (my personal favorite) and others.
Verdict: Amazing smart lights come at a cost
If you don't have a lot of interest in turning your existing lamps and fixtures into smart lights, you probably won't jump at the chance to do that when it comes to holiday decor, either. And make no mistake, these lights cost considerably more than any you'll find at Walmart or Target.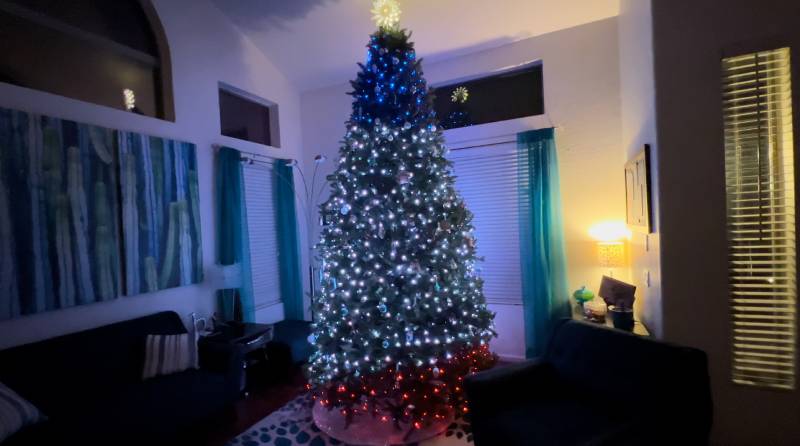 On the other hand, if you really look forward to decorating each year (like me) and don't want the limitations of basic lights, take a closer look at these Twinkly lights.
Pros:
Easy setup
Multiple effects to choose from in easy-to-use app
Bright LEDs work well indoors and outdoors
Cons:
Expensive, especially if you need a lot of these sets
By clicking our links, you're supporting our research. As an Amazon Associate, we earn a small commission from qualifying purchases. Recommendations are not part of any business incentives.