Remember when digital photo frames were all the rage? For years, they were the default gift to give at Christmas, birthdays and other special occasions.
Then tech evolved and the ability to display your photos got easier. Now you can turn your tablet into a makeshift digital frame or build in slideshows into your smart displays from Amazon or Google Nest. You can even turn your TV into a big photo frame.
Even so, the standalone digital photo frames never went away. Many are easier to use than what you might remember and pack features those other options don't, including a relatively new option from Aura. But is it worth it?
The problem with digital frames
If you've owned a digital photo frame over the years, you're probably aware it's not a seamless experience. There were SD cards you had to add photos to from a computer, then plug that into the frame and hope they're the right file type.
Others require you to email photos to a certain address that sends the photos to the frame via the internet. The other issue with digital frames was hoping that your photos were cropped correctly or that they wouldn't show up sideways.
The Aura Carver simplifies the process across the board, with its own limitations. It also had a few features I wasn't expecting, like the addition of artificial intelligence.
The Aura Carver
Above is the Aura Carver smart digital picture frame that was sent to me for review. It boasts a 10.1″ screen with a 1920×1200 pixel resolution. You won't find any ports or card slots because the only way to add photos to this internet-connected frame is by way of an app.
Because you're not dealing with limited onboard storage limitations, Aura promises unlimited cloud photo storage — for free.
Controls on the actual frame are limited a single touch bar at the top of the frame (more on that below), and it also includes an ambient light sensor. That allows it to adjust brightness automatically throughout the day and turn off the screen when it detects the lights turning off.
Setup and use
When I received the Aura Carver a few weeks ago, it was nicely packaged and overall well-presented. That's the simplicity of it — a frame, the power cord and the user manual.
Setting up the frame and powering it on took absolutely no time. The next step was to download the Aura app. It's available for both iPhones and Android smartphones.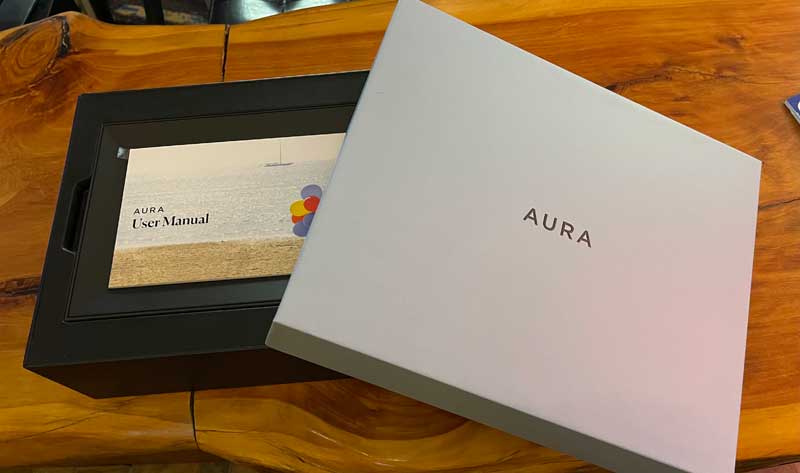 From there, you create an account through the app, then pair it with the frame by matching a four-digit code that shows up on the screen. Then you connect the frame to your home Wi-Fi, which is a simple process that takes only a few seconds.
Adding photos is easy, especially if you choose from your phone's camera roll. After granting the app permission to access the photos, select as many as you want in the Aura app and have them added to the frame. While that part is quick, it can take a little time for all of them to populate on the frame itself.
You can also link your Google Photos and iCloud Photo Library accounts to the app, or opt to upload images to the frame from your computer. In the app, you can also invite others to add photos to the frame — just make sure you're only sharing with people you trust.
The slideshow interval can be set anywhere from 15 seconds with different increments up to 24 hours. I found that 30 seconds works just fine to see one photo long enough before it moves to the next.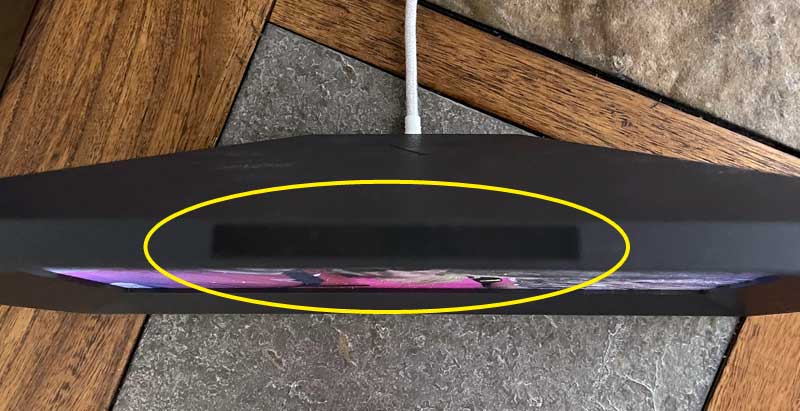 Once photos start showing up on the frame, you can use the nearly invisible touch bar (circled above) to go forward or backward, display additional information, such as who shared it, or delete any you've changed your mind about.
How does it look?
Looking at the frame from the front shows off a minimalist design so you can focus on the photos, and that's where it's obviously supposed to shine. Looking closely, I haven't noticed any pixelated or otherwise fuzzy photos, but that will also ultimately be determined by the quality of the photos you upload.
The viewing angle on the Carver is also top-notch, with no loss of quality as you walk from one side of the frame to the other. Speaking of the side, that's where the Carver is a little more limited.
As you can see, it's not flat in the back and is shaped in such a way that it can only be set up in a horizontal landscape mode. You can't turn it to a portrait orientation and you can't hang it on the wall.
Do you want to know more? Check out News Director Ben's review on a recent episode of The Kim Komando Show:
The Aura Carver's smarts
Earlier, I mentioned that this frame mixes in a little artificial intelligence when displaying your photos and that ties into the landscape shape of the frame. When you upload vertical (portrait) photos, instead of centering them and adding black borders to each side, you get Aura's new Intelligent Pairing mode.
Not only will the frame display two portrait photos side by side, but the Intelligent Pairing mode also uses what Aura calls a "sophisticated algorithm" to pair similar or related photos. I don't know exactly what goes into that from a technical standpoint, but I definitely notice photos of the same person often get paired side by side so it does look for similar features at the very least.
You can also disable the AI feature, but I really don't see any reason to do so.
Verdict – Is it worth it?
With a retail price of $199.99 (as low as $169 when on sale), the Aura Carver digital picture frame isn't for everyone. If you're looking for more of a do-everything display that can tell you the weather, run your smart home tech and your slideshow of photos, then pay a little more and get a flagship Google Nest Hub Max or Echo Show 10.
And even for a standalone frame, the Aura Carver is lacking when it comes to versatility. Again, that includes the single orientation mode and lack of other ways to import photos. This frame simply will not work unless it's connected to Wi-Fi.
On the other hand, this frame still makes for a good conversation piece and above all, a great gift — especially for far-away family members who might not be the most tech savvy. There's even a little QR code on the side of the box that you can use to set up the frame without opening it, so the surprise gift already comes filled with photos.
What it lacks it versatility, it makes up for in a great screen quality, an easy to use app, a clever way to pair portrait photos and unlimited storage. And if you're worried about privacy, Aura stores user photos in an encrypted cloud database powered by Amazon Web Services.
So if the Aura isn't for you, it's still never too early to start this year's holiday shopping …
By clicking our links, you're supporting our research. As an Amazon Associate, we earn a small commission from qualifying purchases. Recommendations are not part of any business incentives.