Apple's tiny AirTag trackers haven't even been available for six months, yet go to Amazon and you'll find cases of all shapes and sizes. It can seem a bit overwhelming.
Some have great reviews, while others you should definitely stay away from. Tap or click here for a few affordable options, including a couple of AirTag cases to avoid.
Now a brand known for its protective tech accessories has a few new options to safeguard your AirTags, including a sturdy locking case and a tactical wallet that also serves as an 8-in-1 multitool. Keep reading to find out if these AirTag accessories from Raptic are worth the price.
Raptic Tactical Wallet
First up, the Raptic Tactical Wallet with a built-in AirTag holder. It's a leather wallet that carries cards, cash and a detachable multitool.
Here are the notable specs for the Raptic Tactical Wallet from the manufacturer:
8-in-1 stainless steel multitool: two screwdrivers (Phillips and flat head), wire cutter, box/letter opener, pry bar, bottle opener, hex head wrench and a ruler
Premium leather wallet that can hold 4 cards, or 2 cards plus folded bills
Polycarbonate AirTag holder
4.1 inches by 2.8 inches, .5 inches thick
Take into account the size of the wallet and the fact that there's a chunk of steel attached to it. Like so many other minimalist-style wallets available now, the first thing you should know is that this is NOT designed to be carried in your back pocket. It rides up front.
RELATED: 8 smart ways to use Bluetooth trackers like the AirTag and Tile
Carrying this wallet
I'm no stranger to front pocket wallets, finally making the switch earlier this year after carrying a traditional wallet for decades. Check out my previous review of wallets from another company called Ekster.
When Raptic sent this wallet for review, the first thing I did was pop in the AirTag. There's an opening in the side of the leather that you use to push the tracker through to the polycarbonate enclosure in the center of the wallet. Then you just push the AirTag from the back until it clicks into place.
There are two pockets on the back of the wallet that can supposedly hold two cards each, as long as you're not carrying any actual cash. It is a tight fit, especially with embossed cards with raised letters and numbers.
Even after a few days, the leather was still tight with four cards in the wallet. Turn the wallet upside-down and try to shake the cards loose — they didn't budge. Surprisingly, the cards were easy enough to remove when needed, however.
With four cards, it was certainly too tight to try adding bills in the wallet's side pocket. While you might be able to add a folded bill or two, you risk tearing it when trying to retrieve it. As the specs noted, it was much easier to add cash when I reduced the number of cards in the wallet from two down to four.
The wallet itself wasn't too uncomfortable to carry in my front pocket, but I would advise against keeping your phone in the same pocket. There are sharp-ish corners on the multitool part that could scratch the screen. Speaking of that tool …
What's up with the multitool?
While a neat idea, in theory, the multitool existence as part of the wallet leaves a little to be desired. To even detach it, you need to first slightly bend the wallet to get your hand on the tool. Oh — there's a first step before that first step: to bend the wallet, you have to remove any cards that might be inside.
Once you have that slight bend and can firmly grasp the tool, you must turn it 90 degrees counterclockwise. It takes a little practice, and again, you need to watch out for the sharper edges like the flat head screwdriver and box/letter opener.
The tools work in a pinch. Need to open a bottle? No problem. If you have to remove an outlet cover on the wall, the flathead screwdriver is a little awkward to wield, but it works. For the Phillips head, you have to be dealing with a very small screw for it to actually work.
Is this wallet that holds your AirTag worth it?
The Raptic wallet is a bit wider and certainly heavier than other similar-sized wallets I've come across, but again, there's a lot of metal on this one. Below is a size comparison with my Ekster Parliament Wallet on the left, the Raptic Tactical Wallet in the center and my massive Bosca bifold that I mostly retired from daily service months ago.
If you've ever said to yourself, "Boy, I wish I had a trackable wallet that could also fix stuff," then maybe the Raptic Tactical Wallet is for you. But it's not without its drawbacks.
While I am not interested in carrying tools around on my person (although I keep a set in my car), it's nice to have something like this when you really need it. It's just a pain that you have to empty the wallet to access the multitool that's a little awkward to use anyway.
Personally, I rarely ever carry cash anymore, and when it comes to this wallet, that means I can pack it with four cards instead: driver's license, debit card, credit card and health insurance.
I know there's a transition underway to carry everything, even a driver's license, in a digital wallet, but I'm not ready to put all my eggs in that single basket just yet. Even if information is encrypted and totally safe to use, I never have to worry about my physical driver's license being inaccessible because of a dead battery or lack of internet connection.
With that said, I still prefer a wallet that can carry at least six cards, and for me, the Raptic Tactical Wallet doesn't check the box in that regard. But the price definitely does.
Most minimalist wallets don't come with minimal price tags. My daily go-to Ekster Parliament cost $79 when I bought it, and that's because it was on sale from its usual $99 rate. The Raptic Tactical wallet is made of seemingly quality leather, but it only costs $39.99.
Just remember, since it's designed to hold an Apple AirTag so you never lose your wallet, you'll need to shell out another $29 if you don't already own one. That brings the total price before tax to $70.
Raptic Link + Lock AirTags Case
Raptic also sent me another product to test: the Link + Lock AirTags case. It's a massive, locking carabiner designed with the purpose that you don't lose track of whatever it is you connect it to.
The highlights:
3-digit combination lock built in
Cast iron zinc carabiner
Polycarbonate casing to secure AirTag
AirTag can't be removed when carabiner is closed/locked
Approx. 4 inches tall and weighs 4 oz.
Using the combination lock
Beyond the description, there's not much more to explain in terms of what this is for. It just takes a little setup.
Out of the box, the default combination is 000. The first thing to do is change that, which involves using a paperclip to depress a reset pin and picking a new three-digit combination.
What's nice about the design is that the polycarbonate AirTag case can only be removed from the carabiner when it's unlocked and open. That casing opens with a simple twist, then you add the AirTag and close it up.
Click the casing back into place within the carabiner and you're all set. On that note, as you can see from the image above, the carabiner hinge opens outward instead of the typical version you might be used to.
Is this locking case worth it?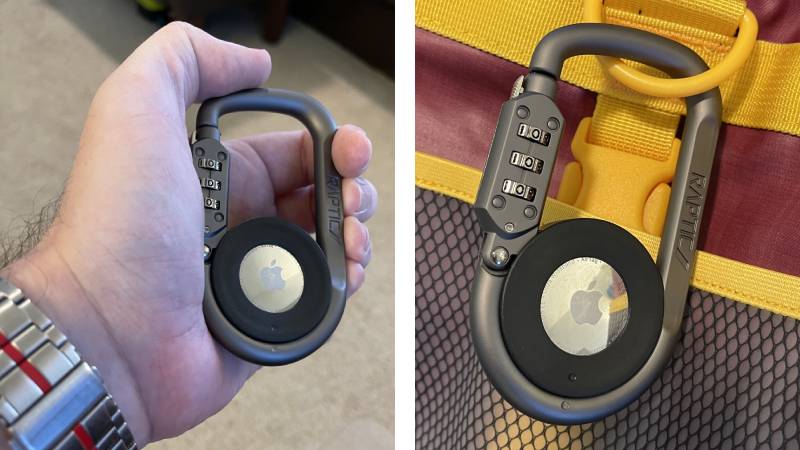 When comparing the Raptic Tactical Wallet and this Link + Lock AirTags case, it's the latter that I personally find more useful. The only real drawback is that it's just as expensive as the wallet, with a price of $39.99. That's an expensive combination lock no matter how you look at it, AirTag case or not.
Still, it's sturdy and easy to use as long as you need it. It can easily attach to a duffel bag or backpack, but what's the point of a strong, locking carabiner if it's only attached to nylon or plastic that's easily broken? This is metal that needs to be attached to something just as strong, like a chain or a looped security cable you might use to secure a bicycle or something else that's popular among thieves.
If that's what you need, this locking carabiner could be helpful. My only concern is the AirTag housing that could be easily broken by someone determined enough to remove a tracker from the equation. So keep it out of sight whenever possible.
By clicking our links, you're supporting our research. As an Amazon Associate, we earn a small commission from qualifying purchases. Recommendations are not part of any business incentives.