Let me start by saying I'm a bit of a snob when it comes to wireless earbuds and over-the-ear headphones when it comes to premium features like active noise cancellation (ANC). For earbuds, arguably the product that comes up most is Apple AirPods Pro. Tap or click here for nine cool AirPods tricks.
That's not to say Apple doesn't have competition from big names in audio like Sony, Jabra and Bose, along with other tech companies like Samsung and Microsoft. One name that might not immediately come to mind is Soundcore.
One of the product lines under the Anker umbrella, the company recently released its most advanced true wireless earbuds to date: the Soundcore Liberty Air 2 Pro. These earbuds have AirPods Pro features without the AirPods Pro price tag, but are they worth it?
Soundcore Liberty Air 2 Pro promises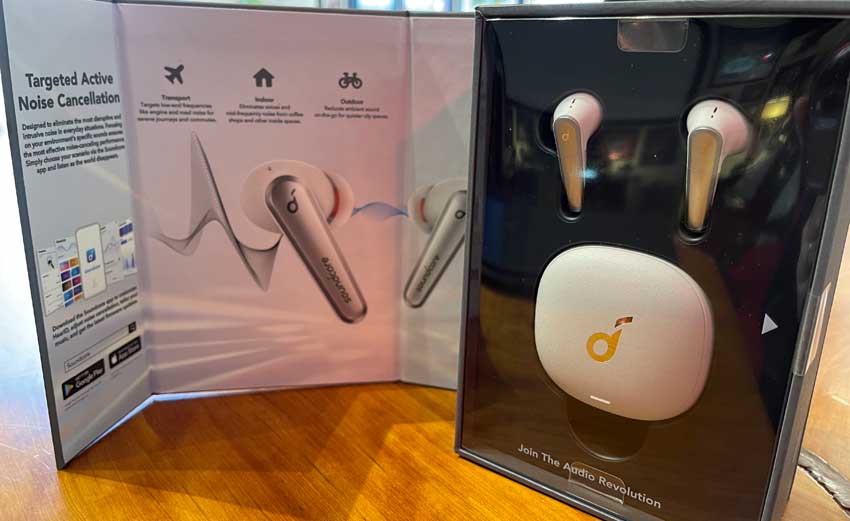 The name doesn't roll off the tongue like the AirPods Pro, but "pro" is the important part of the description because the standout feature in these Soundcore earbuds is Targeted Active Noise Cancellation. Choose from three scenarios:
Indoor mode blocks out nearby voices and other distracting sounds.
Transport mode works to curb sounds engines, traffic and public transport while you're commuting.
Outdoor mode targets different frequencies to block out noises around you, but you'll still hear traffic and other potential hazards.
Without going down the entire list of Liberty Air 2 features, other highlights include PureNote Driver Technology for better bass, HearID personalized EQ for a "tailor-made sound set up just for your ears," and six noise-canceling microphones to isolate noise on your end while you're talking to someone else.
You're also supposed to get seven hours of playback on a single charge (with ANC turned off) and up to three recharges from the charging case for a total of 26 hours of playtime.
What you actually get
I was a little skeptical when Anker sent these earbuds for review because, as established, I can be picky about certain products. That and I already own a pair of AirPods Pro that I've, for the most part, been happy with.
For the most part means not completely, and the AirPods Pro has a couple of limitations which I'll come back around to shortly. That brings me to the Liberty Air 2 Pro earbuds.
When I opened the box, I saw the typical setup: the earbuds, charging case, charging cable and different sizes of ear tips — eight different sizes in the box, which doesn't even include the set that comes pre-attached to the earbuds. That seemed a little excessive (as you can see in the image below), but noise cancellation features only work properly with a good ear seal.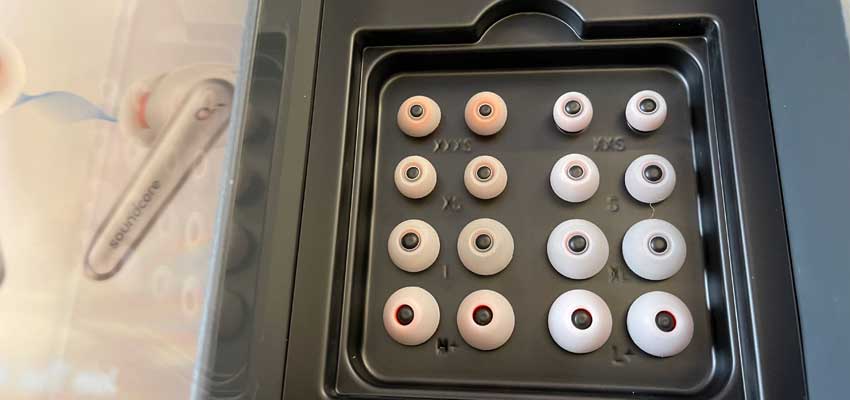 After downloading the Soundcore app and getting the fit right, I paired the earbuds with my iPhone and tested the sound with Apple Music. I wasn't disappointed, particularly when it comes to bass, and the sound quality otherwise was up there with the AirPods.
I also tried two noise cancellation scenarios: Outdoor mode and Indoor mode, with the latter being the most important to me personally because that's where I mainly plan to use them. Indoor mode doesn't completely block out other sounds from the house, but you absolutely notice the difference.
Soundcore Liberty Air 2 Pro vs. AirPods Pro: The biggest test
I mentioned the limitations of the AirPods Pro, and for me, that comes down to using them for work and play. When listening to music, podcasts, Netflix, whatever, the AirPods sound great. The same goes for when they're paired with my HP laptop — but NOT for video meetings.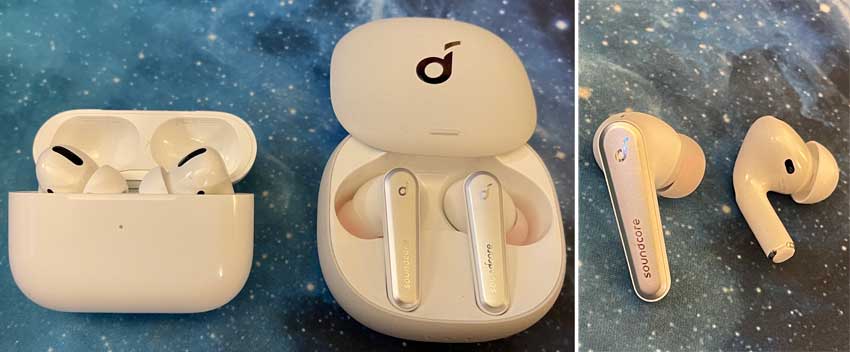 Without getting too much into the weeds, Windows classifies your headphones and earbuds as headphones until you need to use the microphone, too. Then your headphones get classified as a headset, and it's a mixed bag of quality from there. Trying to use my AirPods Pro for Google Meet calls was terrible, along with other wireless earbuds I tried.
Liberty Air 2 Pro earbuds, on the other hand, work perfectly for my video meetings. There's no static, tin can-like echo or annoying connection issues I've had trying to connect other varieties of true wireless earbuds with my laptop.
The verdict: Are they worth it?
Make no mistake, the Soundcore Liberty Air 2 Pro true wireless earbuds are not meant as a budget option among the endless stream of new audio tech. They were designed to take on the best.
It comes down to what you're looking for. These wireless earbuds not only have active noise cancellation, but they also have ANC settings based on varying situations along with EQ adjustments that really allow you to fine-tune your sound. They also pack a strong battery life, and unlike the AirPods Pro, you can accidentally drop these in water and they'll be just fine.
For me, the Liberty Air 2 Pro earbuds solved a problem in that now I have a set that I can use for both work and play. My only gripe is that these don't support Bluetooth multipoint connections. Meaning you can't be connected to, let's say, your smartphone and laptop simultaneously. I can live with that.
If you're looking for a more basic set of wireless earbuds, these are not for you. But if you want high-end features you'll find in premium earbuds like the AirPods Pro for a much lower price, give these a closer look. The $129 price tag might give you pause at first, but consider that's $120 less than what you'll pay for the flagship AirPods on Apple's website.
Besides, the Soundcore Liberty 2 Air Pro earbuds come in four different colors.
By clicking our links, you're supporting our research. As an Amazon Associate, we earn a small commission from qualifying purchases. Recommendations are not part of any business incentives.