Just about everything in your home, from your thermostat to your refrigerator and coffee table, has been given the smart home treatment. While many smart home gadgets are meant for convenience, others are designed with security in mind.
None more so than smart locks, which can often be locked or unlocked easily through an app and alert owners if any problems arise. They're also known to be handy for vacation rental hosts as a way to let people into homes remotely.
This review deals with such a smart lock you install on your front door, along with a different kind that secures a cabinet inside your home. Keep reading to find out if these two very different smart locks are worth it.
August Wi-Fi Smart Lock
If you're not familiar with August, it's a company founded way back in 2012 in San Francisco and released its first smart lock in May the following year. In 2017, it was acquired by Swedish conglomerate Assa Abloy AB.
Still operating under its original name, last year, the company released the fourth generation of its August Wi-Fi Smart Lock – a lock that replaces part of an existing deadbolt. This is the first August lock with built-in Wi-Fi (no hub required) while also considerably smaller in size than previous generations. Here is a list of key specs:
10-minute installation
Control the lock from anywhere through a phone app
Compatible with voice assistants including Amazon Alexa and Google Assistant
DoorSense lets you know if the door is open, closed, locked or unlocked
Optional auto lock and unlock capabilities
Grant permanent, scheduled or temporary access to others
Retails for $229.99 (optional August Smart Keypad retails for $59.99)
August sent a sample for review, and getting the lock installed was as easy as described. It involved downloading the August smartphone app and following setup (scanning QR code or typing in serial number) and installation instructions, which, as you can see below, involved securing the key side of the deadbolt and removing the thumb-turn side.
Physical installation took about 15 minutes, and the rest of the time involved was connecting the smart lock to Wi-Fi and calibrating the DoorSense sensor that can detect if the door is left ajar. Once that's all set, there are several custom settings and notifications you can set up in the app, such as:
Smart alerts – when the door is locked/unlocked manually or by a certain user and at certain points in the day
Verified Access through biometrics and passcodes (great for visitors and in vacation rental scenarios)
Auto-Lock (after a certain period of time) and Auto-Unlock (unlocks the door when you return home)
Is this August lock worth it?
The August Wi-Fi Smart Lock was simple to install and easy to use. Just turn the physical lock one way to lock and the other to unlock. Customizing settings and alerts were just as easy through an intuitive app. Enabling the August Skill in the Alexa app also lets me lock and unlock it using my voice.
Overall, I had far less trouble across the board with this one when compared to my existing Schlage Sense lock.
At $229.99, it's a little more expensive than similar locks, some of which require you buy an optional hub or adapter for Wi-Fi connectivity. It's also cheaper than a few other options from brands like Schlage and Kwikset, but this one doesn't require replacing your existing deadbolt — not the entire thing anyway.
Like all the other smart locks out there, this one is battery-powered. But this one can still be locked and unlocked with a good old-fashioned key if the battery dies. This comes with one battery, but it's a good idea to keep a few extra CR123 batteries on hand.
And keep in mind the optional keypad is an extra $59.99 if you want that added convenience and the ability to create unique codes through the app.
Bottom line: it's a worthy smart lock for an entry door at your home.
Yale Smart Cabinet Lock
Then there's Yale Home, which is August's sister company. Yale makes several locks, including a Smart Cabinet Lock that was also sent to me for review.
It's meant for locking a medicine cabinet, liquor cabinet or any others you want to secure over privacy or safety concerns. It also works on most types of drawers.
Below are a few other highlights:
Also installs in minutes
Can be locked/unlocked automatically or manually through the Yale Access app
Compatible with Amazon Alexa and Google Assistant
Remote access requires Yale Connect Wi-Fi Bridge (included in box)
Glow in the dark emergency escape button
Retails for $79.99 (Bluetooth only; no Wi-Fi) or $129.99 with the Wi-Fi hub included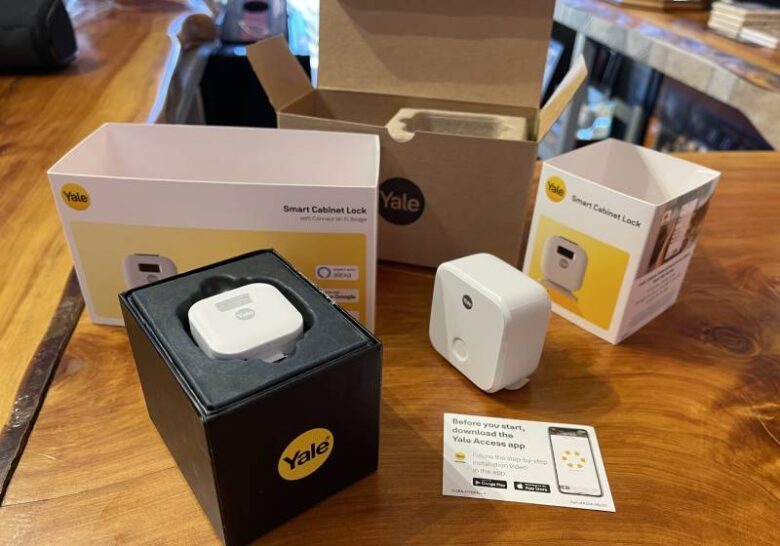 This one was even easier to set up than the August lock. Like the last one, this begins with downloading the Yale app and setting up the lock by either scanning a QR code or typing in the serial number. And if you have previously set up an August lock, you can log in using those credentials since they're all part of the same corporate family.
After careful consideration, I decided to add the lock to a desk cabinet. Pick the spot, then determine which post to use — long or short — based on how far away the cabinet door is from the actual lock.
Ten minutes later, after using the supplied adhesive strips, this lock was installed.
This particular Yale lock also came with a Wi-Fi hub, which I set up next, again by scanning a QR code. Just make sure to plug the hub into an outlet that's not too far away from the smart lock.
Then you can tie it in to use with Alexa, Google Assistant or Siri, similar to the August lock.
Is this Yale cabinet lock worth it?
The thing to consider here is that this is not a lock that will keep a person out of a cabinet or drawer if they really want to get in; it's mostly made of plastic. Pull hard enough and one side will detach, most likely the adhesive.
This lock is meant to deter, and of course, let you know if and when it's opened and closed.
For that role, the Yale Smart Cabinet Lock does the job just fine and could add peace of mind in securing a medicine or liquor cabinet, especially if you have children.
Before choosing any smart lock, do your research to find which would work best for your specific need and situation. And remember that if you're looking for a complete home security system that includes a smart lock, check out our sponsor, SimpliSafe.
If you're ready to protect your home and your family the way Kim does, you're in luck. Right now, save 20% and get a free month when you sign up for Interactive Monitoring at SimpliSafeKim.com.
Best of all, SimpliSafe offers a 60-day money-back guarantee. If you aren't happy, you get a refund. That means you have nothing to lose.
By clicking our links, you're supporting our research. As an Amazon Associate, we earn a small commission from qualifying purchases. Recommendations are not part of any business incentives.