Speaking from experience, it's not always easy to grill backyard barbecue favorites like burgers and steaks to the perfect temperature, inside and out, every single time. Variables include what type of grill (gas, charcoal) you're using, fine-tuning the heat and other factors.
If you burn the meat, that's wasted money. On the flip side, undercooked could spell even worse trouble and make someone sick.
Temperature probes have long been a way to grill without all the question marks, but you might not be aware that one is a little smarter than the others with features like Bluetooth and Wi-Fi connectivity — and it comes from a very well-known brand. The question is whether this smart grilling hub is worth the added expense.
Weber Connect Smart Grilling Hub
The Weber Connect Smart Grilling Hub isn't exactly a brand-new product, as it first hit the market in January 2020. The hardware hasn't changed in that two-plus years, with a purpose to turn any grill into a smart one and to be your grilling assistant. Here are the product highlights:
Consists of a smart grilling hub, two temperature probes (for food and grill, respectively), a USB-A to Micro-USB charging cable
Connects to companion smartphone app remotely via Bluetooth or Wi-Fi
App provides flip & serve notifications, readiness countdowns, recipes and step-by-step grilling instructions
Alerts are customizable based on grilling preference (rare, medium-well, etc.)
Weber Connect Smart Grilling Hub retails for under $140 but does go on sale from time to time
Add up to two additional food temperature probes for under $18 each
Optional accessories include the Storage & Travel Case and 6-piece Mounting Kit, for around $40 each
Add in a little extra time for setup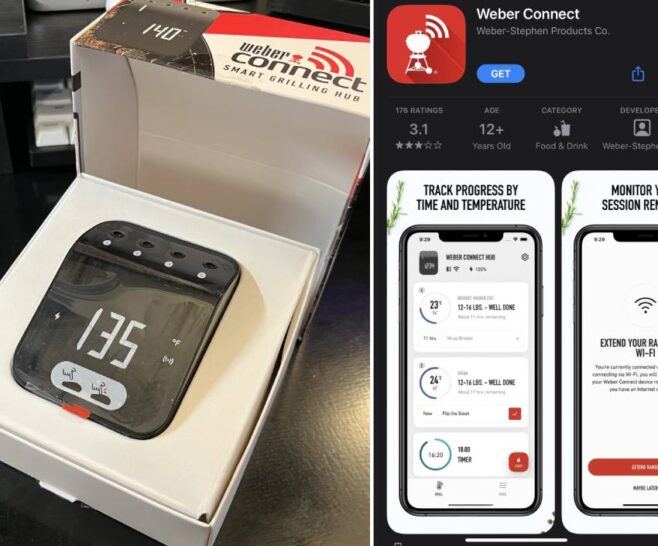 Weber sent the grilling hub and travel case for review. Unboxing was the easy part, and you can see everything below.
The hub isn't very large, coming in at about four inches by three inches. The two temperature probes are even smaller. The charging cable, with its Micro-USB connector, seems a little dated.
From there, it was time to download the Weber Connect app. That's where the setup process took a little longer than I expected.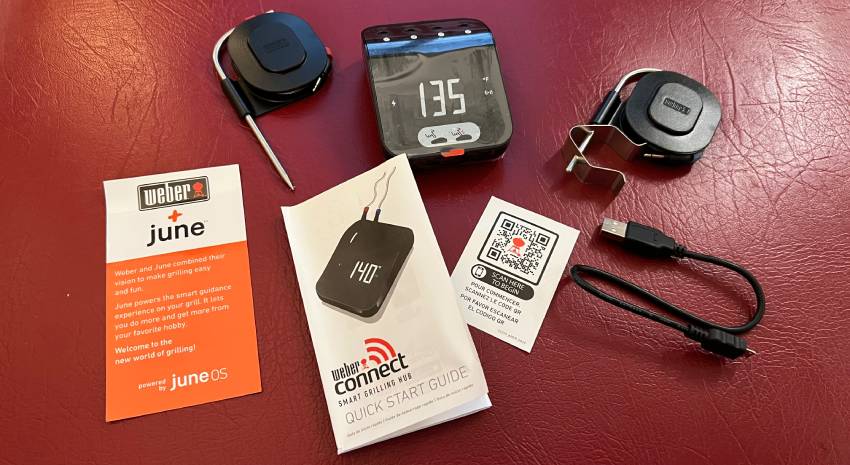 I was easily able to connect the hub to the app via Bluetooth, but when trying to add Wi-Fi, the app could not see my network. I guess that's why they always say to restart your phone after installing an app. That did the trick.
Everything was seemingly connected and good to go, so I powered it down, charged the hub to 100% and put everything away in the travel case until the next day, when I was ready to test it out.
The first test was going to be the simple backyard classic: burgers. I got the food prepped, the grill fired up and powered on the Weber hub. Then I opened the app and realized there was a software update waiting and that it could take up to 25 minutes.
Not deterred, I decided to wait, and that update took about 15 minutes. Now we're cooking! Except, then the app informed me there was another software update needed. Wait, what?
You can see the screenshots side-by-side below, showing the back-to-back software updates. Why it couldn't just update to the latest version right away, I really don't know.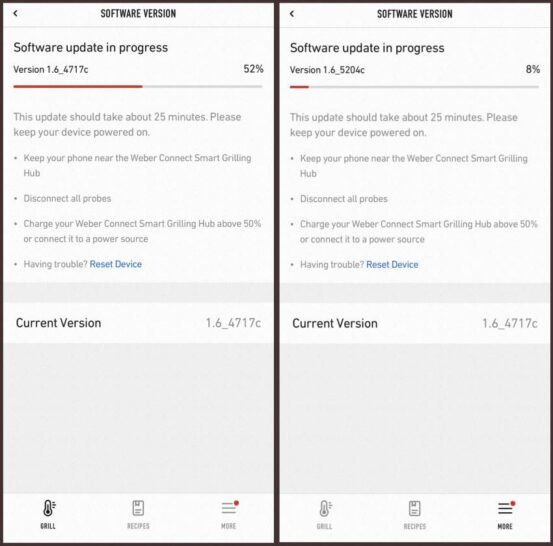 With several hungry people waiting, I decided to abandon the first test and grilled up the burgers without the hub's assistance. That second software update was completed at some point while I was outside cooking, so I'm not sure if it took more or less time than the previous.
So I decided to try again in a few days, this time first making sure well in advance that the software was still up-to-date.
Smarter grilling?
Time for take two. The hub is charged, the app is open and connected, and the software is good to go. I took a look through some of the recipes, and there are quite a few to choose from. See an example of those app options below.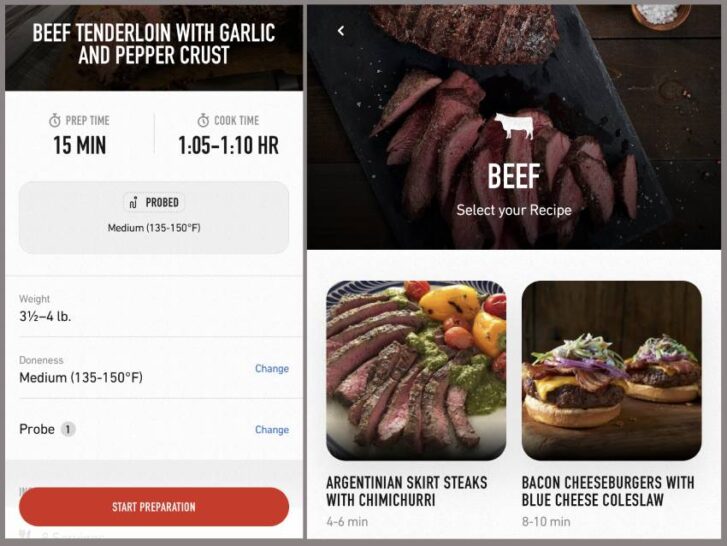 Once I made my selection from one of the preset options, which was top sirloin, I followed the prep instructions on the app. When you tap the top of the hub to power it on (with the probes unattached), you'll see the battery charge level.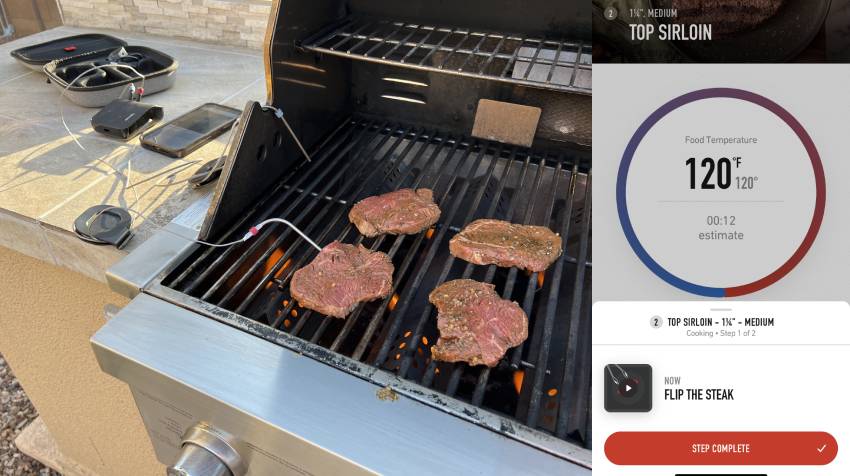 Fire up the grill to the recommended temperature based on the chosen recipe. Then attach the probes to the hub. The blue probe with the dull tip monitors the ambient temperature of the grill and connects to the grate with an included metal clip.
Insert the red probe with the sharp end into the thickest part of the meat, then follow the directions in the app. Be sure to keep the actual hub away from the heat.
Yes, it takes a few minutes to get everything going, but the process was straightforward after that. The app notified me when it was time to flip the steak and again when it was time to remove it. These were pretty thin steaks, so it didn't take much time.
I used a second thermometer to verify that the results were close enough. Stay tuned for updates as I test the smart hub on more complicated recipes.
Verdict: Is this grilling hub worth it?
Make no mistake, spending $140 on a temperature probe you can check in on using your smartphone is a pretty high price. It also involves a lot more prep work to get everything set up.
However, if you're looking for a meat thermometer and some of the other smart features detailed above, it's still far more affordable than dropping hundreds of dollars or more on an actual smart grill. And even though it's a Weber product, it'll work on just about any grill out there regardless of who built it. That includes smokers, too.
The software was a little buggy at first but mainly was problem-free after the initial setup. As far as hardware goes, make sure you follow the cleaning directions. Don't get the hub too close to the heat. Avoid exposing the problems to direct flames, and certainly don't put them in the dishwasher to clean them up.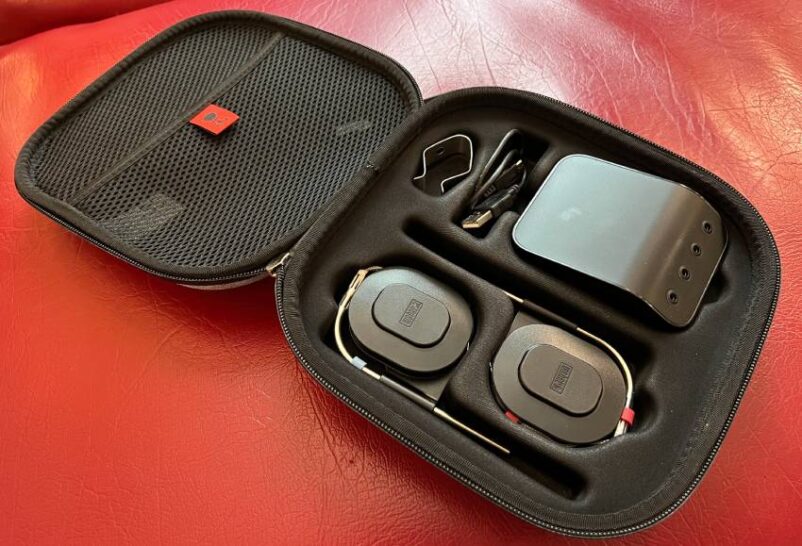 I know many who consider themselves masters of their grills and would scoff at adding a gadget that would only interfere with their natural abilities. I can see that. However, I can recommend this to novice grill owners or others looking for a little more consistency in results. I consider myself part of the latter category.
If you're serious about spending more time using the grill as the temperature gets warmer, the Weber Connect Smart Grilling Hub could be for you. If you're going to pay that much for the hub, you might as well add the case to protect your investment. As you can see, everything has its place. See links for the hub and other accessories below.
By clicking our links, you're supporting our research. As an Amazon Associate, we earn a small commission from qualifying purchases. Recommendations are not part of any business incentives.