Think about the ambiance added to the outside of your home using landscaping lights or full-fledged floodlights. A nice effect, but historically there haven't been many choices for custom options and control — until now.
Smart lighting has been a staple of smart homes for quite a few years now, but you might not realize just how many options are available for the exterior of your house as well. That includes options by a company called Novostella.
I recently tried out different types of floodlights by the company, customizable with millions of colors that can also be controlled by an app or with your voice. Are these outdoor smart lights worth it?
Floodlights by Novostella
Obviously, you can't just use any smart bulb or fixture outside. They have to be rated to stand up to the elements, including a certain level of water resistance. And that's exactly what's promised by Novostella with its 20-watt smart LED floodlights, among other things.
Novostella 20W Smart LED features
IP66 waterproof rating, meaning protection from "jets of water," dust, oil and more
Wi-Fi antenna with a working distance of 80-85 feet
2,000 lumens — that's bright, but they're also dimmable
16 million colors and 8 lighting scenes
Voice control with Alexa or Google Assistant; no extra hub required
Other settings, including timers and group control of multiple lights
The Novostella BLink smart floodlights, on the other hand, are a little different. These lights also have 16 million colors, 8 lighting modes, IP66 rating, app control and more.
Novostella BLink features
Bluetooth mesh technology to control groups of lights with a smartphone
Sync the lights to music through two different modes
Voice-control compatible, but only with the optional hub (sold separately)
Setting them up
The Smart LED floodlights Novostella sent for me to review arrived first (not the BLink), and I decided to place these in the front yard as a way to illuminate my two front porch columns. Getting these lights set up to work with your phone takes some patience.
First of all, you have to put these lights into pairing mode to connect them to your home network. Since there's no physical switch on the lights, you accomplish that by quickly plugging and unplugging them a few times until the lights start flashing. That's hurdle one.
Next, you open the app it works with called Smart Life, which is not a Novostella product. It's more of a generic option that works with multiple brands of IoT devices. Then you follow the directions for discovering the lights within the app, which are a little different than what's found in the directions.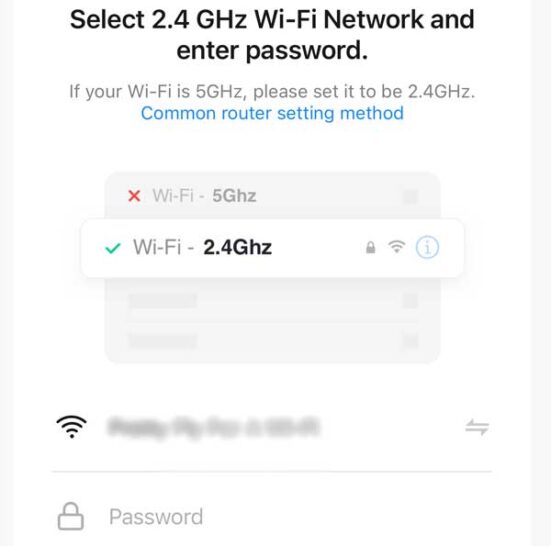 After several attempts, the app didn't find the lights, even though they were still flashing. Here's why …
Like many internet of things devices, these lights only work on a 2.4GHz network — not 5GHz. The trouble here is that I have a Google Wi-Fi mesh router system that automatically switches between both bands, depending on need. And using an iPhone, you can't manually choose the 2.4GHz band when trying to set up a device.
It meant having to get a little creative. Knowing that 2.4GHz can connect at a longer distance than 5GHz, I took a stroll down the sidewalk — hoping that I would be switched to 2.4GHz the further I moved away. And just like that, about a house and a half away, the app discovered and paired with the lights.
Want to see how these smart landscaping lights look? Check out News Director Ben's review on Kim's show:
Once that part was finally over, I attached the bracket on each light to a board and partially buried them. Note the location of the optional Wi-Fi antenna in the image below (facing away from the house). You don't have to keep it attached, but removing it will limit the connection range.
Now it's time to customize.
Let there be smart light
When you plug these floodlights in for the first time before connecting them to your network, they are a bright, oh so very bright white light. I can't stress this enough — don't look directly into it.
Once connected to the network, you now have options in the app to adjust them. That includes color temperature and a wide range of colors.
There are also different lighting scenes, including:
Night
Colorful
Dazzling
Gorgeous
The first change I made was to change the color temperature to a warmer white and dim them. Even at 40%, this pair of lights was still more than bright enough.
From there, you can choose to create groups if you have multiple lights and set schedules. I set a schedule for these lights to turn on at sunset and off at sunrise. I also connected the lights to my Alexa app for voice control.
While these lights will mainly be used as traditional floodlights, I very much plan to change things up around the holidays to add a little color.
What about those other lights?
Like I mentioned earlier, the other Novostella lights are a little different. The BLink lights connect via a Bluetooth mesh network and were far easier to set up in the Smart Life app than the others. Once in pairing mode, they were immediately identified by the app and setup from there was a breeze.
The BLink lights have the same customizable options as the others, along with the ability to sync with the music you're playing. You can achieve that directly through the app, or the lights can "listen" for music playing nearby.
These fall more into the category of backyard get-together/party lights than the more traditional smart floodlights. However, one thing to note is that if you want these to be voice-activated through Alexa or Google Assistant, you have to buy a separate hub.
Are these Novostella floodlights worth the price?
Overall, both sets of Novostella lights seem to be solid choices for outside illumination. Get the 20W Smart LED Floodlights if you want a connection to Wi-Fi (with longer distance) and the ability to control with your voice — although you won't be able to control more than 20 of these lights due to router signal restrictions. A pack of two costs $69.99.
What I like about the 20W Smart LED Floodlights:
They can be as bright or dim as you want them to be
A nice range of custom colors and scenes
The optional Wi-Fi antenna is a plus
What I don't like
Blindingly bright when first plugged in
A painful setup process for network connection
Go with the Novostella BLink for a simpler setup process through Bluetooth and a more stable connection with up to 128 lights. I'm not sure why anyone would need that many, except to annoy neighbors, but at least it's an option. A 2-pack goes for $59.99, but remember it'll need the optional hub for voice control, which costs an extra $19.99.
These lights are controlled with the Smart Life app, which you can download on your iPhone or Android.
Bottom line: Of the two choices, the BLink is the best option to avoid any headaches when it comes to setup. The other floodlights are great once up and running — but only if you have the patience to get that far.
By clicking our links, you're supporting our research. As an Amazon Associate, we earn a small commission from qualifying purchases. Recommendations are not part of any business incentives.