For many of us, that morning cup of coffee is necessary to start the day on the right track. It's usually more than a couple of cups for me, but I could rarely get through a whole pot when I used to own a traditional brewer.
So for well over a decade, I've owned a few different Keurig models, from very basic K-Cup brewers to more advanced options with touch displays. When my most recent Keurig finally started showing signs of fatigue a few months ago, I had a decision to make: get a similar option or upgrade to the company's latest offering with internet connectivity.
I love gadgets, but did I really need a smart coffee brewer? No, but of course, I had to try it. Even with some clever new tricks that I didn't expect, keep reading to find out if this smart Keurig is worth the price.
Keurig K-Supreme Plus Smart Brewer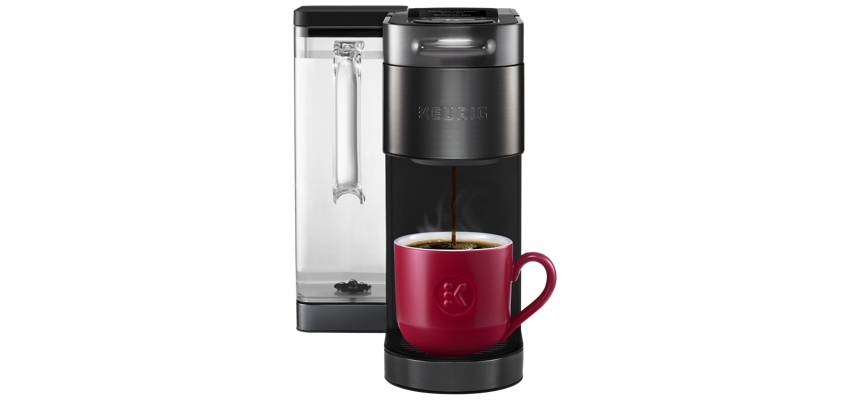 One of the key features of the Keurig K-Supreme Plus Smart Brewer is what's called BrewID, which customizes brew settings by recognizing specific K-Cup brands and roasts. Here are other highlights of the brewer, which first hit the market in July 2021:
Customize settings, schedule and brew from anywhere using the Keurig app
Compatible with Amazon Alexa and Google Assistant
OLED display
Ability to save up to 10 custom brews
Five brew strengths from Balanced to Intense
Six temperature settings from Warm to Max Hot
Five brew sizes from four to 12 ounces
78 ounce removable reservoir
Back-to-back brewing (no need to wait for reheating)
MultiStream Technology extracts full flavor and aroma
Retails for $219.99 – but is on sale from time to time
Smart features aside, this Keurig brewer has far more customization options than any previous models I've owned.
Setup and use
The first thing I noticed when taking this Keurig out of the box is that it definitely had a different design than what I've been used to, but I have to say that the stainless steel finish is pretty nice.
The design also makes it seem more compact, even though this thing has a pretty big reservoir. Speaking of, the reservoir handle is a great addition over the often clumsy way to remove and refill the tank on my previous Keurig K575 system, which we've had since 2017.
The setup of this smarter brewer was straightforward, especially getting it connected. It took less than 5 minutes to link the brewer with my home Wi-Fi network, then link it to the Keurig app.
The display is not a touchscreen, but the physical buttons and easy-to-navigate user interface simplified the setup process even further. There's no clock on this Keurig, but come on, you already have one on the microwave.
Once it was ready to go, I put in the first pod which was quickly identified by BrewID — displaying the name of the product and showing recommended brewing options for that specific K-Cup. Nice feature, so I went with its suggestion and pushed the big "K" button in the center.
It took mere seconds for the water to heat, which used to take a little while when I first turned on my old Keurig.
Then came the brewing process, which seemed to take a little longer than my old one considering it was only a 10-ounce cup. Either way, the recommended settings brewed a good cup of coffee, but I still prefer my own customizations.
Using the app, I created a custom brew for a 12 ounce, Intense setting, but not too hot, then saved it as a favorite. Regardless of pods, that's still my usual go-to. Check out the image below showing the physical controls and one of the Keurig app setting screens.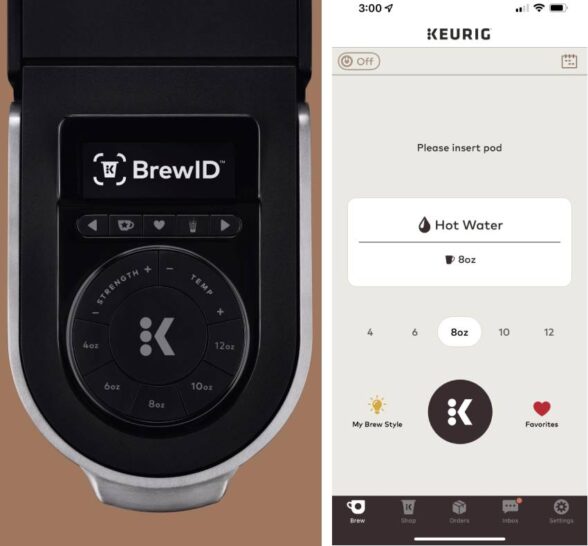 What's nice about the app is that you can create schedules, for example, to brew a cup at the same time every weekday and be ready to go when you are. Just make sure you already have a K-Cup in place, and I can't stress this enough — that you also have a cup waiting.
Other app features include the Keurig online store, where you can buy more coffee, brewers and accessories. You also can set up auto-delivery with Keurig's Smart Coffee Subscription. The price depends on what you choose, but signing up saves you 25% off every order.
In addition to identifying the pods, BrewID also keeps track of how many you've used and notifies you when it's time to order more. You'll also receive notifications through the app and on the brewer's screen when regular maintenance is needed, like descaling.
Is this smart coffee brewer worth it?
Over the past decade, I've had to make plenty of decisions regarding the transition to basic smart home gadgets all the way up to connected large appliances. It involves factors like, is this a product that warrants a smart upgrade? Would I use the features? Should I wait until some of the bugs are worked out in later product generations?
For some purchases, it took no time to decide. I knew how helpful a smart garage door opener could be. The same goes for a smart thermostat, auto-adapting sprinkler control system and a video doorbell.
I even found that a smart washer and dryer were great additions. No, it won't load and unload your laundry, but getting notified on my Apple Watch that a load is complete has saved all sorts of time when it comes to not having to deal with wrinkled clothes.
A smart coffee maker, on the other hand, is something I had to put a little more thought into in terms of how often I would even use its smart features or the app itself. And the verdict after using the Keurig K-Supreme Plus for the past three months … I'm glad this is the one I bought.
While it's somewhat more expensive than other Keurig brewers, the broader range of custom controls on this one makes it worth the price of admission alone. The ability to save favorites, brew on a schedule and set up recurring deliveries that automatically adjust based on need are just added bonuses as far as I'm concerned.
If you're in the market for a replacement Keurig or your very first one and would like the added convenience of smarter features, I definitely recommend the top-of-the-line K-Supreme Plus Smart Brewer — especially if you manage to snag one when it's on sale.
By clicking our links, you're supporting our research. As an Amazon Associate, we earn a small commission from qualifying purchases. Recommendations are not part of any business incentives.