As far as cellular technology has come over the years, it still has its limitations. For instance, you might have a poor cell signal at home because of distance from nearby towers, what your home is made of or other potential interference causes. Like having a bad internet connection, it can be unacceptable — especially now.
So many people have transitioned to working from home over the past year-plus, many of whom (without landlines) rely on their smartphones for actual phone calls — not video conferences. How do you fix the problem of dropped calls and slow data speeds? That's where a cell booster comes in.
There are quite a few to choose from, but one well-known company in the space is Wilson Electronics' line of weBoost signal boosters. And its Home Complete system might be right for your situation — as long as you have some money to spend and a good amount of patience.
weBoost Home Complete
First of all, these boosters don't create cellular signals where there aren't any. Instead, they pick up the outdoor cell signal and amplify it inside your home.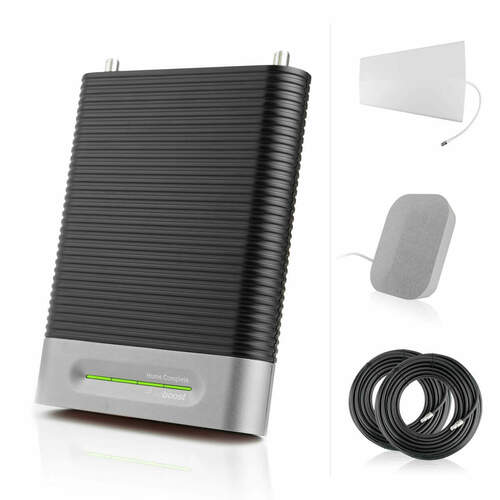 The weBoost Home Complete is the most powerful signal booster the company offers, and it's made for large homes or small businesses. Here are the highlights of the DIY kit:
Includes an outdoor antenna, indoor antenna, signal booster, coaxial cable and more
Works with all U.S. carrier networks including 4G LTE and 5G
Provides up to 72dB max gain (more on that later)
Coverage up to 7,500 sq. ft.
Yes, that price tag. But I did mention it is the company's most powerful booster.
Poor cell coverage
First, a quick explainer on how the whole thing works. The signal strength of your phone is measured in decibels or dB Gain.
If you have all four bars with great reception and data speed, you're probably closer to -50 dB. Find yourself in a signal dead zone and you're on the other end around -110 dB or worse.
My house is fairly large but has a pretty pitiful cellular service history — typically one to two bars on my iPhone. It's not surprising because I live in a suburb of Phoenix in an area with mountains on three sides along with quite a few multi-story homes and businesses.
I jumped at the chance to test the weBoost Home Complete DIY kit provided by Wilson Electronics, which boasts a max gain of 72 dB. When it arrived and I opened the box, my first impression is that this thing looked pretty involved.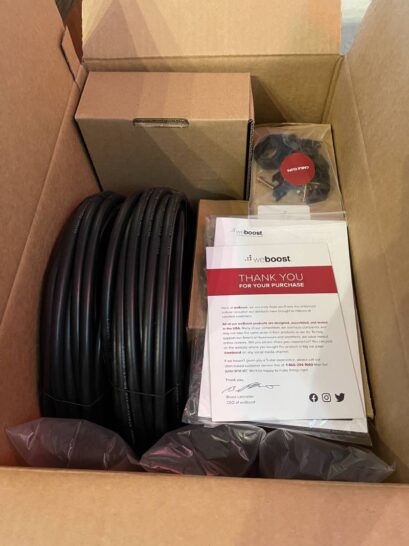 I may not be the handiest person on the planet, but I know my way around a toolbox and basic installations. Once I opened up each of the boxes inside the main box, it didn't seem all that complicated. At least at first.
DIY install? No problem
Before you start the actual install, you have to register the signal booster with your wireless provider. Check out the full disclaimer below:

Then you need to find the nearest cell tower based on your provider, which is the most critical part of this whole thing. There are apps for that, although the information provided is not always up-to-date.
Some show you tower locations, while others show signal heat maps. I went through quite a few apps and websites before landing on CellMapper.net, which is where I seemingly found the best information on my provider's nearest tower. That determines where you should place your outdoor antenna.
Once that was out of the way, I took a closer look at what's included in this kit. It obviously includes the booster, along with an outside directional antenna that captures the signal from a nearby tower, an inside panel antenna, wall mount brackets, and two separate RG11 coax cables, one 60 feet and the other 75 feet.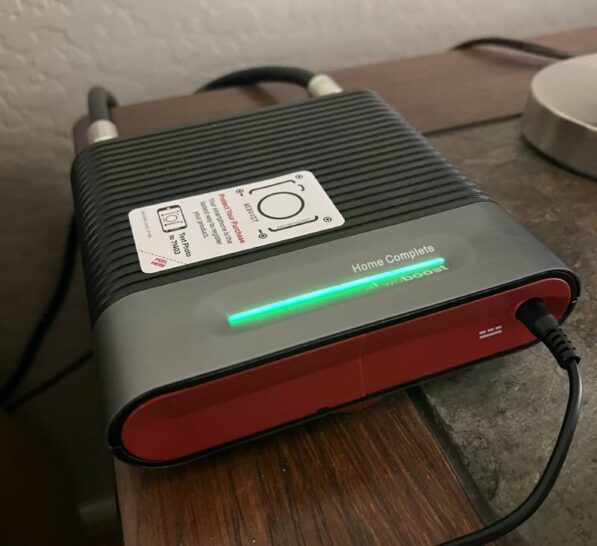 Following the directions, the first step is to pick a place to put the booster. Keep in mind that it's what both antennas will connect to, so location is important.
Then I found a spot for the inside antenna, which is pretty low-profile and looks like a speaker. It can be mounted to a wall or placed on a surface using the built-in stand.
The outside antenna comes with two mounting options: pole or wall. The ideal spot is on the roof, perhaps using the included bracket clamp to secure it to something like an exhaust pipe. I'm not a fan of heights and had no interest in getting on top of my home's two-story roof.
Instead, I attached the antenna to a second-floor balcony, which just so happens has an excellent spot for pointing it in the direction of the nearest cell tower. That initial setup was the easy part.
Placement of all the components is also important. For best performance, the outside antenna has to be at least 50 feet away from the interior antenna if both are horizontally located or 20 feet away if separated vertically. No problem since the exterior antenna was upstairs and the interior antenna was on the first floor.
Then you run the coax. I connected the 75-foot cable to the external antenna, then ran it down the side of the wall. Conveniently, there was an existing spot on the outside wall nearby where cable lines were already going into the house, so I just ran this through the same spot.
I connected that to the booster, then ran the other coax to the inside antenna across the room. I hope you enjoy placing coax through walls unless you don't mind trying to hide it another way.
Powering it up
Once everything is connected, I plugged the booster in and powered it on. I waited a couple of minutes standing near the interior antenna before looking at my iPhone's signal. It was still just the usual two bars.
Now comes the tedious optimization, which helps if you have a second person assisting. This involves rotating the outside antenna in 1/8 turn increments. That simple adjustment alone won't do the trick. You have to unplug and reconnect the booster after each turn to see if the signal improves, hence why it's a good idea to have the other person stationed at that spot.
I spent some time making those tiny adjustments, side to side in the direction of the nearest tower. In a couple of spots, I achieved a bump to three bars that stayed pretty consistent while I was in the vicinity of the inside antenna, including in different rooms.
In one spot, my signal jumped to all four bars, but it was never steady. The bars alone don't really tell the whole story, though.
By dialing *3001#12345#*, I can access my iPhone's Field Test Mode to see my actual signal strength. Depending on where I am around the house, it's usually in the -104 dB range, which, as we established earlier, is really bad.
With the booster installed, the signal improved to around -95 dB, which is still an improvement. I'm sure it could have been better, but I don't fault the equipment.
Is this cell signal booster worth it?
Not everyone needs a signal booster, even if their cell signal at home is just okay. Cell service at home can often be an afterthought with broadband internet service and other features like Wi-Fi calling that bypass cellular networks.
But for those who actually require reliable cell service at home and just aren't getting it, the weBoost Home Complete could be a worthwhile investment, especially for those who live in larger homes.
With that said, let me recommend that you opt for the professional installation. Yes, it adds another $200 on top of the price of the kit, but consider this: if tedious DIY that includes multiple adjustments along with figuring out how to get coax from point A to point B sight unseen isn't your thing, having it installed could be a small price to pay.
And again, if you want to improve your signal but don't need the most comprehensive kit, weBoost has other options, including:
By clicking our links, you're supporting our research. As an Amazon Associate, we earn a small commission from qualifying purchases. Recommendations are not part of any business incentives.