When you hear the term "wearable," it often means tech you wear on your wrist. To a lesser degree, there are also smart eyeglasses and clip-on gadgets, but you don't hear too much about smart rings.
You might be surprised, but there are actually several out there, including Amazon's now discontinued Echo Loop. I suppose it's neat to have Alexa wrapped around your finger until you realize it's really the other way around.
While other smart rings focus on fitness, contactless payment and other features similar to what's already on smartwatches, one company's ring zeroes in on what every person in the world does: sleep. The Oura scores your level of rest and other factors dealing with your overall health, but is it worth the price?
Oura existed before the pandemic
Maybe you've never heard of Oura, but the company founded in 2013 started making headlines a year ago near the beginning of the pandemic. Thousands of frontline workers were wearing these smart rings, as well as basketball players, staff and others inside the NBA "bubble" in Orlando. But why?
Built into the relatively small Oura are tiny sensors that measure your body temperature, heart rate, respiration along with a gyroscope and 3D accelerometer to track your sleep, activity and recovery. And this tech can pick up very subtle changes that could indicate the onset of an illness.
Apparently, these smart rings already had a pretty good track record for spotting flu symptoms before a person was actually diagnosed and they weren't so bad at doing the same thing for COVID-19. As part of several studies, data involving slight changes in body temperature can be used to detect initial symptoms of viruses.
It's all about sleep
The Oura is not a smart ring just for the flu and global pandemics. I had the opportunity to speak with Oura's CEO, Harpreet Singh Rai, on a recent Zoom call and this ring is all about your sleep. It's obviously vital to our health, yet Rai says as a whole, we're getting less sleep.
Years before he joined the company, the idea was to create something unique and at the time, most of what was out there barely scratched the surface on sleep. Fitbit was around, and there were bracelets by Jawbone and others that were closer in the regard but already winding down.
After three years of development, the first generation Oura ring was launched in 2016 as a Kickstarter campaign. Rai joined the company the following year and the second generation Oura Ring was created, which started shipping in late 2018.
My initial thoughts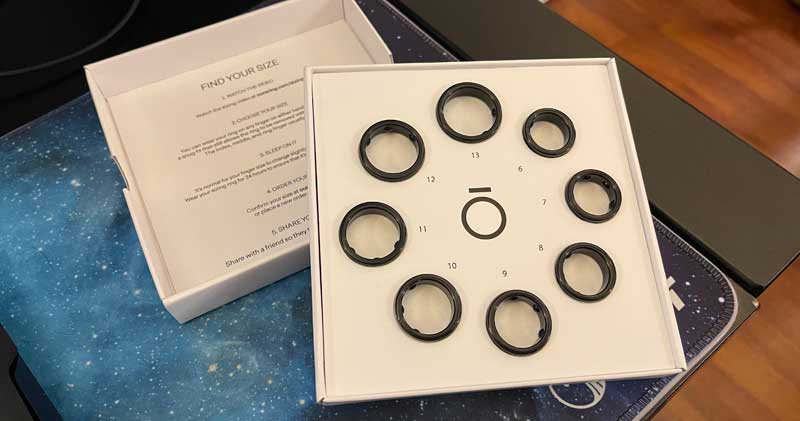 I was only somewhat familiar with the brand before the pandemic but was definitely intrigued with what the Oura Ring could tell me about my own sleep (or lack thereof). The first step is, don't assume you know your ring size and take advantage of the free sizing kit Oura will send you before you place an order for the actual ring. That's the process I went through with the sample ring that Oura sent for me to review.
Pick a finger that isn't your thumb or pinky and then find the ring size that fits best. Then wear it for a solid 24 hours because your finger can swell during the day.
Next is choosing from two different ring designs and four finishes (more on that later), and even after making my selection, I still wasn't too sure what to expect. When it arrived a few days later, I had a few initial observations: it was a little bulkier than I anticipated, yet much lighter and it fit perfectly.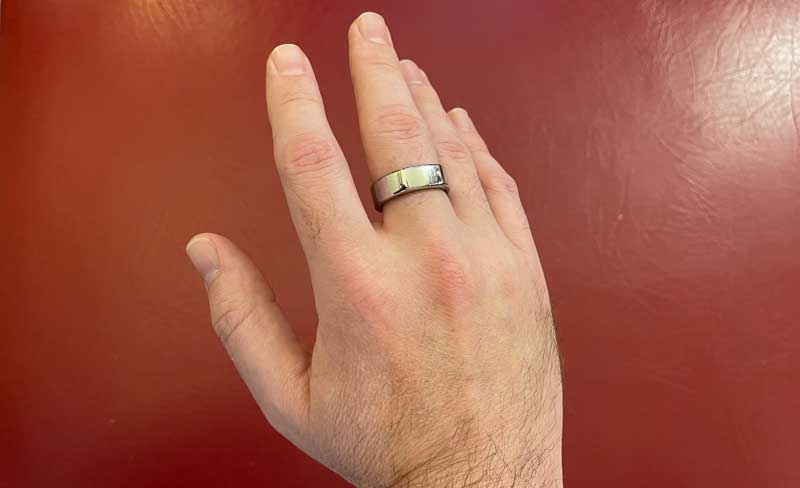 It looks like a standard piece of jewelry, with some notable differences. Like an outer layer of titanium that covers the inner band of molded plastic. That's what houses all the tiny sensors and other tech.
I downloaded the app, filled in the personal details, selected my goal and let the Oura charge all the way to 100% on its nifty little USB-C charging stand. Then there's a little more waiting involved because the ring has a getting-to-know-you phase to understand your baseline metrics better, meaning you'll have to wear it for at least two weeks before you really start seeing accurate readings.
That also gives you time to get to know your ring and although I thought it was bulky at first, it only took a few days before I would forget it was even there. Making it even easier was the fact that the battery lasts seven days before needing a recharge.
What I learned from the Oura ring
I already have an Apple Watch that tracks my steps, my workouts and to a limited degree, my sleep. And it's my sleep that I wanted to know more about.
After waiting the two weeks to really start looking at the numbers, I was surprised to find out how very little deep sleep I get. For example, on one random night where I got seven hours of sleep, only 54 minutes was a deep sleep. As far as REM sleep, it was barely over two hours.
More than that, sleep is one part of three daily scores that also includes activity and readiness. The latter looks at these key metrics:
Resting heart rate
Heart rate variability (HRV) balance
Body temperature
Recovery index
Previous night's sleep
Sleep balance
Previous day activity
Activity balance
For each, you might get a score of good or optimal, but if there's a negative reading or deviation from the norm, you'll see a message to "pay attention." For example, if your HRV balance isn't up to scratch when compared to your average, it's a sign that your body or mind is under stress. That could be the result of a recent high-intensity workout, a late-night out or an illness.
Your recovery index deals with how long it takes for your resting heart rate to stabilize during the night. A message to pay attention to that one could be the result of a heavy meal before bed, which the app says can leave you feeling unrested the next day.
There are all kinds of other metrics, but if the ring picks up on areas of concern (including even slightly elevated body temperatures), you'll get alerts, possible reasons for the deviation and suggestions. There's just so much to learn by going through the easy-to-digest data on the app.
Is the Oura Ring worth it?
The Oura is similar to other wearables in certain ways and very different in others. This is coming from someone who's owned a Jawbone fitness tracker, at least two Fitbits, an Android watch or two and a couple of generations of Apple Watch.
Buy a smartwatch/fitness tracker if:
You want phone notifications on your wrist, such as calls, texts, emails, etc.
You want general fitness tracking like workouts, calories burned, steps, etc.
You want other random features like GPS, voice assistants, music storage, etc.
You don't mind wearing it while sleeping.
Buy an Oura Ring if:
You want more in-depth data regarding your sleep, including heart rate variability.
You want a look at the bigger picture of your overall health, which ties directly to how well you sleep.
You want to know at what level you're ready to take on the coming day; data about what's ahead instead of past-tense metrics covering what you've done.
And it doesn't have to be one or the other. Like I said, I also own an Apple Watch, which I wear in addition to the Oura every single day.
The Oura comes in two different designs: Heritage (which I have) which flattens at the ring's surface and Balance, which is a pointed design. The ring is $299 for a silver or black finish and $399 for a stealth or gold finish.
All are made of lightweight titanium with up to 7-day battery life and are both scratch and water-resistant. Tap or click here to learn more and order your own.
Major partnerships
If you're wondering if Oura is here for the long haul, it's not just healthcare workers who have adopted the ring. Besides the NBA, Oura is partnering with other sports teams and organizations such as the Seattle Mariners (MLB), WNBA, UFC, NASCAR, Red Bull Racing and the World Surf League.