No matter where you go, your phone goes with you, right? And when I'm traveling, that also often includes a tablet, wireless earbuds and perhaps even my laptop.
Then you have to consider everything to bring along to keep your gadgets up and running, from charging cables to wall adapters. Not wanting to lose them, I keep everything together in one bag or case.
That's where Nomatic comes in. What started a few years ago as a Kickstarter campaign for a new wallet has turned into a company that makes everything from backpacks and luggage to tech organizers and crossbody commuter bags — but are they worth it?
Meet the Nomatic Navigator Tech Organizer
One of Nomatic's latest products is the Navigator Tech Organizer. It's not a large bag by any means, coming in at nine inches tall, almost six inches wide and three inches deep.
On the surface is a fairly rigid, water-resistant shell. On the backside is a handy elastic grip handle along with a loop to hang it. It also has a smooth yet durable feel.
Inside, you can tell it was designed to carry your smaller tech accessories using various mesh pockets, zipper pockets and elastic holders. There's storage on both sides of the organizer and in the center divider.
Watch: Ben reviews these Nomatic bags on Kim's radio show
Putting it to the test
To see if it can keep up with what I bring along on a typical weekend trip (including camping), I loaded it down. That includes charging cables for my iPhone, iPad and Apple Watch, along with two charging adapters.
I also threw in a stylus, a small USB-C hub for my laptop, my AirPods and "spare pods." Hey, you never know when you're going to need backup wireless earbuds.
After I got everything in the bag, well, it was a little full and as you can see in the image above, I had to use a little finesse to get it closed. Luckily, all the fabric is pretty stretchy and it never felt like it was going to literally burst at the seams.
Mission accomplished for the most part, but even if I removed a few items, it still wouldn't fit my Anker portable battery charger.
For everything else, there's the Nomatic Navigator 6L Sling
For your tech overflow or to use as your daily commuter bag, there's the Navigator Sling 6L. While much larger than the Tech Organizer, it's still relatively compact and can hold a tablet such as an iPad up to 11 inches in size.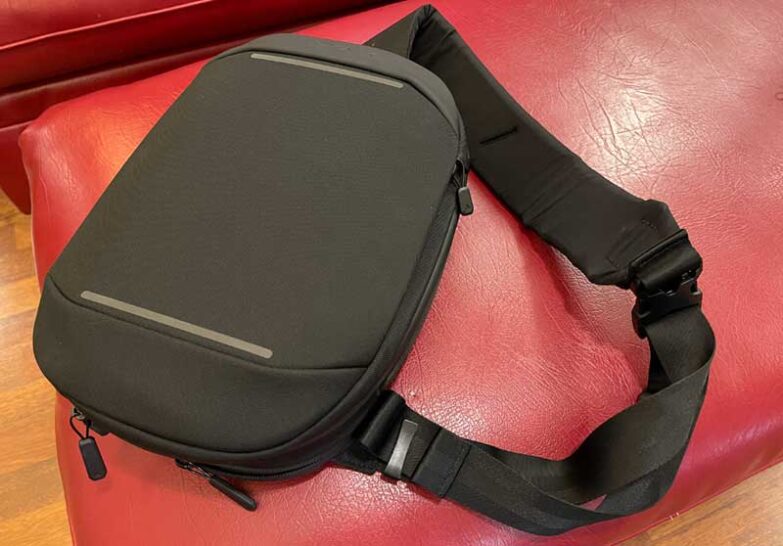 Even if you don't see the branding, you can tell by the unique design that it obviously comes from the same company as the smaller bag and this crossbody sling is meant to be a little more versatile. While the pocket you would use for your tablet is separate, the main compartment has four pockets inside made from mesh.
One of them is an RFID safe pocket, meaning you can store credit cards, licenses or passports without fear of a nearby hacker using a special electronic reader to steal your data. Statistically, there's no huge risk of that happening anyway, but I guess it's a nice extra layer of security.
Speaking of security, it also has tamper-proof zippers, meaning you can attach small locks to secure each compartment. There's also a smaller, hidden pocket that includes a key leash. The sling also sports a handy cord management system so you can feed cables to the various pockets and charge your stuff.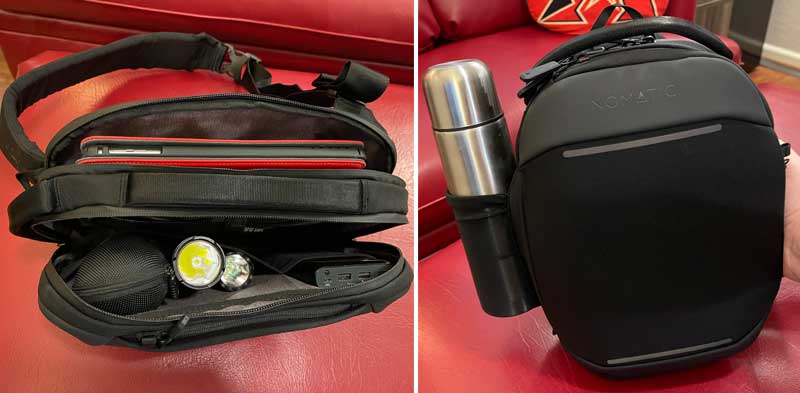 For this one, I packed my iPad, portable battery charger, a case for sunglasses, a backup phone cable and for good measure, a couple of flashlights. As you can see in the image, there's also an elastic water bottle holder that unzips out of that side.
Are these bags worth it?
These bags were sent to me for review, and not necessarily products I would have known about or picked out otherwise. That said, for me the smaller Navigator Tech Organizer is a must-have for any travel, no matter if it's business or personal. And that includes trips to the great outdoors. The seemingly quality materials and water-resistant exterior are a bonus and help to justify its $59.99 price tag. I really like this case.
I have mixed feelings about the Navigator Sling 6L. While yes, it could be a solid choice for daily commutes to work and is also made to stand up to the elements like rain, the larger size means a much higher cost. I appreciate some of the added features, from security and extra pockets to a bonus cardholder on the strap, but it's still a bit limited for something that costs $129.99.
For comparison, though, if you want a Nomatic backpack or messenger bag that's large enough to hold even a small laptop, you'll be spending north of $200. No doubt the company makes nice-looking, premium products, but you'll save a lot by picking something else if you don't need the fancier upgrades.
By clicking our links, you're supporting our research. As an Amazon Associate, we earn a small commission from qualifying purchases. Recommendations are not part of any business incentives.