Welcome to the future, where video calls have become commonplace, drones are actually starting to make package deliveries and artificial intelligence has been weaved into just about every field imaginable.
Oh yeah, and screens have become foldable. Samsung has been releasing new bendable smartphones for a couple of years now, along with a few other manufacturers. LG has TV screens that unroll out of a box.
So it was only a matter of time before that technology was applied to computers, and the world's first foldable PC has arrived. Is this groundbreaking computer worth it?
A world's first
Behold, the Lenovo ThinkPad X1 Fold with an Intel Core i5 processor and 13-inch, 2K OLED display. This PC also packs 8GB of RAM and, depending on the model, an SSD with storage from 256GB to 1TB. Obviously, those aren't the headlining specs.
Winner of dozens of awards at this year's CES show, this Lenovo ThinkPad 2-in-1 looks to shake up the world of computers as we know it with its folding display. It can be used as a tablet, a book, a tiny laptop or a desktop-style computer, sort of, along with optional accessories like a Bluetooth keyboard and pen.
The name of the game here is versatility and the X1 doesn't look half bad, either. You just hope it's not all for show.
The Lenovo ThinkPad X1 Fold first impressions
I've been aware of this computer's existence for months and when Kim first told me about testing a review unit of this PC, let's just say I was more than a little excited at the prospect. Even opening the box was a cinematic experience where you could almost see the glow around it and hear the operatic music — even though it was all in my head.
Make no mistake, it's a beautiful machine, that's just the right size to hold in your hand in tablet mode and compact enough to fit in relatively small bags when folded. It's also covered in a non-removeable leather folio, which is very nice I might add, that protects it and doubles as a stand.
Check out News Director Ben's review of this foldable PC on Kim's show:
Within a few hours, I sent a message to Kim saying, "this Lenovo might just be my favorite thing ever." And I wasn't kidding.
Depending on how far back your own experiences go, it could be like unboxing a VCR for the very first time or a portable CD player that comes with you. Maybe it's closer to the marvel of an iPod that could hold music and play movies, or your very first do-everything smartphone that really changed how you use devices forever.
That was my initial assessment of this foldable computer because I had never used anything quite like it. And I wanted so very much to love everything about it. More about that later.
Looking over the exterior, I noticed the little details like the webcam placement and the buttons on the side that were hardly noticeable. As far as wired connections go, you'll only find a charging port and a couple of USB-C docks. To connect peripherals (other than wireless), you'll need a USB-C hub, such as this option from Anker.
Depending on which version you go with, you have the option for a rechargeable stylus pen (to write and draw) and a Bluetooth keyboard that magnetically connects to the frame. Do that, and it looks almost like one of those netbooks from days gone by. By the way, that's also how the keyboard charges.
What's nice is that the computer can "fold" over the top of the keyboard for easy portability. The problem is that it's a very compact keyboard, which can be frustrating when you're trying to work like you normally would.
For instance, next to the L key, you won't find the usual colon/semicolon key or the quotation key. Those have been moved from the left of the Enter key to directly above it. So if you know how to type, your right pinky finger hangs out over the Enter key now, which really messes with muscle memory.
And trying to type a question mark? It's in the same region of the keyboard you would expect, but instead of pressing Shift and that key, you have to add the Function (Fn) key to the mix. That means you have to press three keys simultaneously to get a question mark, which got annoying quickly.
It's nice that you can get a keyboard made specifically for this computer, and I understand trying to make it as compact as possible but get a different one with a more traditional layout if you want to stay productive.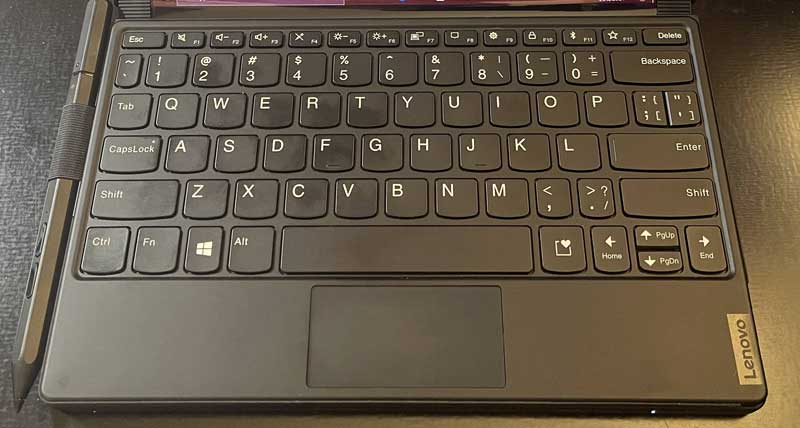 Under the hood
This ThinkPad is powered by an Intel Lakefield i5 processor, which is made specifically for smaller devices. A smaller processor means less performance, so don't expect this 2-in-1 to be a workhorse, especially when you consider this only has 8GB of RAM.
Having only so much internal real estate to deal with, the built-in webcam is also a bit lacking with a 720P resolution and the speakers are missing any real oomph. While the display is vibrant, that comes at a cost with a battery life that doesn't last as long as I expected.
While this runs Windows 10, it's not exactly optimized for what this device is trying to do. I came across quite a few instances where it seemingly got confused or took more than a couple of seconds to switch between different viewing modes.
What I like about the Lenovo ThinkPad X1 Fold
Sleek design – yes, people will ask, "what's that you've got there?"
Versatility – You can make it as large as a 13-inch laptop or the size of a small tablet.
Portability – Very portable and relatively lightweight.
Durable – A nice leather cover that seems to add durability.
What I DO NOT like about it
Clunky – Did I mention the keyboard and having to try to type a question mark three times before getting it right?
Disappointing execution – Glitchy Windows performance on what's supposed to be a revolutionary device.
Unimpressive battery – Average battery life at best.
High cost – Last but not least, a starting price of $2,500.
Verdict
Oh, had I not mentioned the price yet? Remember, this is the world's first foldable PC.
On the surface, it's a beautiful device that you can hold like a book or use like a clamshell. Flatten it to make it a full-sized tablet. Yes, you can see creases under the screen, but it's only noticeable when it's turned off.
Fold it closed and it's the perfect size to pack in a bag and take with you. So many pros, yet too many cons …
Is the Lenovo X1 Fold worth the price?
Being an early adopter means spending more money than those who wait. In this case, a lot more money. The Lenovo ThinkPad X1 Fold starts at $2,499 for a 256GB SSD, but sadly no stylus pen or companion keyboard. Tack on another $250 for those, which again is not a very user-friendly keyboard.
If you want the top of the line, that'll set you back $3,099. The only big differences are the inclusion of Windows 10 Pro and a 1TB SSD.
Again, it's versatile, but so is a Microsoft Surface. The light-duty Surface Go 2 starts at $399. If you want all the options, you can configure a Surface Pro 7 to include an Intel Core i7, 16GB of RAM, a 1TB SSD and the optional keyboard/cover for $2,299 — and still save a couple of hundred bucks from the entry-level X1 Fold.
I truly wanted to love this magical gadget, but think of it as finally meeting your hero, whether it's a celebrity, athlete, whatever. You have all of these high hopes and once it finally happens, you risk finding out they're not who you thought they were. Or, in the case of the X1, not what you hoped it would be.
Not to say Lenovo won't release a better version down the line, but the first generation foldable 2-in-1 just doesn't hit the mark.
Bottom line: this foldable 2-in-1 is pretty revolutionary but, like any other first-of-its-kind, priced that way. If you have two to three grand burning a hole in your pocket and want to be the first person you know with a folding computer, have at it. Tap or click here to see all the current models (with 5G versions coming soon).