Need a new pair of true wireless earbuds? It used to be a relatively easy decision to make due to the sheer lack of options. Not anymore.
Filter out the cheap, poorly-reviewed stuff and you have real contenders from brands including Apple, Beats, Bose, Sony, Soundcore (check out this review) and Jabra with sought-after features like active noise cancellation. Just be ready to pay a pretty penny.
The latest from Klipsch is no exception. Active noise cancellation isn't the only notable feature in these new wireless earbuds, which pack artificial intelligence for hands-free, gesture-controlled operation. Nice feature, but it doesn't come cheap.
Klipsch T5 II True Wireless ANC Earphones – The specs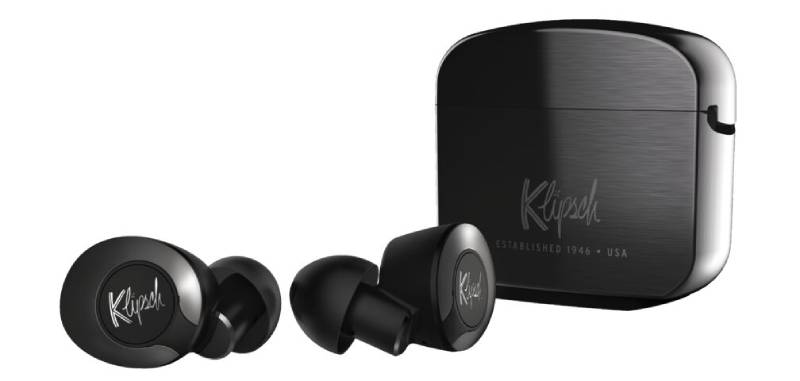 While these wireless earbuds might be new, Klipsch certainly isn't. This year, the audio tech company celebrated its 75th anniversary and released a host of new products, including a pretty amazing soundbar system I also had the chance to review recently.
Shortly after, Klipsch released the T5 True Wireless ANC Earphones, which build on previous models and is the first to include artificial intelligence. Here are the key specs:
Active noise cancellation (ANC) and Transparency Mode
Built-in Bragi operating system with embedded A.I. (for use with gesture controls)
Dirac HD Sound
Up to 7 hours of battery life, or 5 hours with ANC enabled
Charges via included USB-C cable or with any Qi-enabled wireless charging pad
6 ear tip sizes for a customized fit
Choose from copper, gunmetal or silver
First impressions
The first thing you'll probably notice about these earphones, because it's the most challenging detail to avoid, is the painful retail price of $299. For comparison, that's $50 more than Apple's flagship AirPods Pro.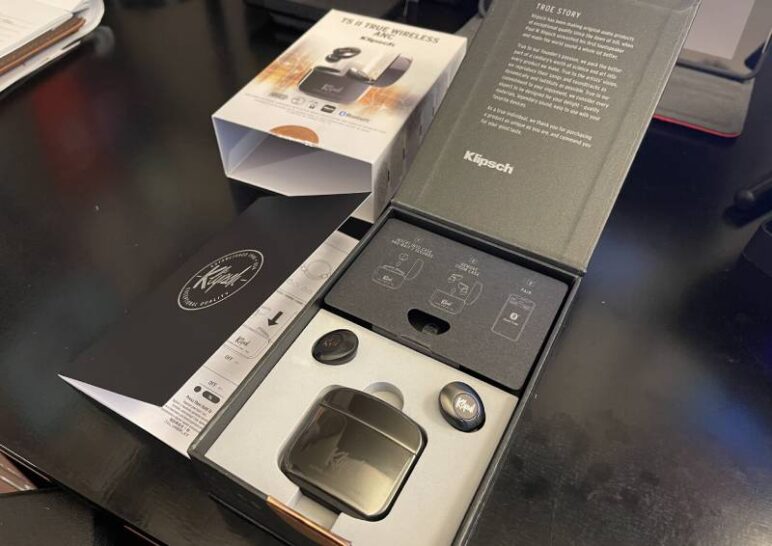 Once you wrap your head around that and break these open, they're immediately striking from a design standpoint. They sport a fairly unique shape compared to other wireless earbuds, and that shiny metal charging case is like a callback to a retro-style Zippo lighter. That makes it a little heavier, too, so you'll always know it's in your pocket.
The T5 II ANC also comes with six different sizes of ear tips, which is an important factor for any wireless earbuds that offer noise cancellation. With a bad seal, they might as well not have that feature included in the first place.
While charging them, I downloaded the Klipsch Connect app for my iPhone (also available for Android) and followed the prompts to pair the earbuds. Then the app will walk you through setting up other features like ANC and something called Bragi Sidekicks, which is the gesture-based A.I. mentioned earlier. More on that soon.
The big test
With the right ear tips, these have a very nice fit in the ear. But before firing up Apple Music, I wanted to adjust some of the default settings …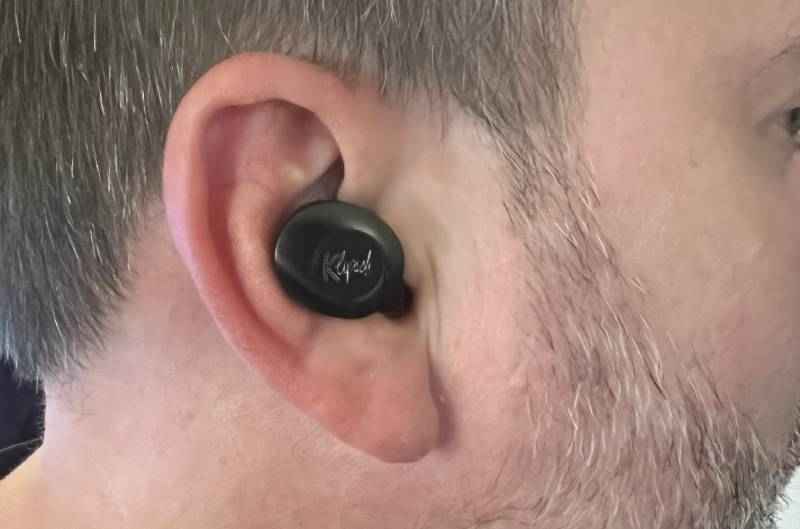 Open the app, along with the buttons at the bottom of the screen is one for the equalizer. You can make fine adjustments or select from one of the presets. I chose Rock.
I backed out of that menu and tapped on ANC, where you can turn active noise cancellation on, off or set it to transparency mode so you'll hear the sounds around you. There are also settings to activate ANC automatically when listening to music and another to activate Transparency Mode when on phone calls, so you hear yourself more naturally.
There's also a setting for Dirac HD Sound, which Klipsch describes as "technology (that) optimizes sound performance digitally for clearer, richer, and more balanced sound."
One of the first songs I like to play when trying out a new pair of earbuds or headphones is Chris Cornell's "You Know My Name" from the first 007 film starring Daniel Craig, "Casino Royale." It's just a powerful song, from vocals to guitar and bass, along with a full orchestra.
Right off the bat, these earbuds are very impressive. The sound was rich, with clear vocals and balanced sound coming from the instruments.
While listening, I switched between a couple of the EQ settings, moving from Rock to Bass. I get that companies can't produce a booming subwoofer that fits in your ear (probably shouldn't even if they could), but instead of simulating heavier bass, the song immediately sounded more muffled.
I also turned off Dirac HD Sound and immediately regretted that decision. From a digital enhancement standpoint, it's night and day and that option quickly became the standout feature of this particular model.
ANC and all that other A.I. stuff
As far as active noise cancellation, I'll get right to it. It's fine but not superior to my AirPods Pro or even Anker Soundcore Liberty Air 2 Pro earbuds. Inside, outside, doors closing, dogs barking, it didn't matter — more sound came through the Klipsch earbuds than the others. I even tried a couple of different ear tip sizes to make sure that wasn't a factor.
For phone calls, the sound is excellent. I can hear who I'm speaking with clearly and vice versa, thanks to a two-microphone system. Transparency Mode worked well during calls, too.
As far as controls, each earphone has a single button. Tap the button on the right earbud to play or pause music, for instance, or tap the button on the left one to enable or disable ANC. You can customize those, along with actions for double and triple button presses. But let's get back to the Bragi artificial intelligence …
The A.I. system is to let you control functions through gestures. For instance, you can answer an incoming call by nodding your head three times. Shake your head three times to reject a call, or to skip a track if you're listening to music.
It works, but I'm not so sure it would look cool, vigorously nodding or shaking my head in a public setting. To each their own, but the app also lets you calibrate those gestures to better improve recognition. Additional gesture controls are also supposed to be added as time goes on.
Verdict: Are the Klipsch T5 II True Wireless ANC Earbuds worth it?
To sum up, these are great true wireless headphones, with impressive features I mentioned and some I didn't, like a fast-charging case. Some things annoyed me, too, particularly about the Klipsch Connect app that would constantly have to re-establish a connection to the earphones when I was testing settings.
My favorite features:
Earphone design/fit
Metal charging case
Sound quality — especially when the Dirac HD Sound feature is enabled
What's not so great:
The ANC works, but it's just so-so
Battery life could be better
A.I. gesture-based controls are unique, but not a major selling point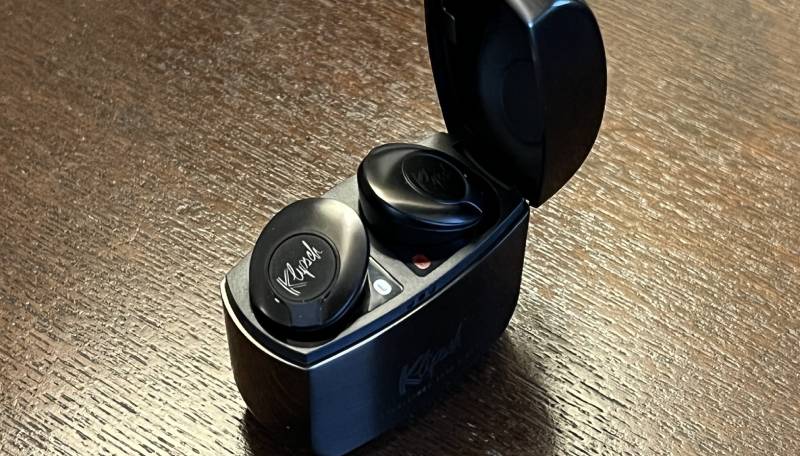 Should you take a chance and buy them? Above all else, what these earbuds lack is a reasonable price tag.
Even with the best features I mentioned above, $299 is a price that isn't justified. Knock them down to $250, and I would at least consider them. But I'd still pick the AirPods Pro or a more affordable alternative with similar features every time.
By clicking our links, you're supporting our research. As an Amazon Associate, we earn a small commission from qualifying purchases. Recommendations are not part of any business incentives.