Buy a new TV these days and you'll be amazed by any number of advancements from screen technology and size to colors and number of pixels. But if there's always been one constant, it's that the built-in speakers just don't cut it.
Historically that means the added expense of an A/V receiver, surround speakers and a subwoofer (or two, as in my case), which can easily go past the $1,000 mark when all is said and done. That kind of setup can be cost-prohibitive for some and just not worth it for others — especially for those who have no interest in running speaker wires through the ceiling.
That's why cheaper, less-intrusive soundbars have become the go-to option for most consumers over the past decade-plus. Now one well-known audio tech company is looking to bridge the gap between the expensive home theater systems and budget-friendly soundbars — but is its solution worth the price?
Klipsch Cinema 1200 Sound Bar System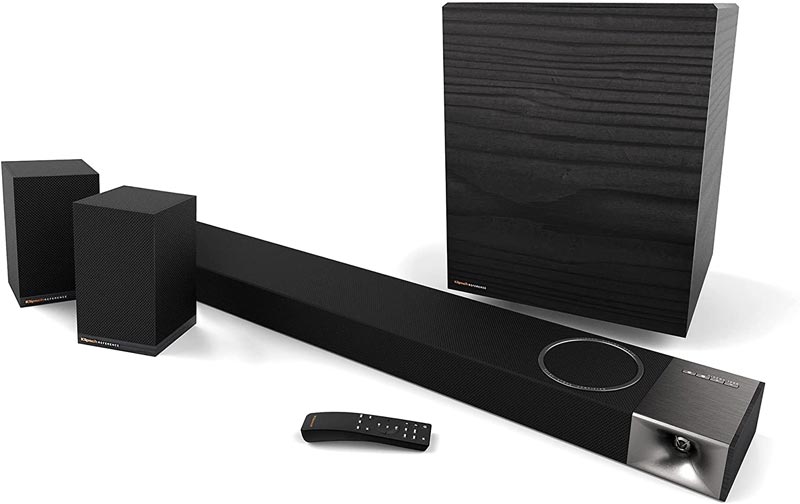 Behold — celebrating the company's 75th anniversary, the all-new Klipsch Cinema 1200 Dolby Atmos Soundbar System. It consists of a 54-inch long soundbar (4.5 feet!), a massive, 12-inch down-firing wireless subwoofer and two wireless surround speakers. Here are the other key specs:
1200 watts of power
5.1.4 system with full 7.1.4 Dolby Atmos decoding
HDMI-eARC and 8K video pass-through
2 additional HDMI inputs
Dolby Vision HDR compatible
Pairs with Klipsch Connect app for firmware updates and more
Built in Bluetooth and Wi-Fi for smart home integration
Compatible with Google Assistant, Amazon Alexa and Spotify Connect
Make no mistake — this soundbar isn't supposed to be an answer to the bad speakers built into your TV; it's supposed to replicate the experience of sound quality you can only get at a modern movie theater. Because where are most people watching movies these days? At home.
If you're not familiar with Dolby Atmos, it's a type of spatial surround sound technology that turns audio into a sort of three-dimensional object you're immersed inside. And it's supposed to sound exactly like the creators, whether of music or movies, intended.
And it comes down to how important sound quality is to each person. Do you want to just hear every explosion or spaceship fly-by you see on screen or be immersed in it?
I choose the latter, but the question is whether or not this very expensive soundbar can change my mind about traditional home theaters consisting of A/V receivers and speakers on every wall. I've never been a fan of soundbars for living room/movie room applications, and I definitely had my doubts.
Getting to know the Klipsch sound bar system
The Klipsch Cinema 1200 shipped to me for review arrived in three boxes: the elongated box obviously containing the soundbar, another with the two surround speakers and a very heavy box with the subwoofer.
Once everything was carefully unboxed, it was pretty self-explanatory what each piece of hardware and cable was for — especially for anyone with experience hooking up A/V tech. The biggest "wow" factor was definitely the sheer width of the soundbar.
The soundbar is short enough to stay low-profile from the front, but it's pretty deep due to the three-inch up-firing Dolby Atmos tweeters on each side.
Making a few adjustments
Below is my current home theater setup that includes a high-end Yamaha A/V receiver, two Polk floor standing speakers, a center channel speaker and two 12-inch Klipsch-powered subwoofers.
Not pictured are four other speakers hanging around the room from the ceiling. What this set lacks compared to the Klipsch system is that while my receiver is Dolby Atmos compatible, my speakers are not.
I made some room on top of the entertainment stand, moved a few HDMI cables around and got everything plugged in. Here's the best part about the setup process so far: the soundbar automatically detected and connected to the wireless sub and surround speakers. No pairing processes are required.

To experience Dolby Atmos, you have to check a few boxes:
Audio equipment that can decode it (like this sound bar) – ✓
Compatible streaming hardware (like the latest Apple TV) – ✓
Actual content (such as what you can find on Disney+) – ✓
I browsed through a few streaming services, looking for a worthy movie and ended up on "Avengers: Endgame." After using the remote to switch the soundbar into movie mode, I hit play.
I'm not going to give you the play-by-play of how well this system sounded for all the massive battle sequences, but let's just say I'm finally a believer in soundbars. Well, this one, at least.
The audio was crisp across the board. Voices were clear, the booming bass was clean and it never rattled the walls in ways it wasn't supposed to. Immersive really is the right way to describe the experience — it felt like the sound was all around me.
Bonus: The remote is also a nice touch, with keys that light up as soon as you pick it up.
Verdict: Is this high-end sound bar system worth it?
Here's how it breaks down: If you love customizing your own home theater systems with expensive A/V receivers, speakers, subwoofers and having the ability to adjust every bit of sound yourself, you're probably not going to like the idea of putting that all aside for a soundbar — even this one.
And if you're fine with the way budget soundbars handle audio as it is, you're definitely not going to drop $1,700 on this beast. For everyone else, here are the pros and cons:
Pros
Best audio you can get from a soundbar system
Great for those wanting high-quality sound without the hassle of wiring up a receiver and a bunch of speakers (including sending wires through the ceiling)
This system also saves space
Cons
Very expensive for a soundbar
Only 2 HDMI inputs for external components
Limited sound customization aside from modes (although that could change with future Klipsch Connect app updates)
Right now, I'm not ready to give up my existing home theater setup. I also know that one day I'm just going to be done with running speaker wires through ceilings and walls, then trying to tediously connect them to the back of a receiver like playing Operation.
If you just want a basic soundbar, go for it, but if you're on the fence about choosing a traditional home theater set or a more advanced option, give the Klipsch Cinema 1200 a closer look.
You can even take it down a notch. At the same time this summer, Klipsch also released the Cinema 800, which includes a smaller soundbar and subwoofer. This set nixes the surround speakers but is still Dolby Atmos compatible and costs half of the flagship set at $879.
By clicking our links, you're supporting our research. As an Amazon Associate, we earn a small commission from qualifying purchases. Recommendations are not part of any business incentives.