Your desk is a mess. OK, maybe not your desk specifically, but think about all the things you'll find in the average workspace. Tap or click here to give your home office a high-tech makeover.
Start with your computer and then there's a monitor or two (or three?) along with a keyboard and mouse. You might have a set of speakers, wireless earbuds and of course, the all-important phone charger.
Regardless of it being a cable on your desk or some kind of docking station, it still takes up space. Now you have the option to buy an innovative and "invisible" gadget that basically turns your desktop into a wireless charging pad — but is it really worth it?
Kew Labs UTS-1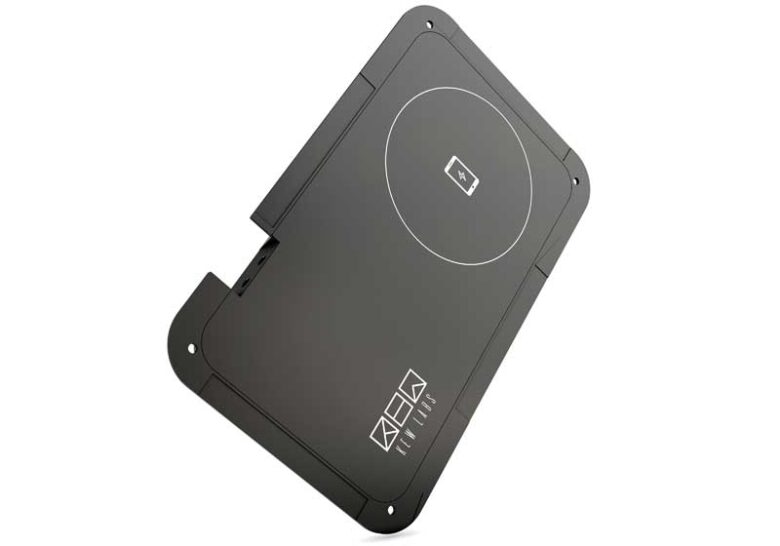 Meet the Kew Labs UTS-1 Wireless Charger, a 2021 honoree of the CES Innovation Awards that promises to turn just about any flat surface into a charging pad. Not only that, but this Qi charger is supposed to be as fast as some of the more speedy wireless charging options for iPhones and Samsung Galaxy smartphones.
As long as the surface isn't too thick, whether it's a desk or some other kind of table, the idea is to mount this charger underneath (no drilling required), hence the "invisible" part. It works with wood, glass, plastic, marble, granite and quartz but keep it away from metal surfaces.
The ability to charge your phone with a surface in between is possible because of Kew Labs' patented Intelligent Power Communication (IPC) technology, which the company calls the first of its kind. Like any other Qi charger, the electromagnetic induction passes through material such as a phone case, just on a larger scale in this situation — which takes a little setup.
Want to 'see' this invisible charger in action? Check out the review on Kim's show
Choose your location wisely
When the sample unit sent to me for review arrived, I remembered not to get ahead of myself and just tear open the packaging. You first have to make sure the surface you want to attach it to isn't too thick or thin, and luckily there's a guide you can use right on the side of the box to double-check. For the standard UTS-1, the surface can't be more than one inch thick or thinner than seven-tenths of an inch.
Instead of adding it to my desk, I wanted to install the charger on an end table where it's also accessible to others in the household and it was within the correct range. Now it's time to open the box.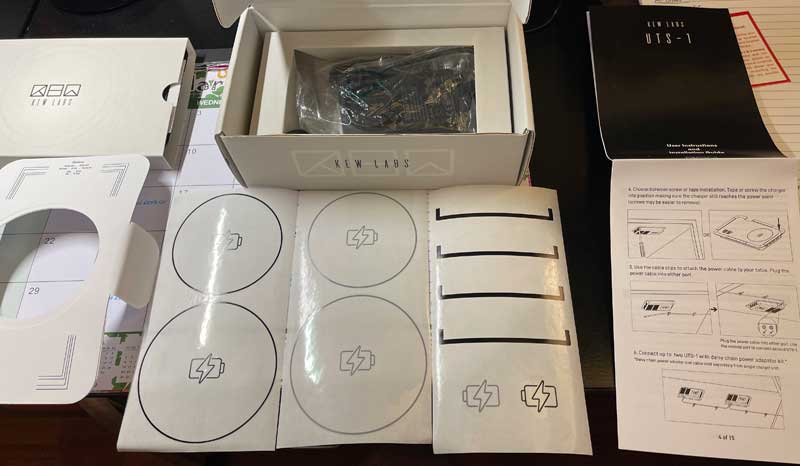 The package wasn't all that large, but I still found more than I was expecting inside. Besides the actual charger, there's the power adapter, manual, paper guides and various stickers. The next steps involve a certain level of patience …
Some assembly required
Verifying that your desk or table works is the easy part. Now it's time for a little trial and error. Pick the spot on the surface where you want to charge your phone, then line up and attach the charger directly underneath. Even if it's possible to drill small screw holes, it's much easier to use the supplied double-sided tape to mount it.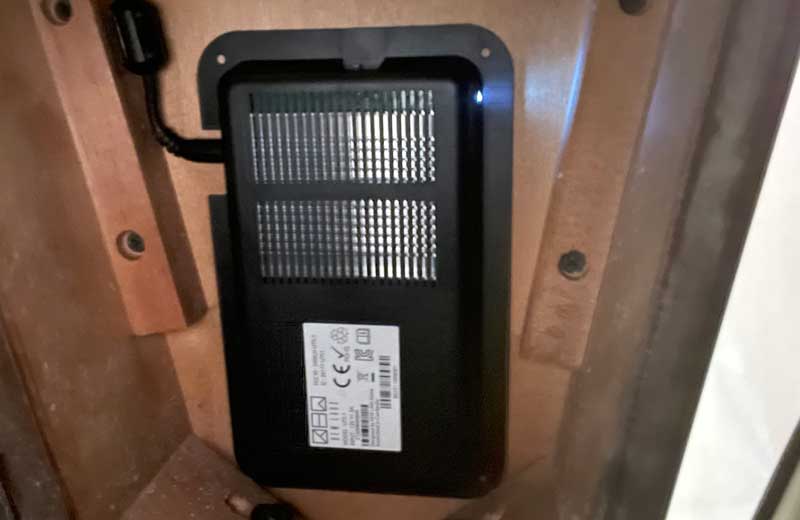 Once that's done, attach the power cord and toggle the tiny switch on the charger to C for calibration. Place your phone on top of the paper template that most closely matches your specific model. Then use both hands to slowly move it over the spot where the charger is located.
The charger will beep more frequently as you get closer to the sweet spot and become a solid tone when the phone is perfectly lined up. That's where you slap one of the stickers to show where X marks the spot. Then toggle the charger from C to one of two other settings based on table thickness.
Does it work?
Because I didn't want to attach the charger in a bad spot only to pry the double-sided tape off later, I was probably overly cautious during the installation process. Even still, it only took 20 minutes or so.
And it works … sort of. While the UTS-1 is designed to work with all Qi-compatible smartphones, it has a little trouble with the most recent iPhone 12. Part of the problem is the thicker camera module. But the biggest impact on performance is the MagSafe tech built into the iPhone 12, which has internal magnets that interfere with the charging signal.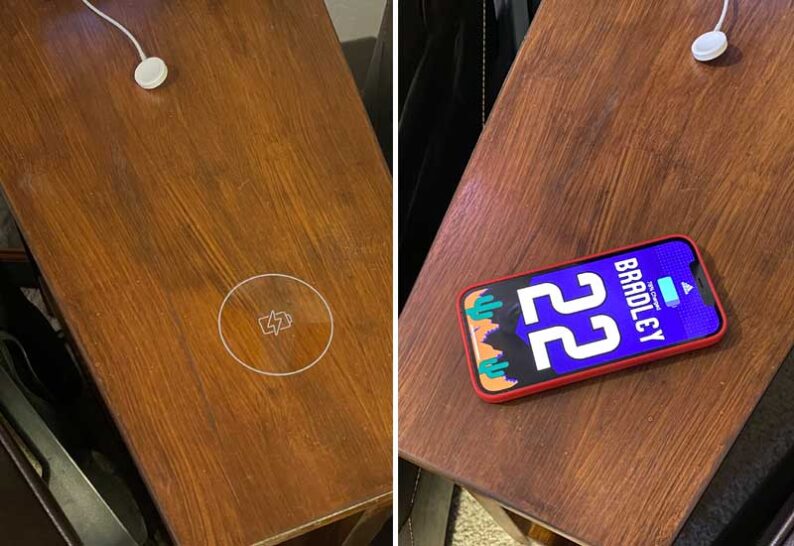 And wouldn't you know it, I have an iPhone 12 Pro Max. While Kew Labs recommends removing the case from an iPhone 12, it still charges mine — but it's very, very slow.
Verdict: is this unique wireless charger worth it?
Convenience isn't cheap, and adding an "invisible" charger to your desk is no exception. While it's satisfying just to plunk your phone down and watch the charging indicator light up, it's not going to be for everyone — especially if you have an iPhone 12.
I love the novelty of the idea because it really is unlike anything on the market. I'm also appreciative of all the thought that went into the design, such as foreign object detection that keeps it from trying to charge your keys or a random utensil you mindlessly placed on the charging spot.
But quite a few reputable low-profile charging stations are going to be much cheaper than the $104.99 price tag of the UTS-1. It's the same price for the standard version or the newer model for extra thin surfaces. You can also buy a 2-pack that can be daisy-chained together for $199.
Go for it if you're looking for a tidier workspace that'll simultaneously impress friends or coworkers in a gadget that you can describe as a "world's first." If that's not the case, or if you have the latest iPhone, you'll probably experience some buyer's remorse.