Many modern cars are pretty good at shutting off power to anything you left on that could end up killing the battery. Older cars, on the other hand, forget to turn off that overhead light (or it's just a frigid day), and you'll be looking for the jumper cables.
If there are portable battery chargers for everything else, why not your car? Not only do they exist, but they've also actually been around for quite a few years.
While some are just made to jump-start your car's dead batteries, others have a few additional tricks up their sleeves, like the JumpSmart 10-in-1 that resembles a simple flashlight. The question is, is it worth the price and, more importantly — does it actually work?
JumpSmart 10-in-1
I'm a big fan of flashlights (who knows why), but I'm also partial to portable battery packs. Put them together and behold, the JumpSmart 10-in-1 Multi-Tool (pictured below) from Limitless Innovations that can also rescue your car.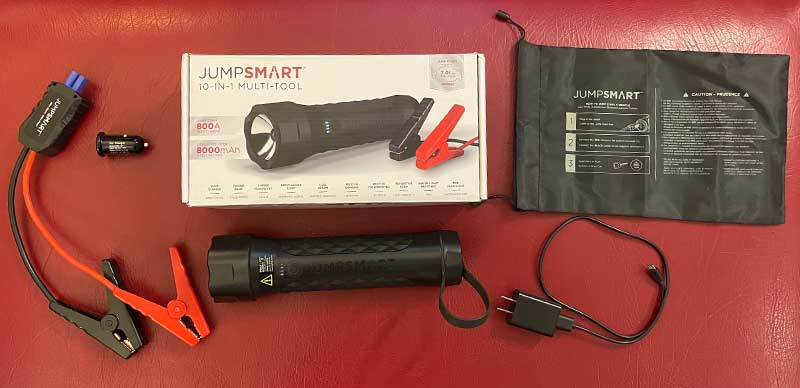 Saving the jump start feature for last, here are some of the highlights of the JumpSmart 10-in-1 that was shipped to me for review:
330 Lumen LED flashlight with about 500-ft. reach and four modes: High, Low, SOS, strobe and red flashing
Dual USB ports to charge other gadgets like your smartphone or tablet
Safety tools including a compass, thermometer, reflector strip and audible alarm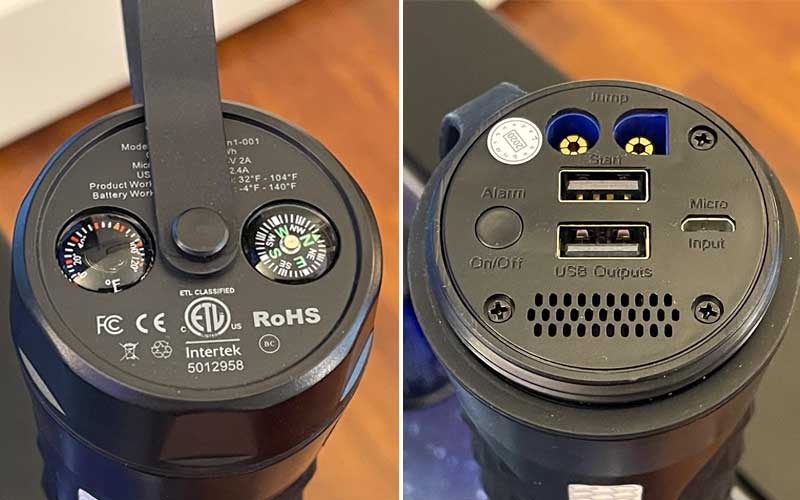 Then there's its biggest promise: that it's "powerful enough to jump start most cars, trucks, SUVs, boats, motorcycles, lawnmowers, ATVs and more" thanks to its four-cell Lithium-Polymer battery. I have the perfect vehicle in mind to try it on …
Does it really jump-start a car?
Meet Marcy, a 1995 Jeep Grand Cherokee Laredo that my wife drove for years. When she upgraded to something from this century, the Jeep was passed down to our oldest son. Even he's moved onto something newer, and now the Jeep that just won't quit belongs to his younger brother.
Now that you're all caught up on that, for the most part, this Grand Cherokee still looks and runs great. That is unless you don't start it for a couple of weeks. Then try turning it over, and it's just click, click, click.
Check out News Director Ben's review of the JumpSmart on Kim's show:
Instead of jump-starting it with cables the most recent time it happened, it was the perfect opportunity to try the JumpSmart. Just pop the hood and follow the very straightforward directions.
Unscrew the cap from the back of the JumpStart and plug in the jumper cables
The red and green lights on the jumper box will start to flash back and forth
Connect the red clamp to the positive terminal on the car battery and the black clamp to negative
The green "Start" light should go from alternating to solid
Start your engine
As soon as I connected the cables to the two terminals, the lightbulb on the underside of the hood immediately lit up. Good sign. Then we turned the key, and the Jeep started with no problems.
We've had to use it again since then and it worked perfectly. After two jump-starts, the battery level indicator still had three out of four bars lit.
Verdict: Is the JumpSmart 10-in-1 worth it?
While the product description says this gadget can even jump-start engines with up to eight cylinders, I didn't have any dead vehicles with a V-8 to test it on. But as fast as this thing jump-started a 6-cylinder Jeep Grand Cherokee that's a quarter-century old, I suspect it would work well on a bigger engine, too.
The JumpSmart 10-in-1 Multi-Tool from Limitless Innovations goes for $139.99 on Amazon, and sometimes you can catch it on sale for much less. For me, this is something I'll definitely be keeping in the glovebox on road trips.
A couple of things to note: Because this is a battery, it can be affected by extreme temperatures. Keep it in a cool place. It's also recommended that you charge it up every three months.
By clicking our links, you're supporting our research. As an Amazon Associate, we earn a small commission from qualifying purchases. Recommendations are not part of any business incentives.