Not interested in a portable generator that's awkwardly large, loud and smells of gasoline fumes? That's where portable power stations come in. These are similar to the backup batteries you might keep around to charge up a cell phone but much larger and more powerful.
One of the more recent options to hit the market is the Jackery Solar Generator. Plug it into a wall or car outlet, but the keyword in the model name is "solar" because you can also use solar panels to recharge it.
Keep it around in case of a power outage or take it with you to keep your gear charged during an off-grid getaway, this set consists of a power station and four folding solar panels. Check out the full review below to find out if it's worth the price.
Jackery Solar Generator 1500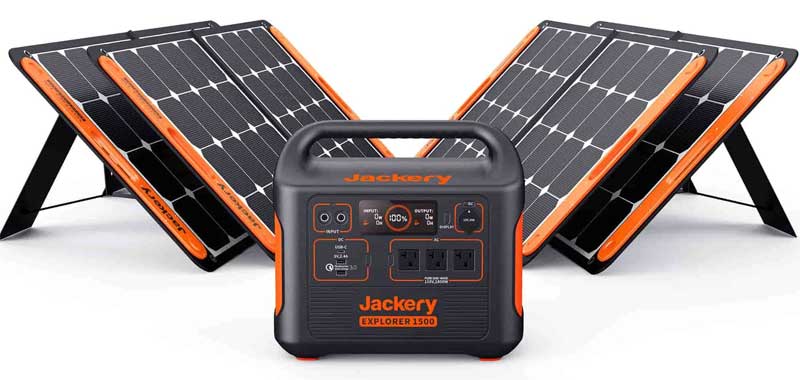 Jackery sent me one of its latest bundles to test: The Jackery Solar Generator 1500 with four SolarSaga 100W solar panels. Here are the key specs of this 1800W power station:
Lithium-ion battery with 1534Wh (watt-hours)
AC output: 110VAC, 60Hz, 1800W (3600W peak)
Power up to 7 devices simultaneously: 3 AC outlets, 1 USB-C port, 2 USB-A ports, 1 12V DC car port
Weighs 33 lbs.
Hooray for all the numbers, but what is it supposed to be able to do? According to Jackery, the Explorer 1500 can power up to 85% of appliances, including:
An electric grill for 75 minutes
A microwave for 68 minutes
A refrigerator for 15 hours (depending on size)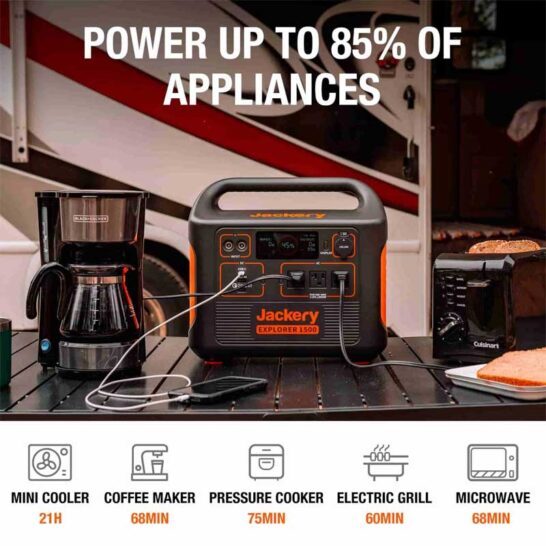 It'll also run power tools, electric stoves, air conditioners, TVs and it'll supposedly recharge your smartphone more than 130 times on a single charge. Speaking of, here's how long it takes to recharge this Jackery power station:
AC adapter: 6 hours (buy a second AC adapter to cut the time in half)
Car adapter: 13 hours
2 SolarSaga solar panels: 9.5 hours
4 SolarSaga solar panels: 5 hours
I read up on the specs beforehand to see how the power station and solar panels actually performed in real-world conditions — both at home and during a recent camping trip.
Want to see how well this portable power station works? Check out News Director Ben's review on Kim's show:
First impressions
When the Jackery power station and solar panels arrived, it was literally a lot to unpack. That's good news because everything was well-packaged to the point that in-transit damage would have been unlikely.
At roughly 35 pounds, the power station is a bit on the heavy side but not to the point that it's a hassle to move from room to room. Each of the four solar panels is 24 inches by 21 inches folded and individually weigh about 10 pounds. They open up to be about four feet wide.
The power station's battery had roughly 30% charge out of the box, so I plugged it in via the AC adapter. It only took about two and a half hours to get it to 100%.
The first test: Home appliance
I didn't spend a whole lot of time putting this through the paces at home because I don't think of this power station as something that would save the day during a power outage. This is not a replacement for a more powerful backup or portable generator, and you'll have to be choosy about what you use it for in the event of an outage.
Need to keep the fridge cold? Great. Power a lamp, too, but keep an eye on the battery percentage on the display. While you can simultaneously charge the power station with the solar panels while using it to power other equipment, it's not advised and could affect the overall life of the battery.
Now that that's out of the way, I wanted to see how it would handle a full-size microwave oven. It was as described by Jackery, losing about 1% for each of the five minutes I ran it.
The bigger test: Camping
Now it's time to take the Jackery Solar Generator 1500 set on the road to my family's favorite camping spot at the Grand Canyon. Packing the SUV took a little more careful thought this time around when you factor in the size of the power station and four solar panels, but we got it all to fit.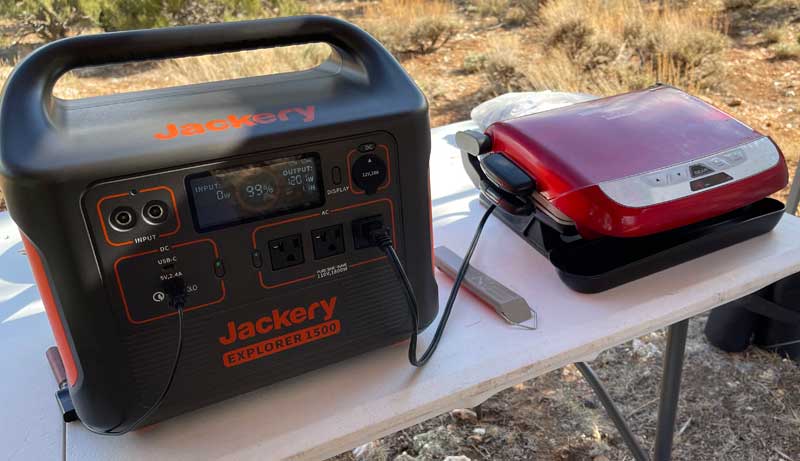 Instead of bringing our portable Weber grill, this time, we opted to bring our more compact George Foreman Grill. Once set up, we plugged the grill into the power station and pushed the button to activate the power outlets. The display on the grill lit up immediately.
Cooking burgers at 400 degrees for 15 minutes drained about 25% of the Jackery's battery. Then using it to charge our phones and a Bluetooth speaker, we eventually got the power station's battery to around 50%. Time to break out the solar panels …
I spread out all four panels, pointing them directly at the sun (using the built-in stands), then connected them to the power station using two included Y adapters. It started charging back up immediately.
While the specs say the station can be fully charged with four solar panels in about five hours, that has to be in absolutely ideal conditions. Pointing straight toward the sun, with no shadows, clouds or other obstacles, it still took more than four hours to get from 52% to 99%. By then, it was too dark to finish out the charge.
The biggest test: Phoenix Suns
I understand that many people consider tent camping as a way to get off the grid — disconnect for a little while. I agree and typically only try to keep my iPhone charged up so I can still be reached. This camping trip had extenuating circumstances.
A little backstory: I've been a huge fan of the Phoenix Suns going on three decades. My wife and I planned this camping trip a couple of months ago before we had any idea the Suns would make it back to the NBA Finals for the first time in 28 years.
I wasn't going to adjust our plans, but I also did not want to miss the first game in the series. So I added a little home theater next to our tent. Here's all it took:
10'x10′ canopy
100″ projector screen
Mini projector
Apple TV
iPhone (as the hotspot)
Jackery 1500 Explorer to power it all
It was a pretty easy setup, and my only concern was having enough cellular service to stream the game live. Somehow, the 3G signal at the campsite was good enough.
This was definitely a unique situation, but the setup would not have been possible without the Jackery power station. It worked out so well that we also brought along a Blu-ray player and watched "Avatar" later that night.
Speaking of night, there's a handy flashlight built into the side of the power station that works very well in the dark.
Verdict: Is this solar generator set worth the price?
Like anything else, the necessity of something like this will depend on the person. As I mentioned, the Jackery Solar Generator set isn't made to keep your whole house up and running during a power outage — just a few select appliances and gadgets in case of emergency. On the other hand, it's actually very useful if you go on road trips and would even be a nice addition to anyone with an RV.
What I like
Plug-and-play ease of use
Freedom provided by the solar panels
Multiple charging/power ports for simultaneous use
Quiet, with the occasional sound of the internal fan
Informative LCD display with battery percentage, power input/output, time to recharge, etc.
Bonus USB-C and USB-A ports on the back of each SolarSaga panel
What I don't like
Portable, but still relatively heavy
Factor in the solar panels and it takes up a lot of room in the car
Pricey
The price of the Jackery Explorer 1500 Portable Power Station alone is $1,599. Each SolarSaga 100W Solar Panel bought separately costs $299.99. Do the math for the power station and four solar panels, and that comes out to just under $2,800 before tax.
Or, save $100 and buy the Jackery Solar Generator 1500 as a set for $2,699. Yeah, it's expensive, but that's not even the top-of-the-line unit Jackery offers (which costs $4,299).
If within your means, yes, this is a product I recommend along with the solar panels. I don't plan on using the power station regularly for a home theater in the woods, but it's nice to know that's an option. Next time, I'll be bringing along a coffee maker.
By clicking our links, you're supporting our research. As an Amazon Associate, we earn a small commission from qualifying purchases. Recommendations are not part of any business incentives.