This past summer, I had the chance to review a portable power station from Jackery. I say portable, even though it was a bit on the heavy side and came with four folding solar panels. That's fine since it's designed to charge your devices and power major appliances if necessary.
You can check out my full review of the Jackery Solar Generator 1500 here, but this time I got to test one of the company's much smaller power stations. While this one won't keep your kitchen fridge running during an outage, it still packs a sizeable lithium-ion battery to charge up to six of your gadgets at once — including your laptop.
Sure, these power stations are handy to bring to backyard get-togethers, but they can also become an indispensable part of your road trip and camping gear. And if you time it right, you can get the Jackery Explorer 300 for a considerable discount.
Jackery Explorer 300 Portable Power Station
This relatively compact power station has several highlights, including:
293Wh power capacity to charge multiple devices at once or power small appliances
2 AC outputs (at 300W), single 12V car port
USB-C (60W PD) input/output
2 USB-A ports
Charge using supplied AC/DC adapters or using SolarSaga 100W solar panel (sold separately)
Recharge up to 80% in 3.5 hours using wall outlet; 2.5 hours if using USB-C PD charger simultaneously (here's a reliable option)
Display shows battery level and input/output
Built-in protection from overheating, overcharging, short circuits and more
Only 9 inches wide and weighs just over 7 lbs.
Retail price of $299.99 – will be on sale Cyber Monday, Nov. 29
Those are the general specs. Now here are a few examples of what the Explorer 300 can charge and power:
Recharge a typical smartphone up to 30 times on a single charge
Recharge a laptop 2-4 times
Power a mini fridge up to 20 hours
Power a TV up to 4.5 hours
Power a fan up to 15 hours
This certainly isn't the most powerful power station Jackery offers, but it's also not the smallest. It actually hits that sweet spot in terms of compatibility with typical mobile electronics or small appliances you might regularly use.
From the Explorer 300 to the Solar Generator 1500
As I mentioned, the first Jackery power station I reviewed was a completely different beast. The Explorer 1500 can power all kinds of appliances, from microwaves to refrigerators. That's because it's much larger and far more expensive. See how it compares in size to the Explorer 300.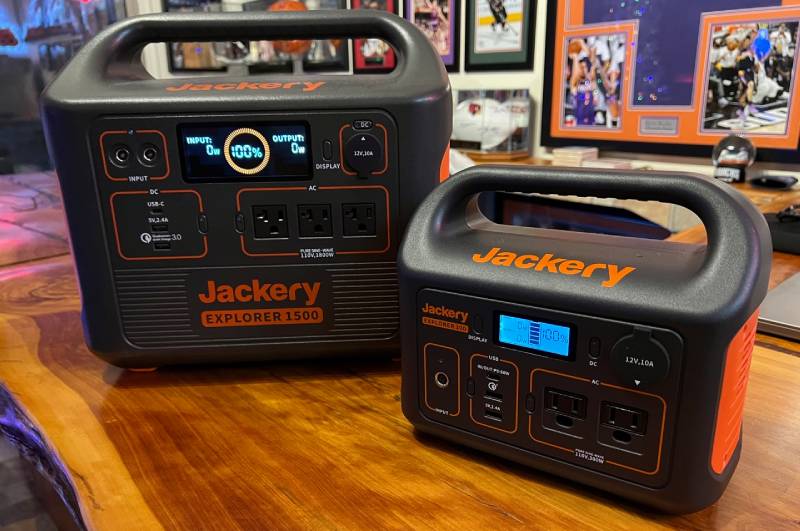 The Explorer 300 weighs about 7 pounds, whereas the bigger power station comes in at about 35 pounds. It's definitely easier to store or pack to take with you.
It also fits on a desk just fine, as you can see below. The power station is being used to charge my iPhone, iPad, Apple Watch, AirPods Pro and my 16″ MacBook Pro. I guess I could have plugged in a rechargeable flashlight I keep nearby to take the last open spot on the Explorer 300, but it didn't seem necessary.
That's just one situation where I used it to charge some of my random gear. And this power station is just as reliable as the previous model I tested over the summer. I was most impressed about how quickly it charged my MacBook, raising it from 7% to 100% in a little over two hours. Even with the other devices plugged in, the Jackery still had a 55% charge when all was said and done.
To sum up my experience with this one, it just works.
Is the Jackery Explorer 300 worth the price?
For me, the Explorer 300 will always come along on weekend getaways or day trips. Even if I plan to unplug from most gadgets during my time away, it's nice to know my iPhone will never run out of juice in case of an emergency.
I know the $2,699 price of the Solar Generator 1500 (even if it's on sale) raises eyebrows — and not in a good way. The Explorer 300, on the other hand, is well-priced for everything it does.
As part of Jackery's Black Friday and Cyber Monday sales event, you can get the Explorer 300 for 30% off its usual $299 price tag. On Cyber Monday, which is Nov. 29, you can pick up this very capable power station for under $215.
Check out some of Jackery's other gear here, but no matter which power station you choose, it's nice to know these will never run out of gas like a typical portable generator. These are also safe to use inside.
By clicking our links, you're supporting our research. As an Amazon Associate, we earn a small commission from qualifying purchases. Recommendations are not part of any business incentives.