If I felt I had a choice, I would leave my iPhone 13 Pro Max as naked as the day it came out of the box. There's just this appreciation I have for the design, the muted graphite color and the way the premium phone feels when not encased in a bulky protective shell.
Then the little voice on my other shoulder reminds me that a phone with a price tag north of $1,000 is only able to maintain that beauty because I keep it in a case. Fine, but I'll at least find a case that both protects the phone and adds a little function and style.
That's why I'm reviewing a few cases from a couple of brands you've probably heard of, OtterBox and Speck, along with one you might not have: Casetify. Keep reading to find out which ones are worth your money.
Choosing the right iPhone case
A common misconception is that all phone cases are pretty much the same, whether they're $5 or $45. Not true. Different materials, fit and model-specific features like MagSafe compatibility are all considerations if you own an iPhone 12 or 13.
Then there's the level of protection, which should be based on factors like the work you do or how clumsy you are. I'm somewhere in the middle. I rarely drop my iPhone, but I also understand some variables are out of my control — like having a puppy that enjoys stealing remotes and other electronics.
I've had countless phone cases over the years, some good and others that were a total waste of money. Because I've been through so many, I also know exactly what I'm looking for when it's time to get a new one.
Casetify
When I upgraded to the iPhone 13 Pro Max this fall, I knew it was going to be a slightly different size than my previous iPhone. It just so happens Hong Kong-based Casetify reached out around that time, asking if I would be willing to review one of its new cases.
The company got its start a few years ago making custom phone cases from your favorite Instagram photos. Now you can scroll through pages and pages of different designs without ever coming to the end of results. Case options cover everything from iPhones and Samsung Galaxy phones to AirPods, iPads and MacBooks.
Casetify sent two randomly-picked cases for my iPhone, so I had no idea what to expect. The only request I made was that the cases were MagSafe-compatible. I received the two pictured below. While the one that looks like a cassette tape isn't one I would have chosen, it quickly became one of my all-time favorites — and not just because of the fun design.
Looking at Casetify's website, I was a little taken aback by the prices of the cases, starting at $65 to $75. But it was a different story when I learned a little more about how they're made …
The style of case I was sent is from the new Re/CASETiFY collection. They're recycled from old phone cases. Here's more about the process. Specifically, one is a $75 Impact Case in Cassette Black with the following specs:
6.6-foot drop protection
Anti-microbial coating that supposedly eliminates 99% of bacteria
Made from 65% recycled and plant-based materials
Lifted camera ring and raised bezel to protect lens and screen from scratches and scuffs
MagSafe and wireless charging compatible
These cases also make quite the statement when they arrive, as you can see from the packaging below.

I carried my iPhone in one of these cases for three weeks solid and I absolutely love the material. It's smooth on the sides with a sort of textured feel on the back.
It's also nice that you don't see the MagSafe ring on the outside of the case. I wondered if that would weaken the connection to my compatible charging accessories, but it was just as strong.
Aside from a couple of small nicks on the back of the case, after a few weeks there were no other signs of wear and tear anywhere else on the case. More importantly, it kept my iPhone safe.
Yes, this one is more expensive than many options, but you really get what you pay for in this case. See what I did there? Some options are available at Amazon.
OtterBox
Next up, the OtterBox Symmetry Series+ Clear for MagSafe. This one comes in four different colors, including a nice red. Here are the highlights:
Made of polycarbonate and synthetic rubber, along with 50% recycled plastic
Survived three times as many drops as military standard (according to OtterBox)
Antimicrobial technology protects the case exterior against certain bacteria
Raised edges
Designed to fit both the iPhone 12 Pro Max and iPhone 13 Pro Max
MagSafe and wireless charging compatible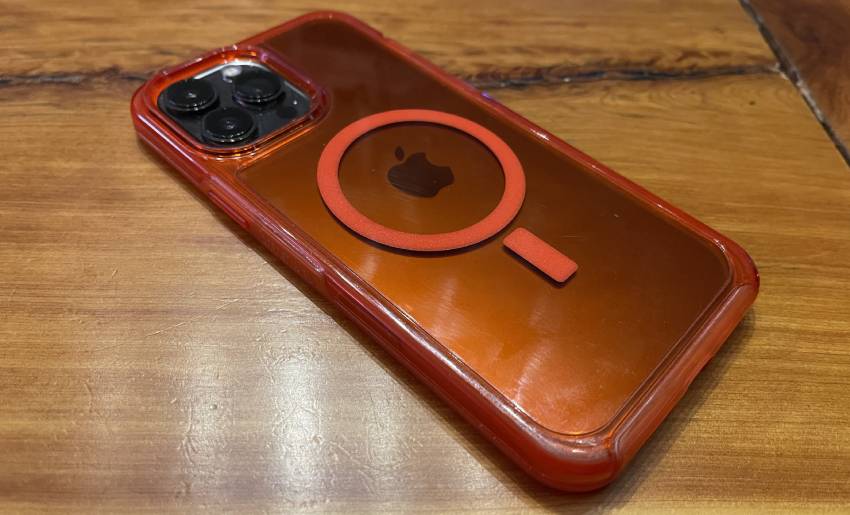 I also carried my iPhone in this case exclusively for a few weeks. It really does have a thin profile and doesn't get hung up in my pocket.
It's also much more slippery than the Casetify option. Overall, it's a good case with a couple of drawbacks. For instance, it's glossy so fingerprints are very visible — and so are scratches.
Again, this is something designed to keep my phone protected so I'm not going to worry about a few blemishes on the case. With a regular retail price of $59.99, I think the Symmetry Series+ Clear for MagSafe case is a little too overpriced — even if it comes from an established brand like OtterBox.
However, it does go on sale from time to time and I've seen it listed for less than $40 on Amazon. That price makes it absolutely worth recommending.
Speck
I checked out a couple of different cases made by Speck, too, including the Presidio Perfect-Clear Ombre. Here are the highlights:
Ombre design with a gradient effect
Perfect-Clear coating is supposed to resist discoloration, as some cases turn yellow over time
Microban is an antimicrobial product that's supposed to keep 99% of bacteria from growing on the case
Raised bezel and camera ring
Ability to withstand a 13-foot drop, says Speck (double what the Casetify version is rated for)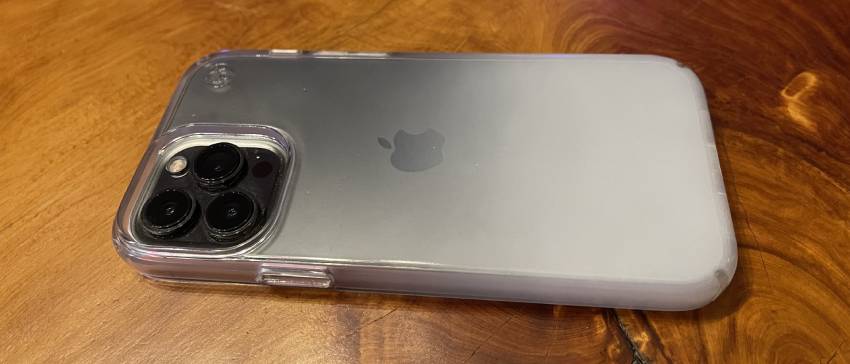 This one is a simple, clear case that highlights the design and color of your iPhone. The Speck Presidio-Clear for the iPhone 13 Pro Max retails for $44.95.
Speck sent me that case to review, but as I mentioned I'm a big fan of MagSafe. So I bought the next step up: Presidio Perfect-Clear with MagSafe that retails for $54.95. It has all the same features mentioned above and you can choose from four styles.
Like the others I tested, I had no doubt it would keep my iPhone secure. It had a relatively tight fit, raised edges to protect the camera lens and screen, and the MagSafe magnets worked well.
When compared to the similar OtterBox, however, I found you really have to press the volume and lock buttons harder on the Speck case. It's somehow also more slippery and much easier to fingerprint.
It's a nice-looking case that protects the phone, but how hard it is to keep clean aside, I worry about losing my grip and dropping it. The Casetify and Otterbox cases are better options.
What else is out there?
There are so many options to choose from to protect your phone. If you're on a budget, I also have experience with Spigen cases. The Tough Armor series has long been one of my favorites.
Another option for basic and rugged cases is Raptic. Check out its options, like the Raptic Shield here.