Amazon is forever seeking ways to improve the quality of its customers' experiences. Whether it be opening brick and mortar storefronts, reducing Prime shipping from 2 days down to one, offering same-day delivery for some areas of the country, or creating Kindle and smart home devices, Amazon has your back. And, let's not forget Amazon offers virtually every product on the planet for purchase.
With reports estimating Amazon lists over 3 billion products globally across 11 marketplaces, the enormity of Amazon and its reach cannot be overstated. If you are searching for everyday items or that special gift, odds are quite high you will find it on Amazon.
Although most are familiar with benefits of shopping through Amazon, there is one you may not be aware of, AmazonSmile. This program is a way to donate to a charity of your choice, merely by shopping on Amazon. The best part is it costs you nothing. How does AmazonSmile work? Let me show you how easy it is to help make a difference.
What is AmazonSmile?
AmazonSmile is an Amazon program that contributes a portion of eligible sales to charitable companies, including small and well-known organizations alike.
When you shop via smile.amazon.com, 0.5% of your purchase price (the amount paid for the item minus any rebates and excluding shipping & handling, gift-wrapping fees, taxes, or service charges) will automatically be donated to any charity of your choosing from over a million 501(c)(3) organizations.
Don't worry; the smile.amazon.com shopping experience is identical to that of Amazon.com, including the low prices and Prime advantages.
How do I shop at AmazonSmile?
After signing into smile.amazon.com, you must pick one of the listed organizations before shopping. Amazon will remember your selection and donate to your charity each time you make an eligible purchase. If you would like to change your organization, you can do so at any time by clicking "Change charity" in "Your Account."
Selecting your charity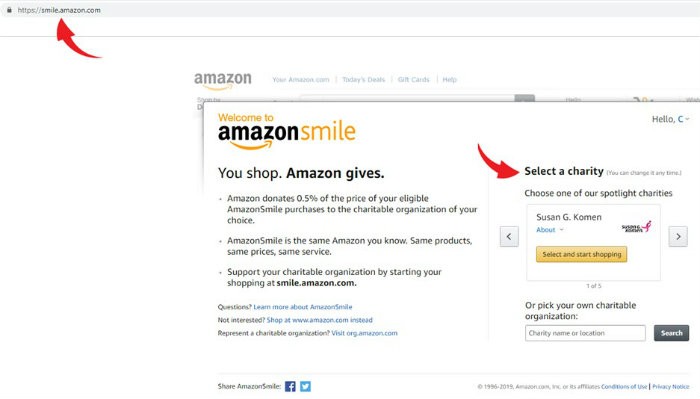 Once you have chosen your charity, get to shopping. Please note, to qualify purchases for donation proceeds, you must shop through smile.amazon.com, not the usual amazon.com site. So, whenever you shop through Amazon, begin at smile.amazon.com.
When you visit an eligible product page through the AmazonSmile portal it will be marked "Eligible for AmazonSmile donation," ensuring your organization will receive a portion of the sale.
Upon the completion of your purchase, you can view your total number of orders, how much you have generated for your charity, and the total your organization has received from Amazon shoppers on your AmazonSmile Impact page.
Even though the monies are based on your purchases, it is Amazon making the donations (on a quarterly basis). Thus, you are not allowed a charitable tax deduction.
Be watchful, as Amazon occasionally offers limited time promotions that increase your donation amount on specific products or services or provide additional donations to your organization. If you would like further information on the AmazonSmile program, here is the support section with full details.
What if you or someone you know is an official representative of a 501(c)(3) charitable organization that is not listed? Go to org.amazon.com where you can find information on signing up, how the program works and what to expect. In addition to a straightforward registration process, there is no cost to the organization, no deductions or administrative fees to participate in AmazonSmile.