You know what's a pain? Sitting in front of computer screens for eight-plus hours every single weekday. Even as I write this, I realize I should sit up for my posture's sake.
So it's no wonder why trendy standing desks have become all the rage over the past few years — especially since the pandemic shifted so many people to begin working from home. While some products convert your existing desk into a standing version, other complete desks made by companies like Flexispot are designed to go from sitting to standing positions with the push of a button.
I had a chance to try out the company's Pro Series standing desk with dual motors and programmable height settings. Keep reading to find out if it's worth ditching your old desk for a convertible one.
You might not want to sit down for this
Bear with me because I'm about to stand up for just a minute. I'm back now, but that's become part of my daily routine when working at a standard desk.
My career has involved sitting at several desks over the past 20 years, and as I've gotten a little older, I realize the toll it's taken on my back. These days, my Apple Watch reminds me to stand up once an hour, which actually does help — at least a little.
But it's not the same as standing up for long periods of time while also being productive. That's where Flexispot's Pro Series desk comes in.
Watch News Director Ben's review of this powered standing desk on Kim's show:
Flexispot Pro Series Adjustable Standing Desk
First of all, Flexispot makes all kinds of products, from standing desks to chairs and other desks that incorporate fitness equipment. For this review, I'm focusing solely on the Pro Series adjustable standing desk. Here are some of the key features:
Dual motors
Up to 275-pound weight capacity (depending on frame)
3 memory height presets
Programmable sit/stand reminder
The Pro Series is also very customizable. You can choose from various desktop sizes, ranging from 48″ x 24″ all the way up to 80″ x 30″.
The desktop itself comes in more than 10 colors, including maple, graphite, mahogany and marble gray. You can even pick the color of the metal frame in white, black or gray.
I went with a gray wood grain desk with a black frame that was a little deeper at 48″ x 30″. The height range of the model I received is 27.2″ to 46.5″.
Getting the desk set up
Actually, getting the desk delivered was both a fast process … and a slow one. Because the desktop and frame Flexispot sent me to review were being shipped from different warehouses, they arrived nearly a week apart. Something else to note is that these boxes are a little on the heavy side, especially the one containing the desk's metal frame and motors that weigh close to 50 pounds.
Assembly was a fairly straightforward process, which begins with attaching the feet to the legs that make up the frame. Those are connected with a crossbeam, and that's the only part that stumped me for a few minutes.
I just couldn't get the crossbeam to line up with the pre-drilled holes on the underside of the desktop. What wasn't exactly clear to me is that you have to loosen the bolts in that crossbeam and extend it to where it lines up with those pre-drilled holes.
Once I figured that out, the rest took no time, including drilling a few extra holes to install the control box. The final assembly steps were installing the keypad, connecting the wires and tidying them up with some included cable clips.
Once I moved the old desk out of the way, I put the Flexispot in its place and plugged it in. It wasn't hard to learn the functions of the keypad. Push the up button, and the desktop magically rises. Push the down button … you get the idea.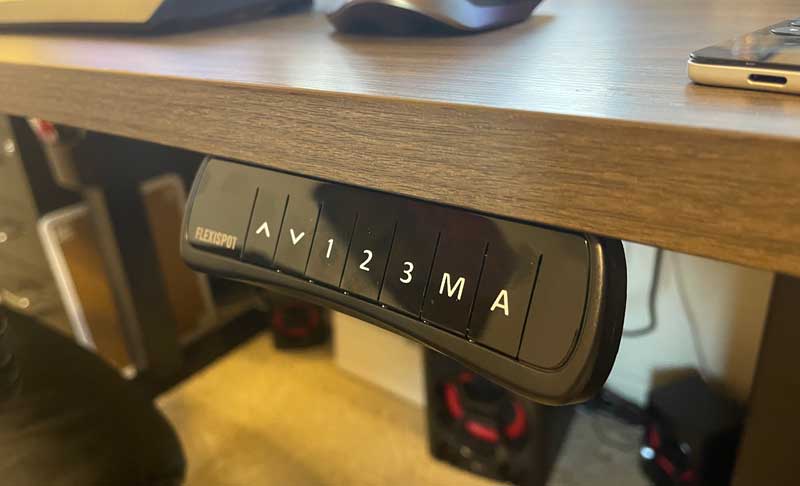 The next four buttons deal with the memory settings, which is a great feature if more than one person (of different heights) will be using the desk. Just adjust the height to what works for you, then press the M button followed by either 1, 2 or 3 to save the setting.
The last button, labeled A, is the sit-stand reminder that you can customize or simply leave off.
My experience with Flexispot's desk
Before this desk, I had no experience with a standing desk — let alone a desk that had built-in motors. What surprised me the most was how smooth the raising and lowering process is and how quiet the motors are.
The height settings work as advertised, and it was incredibly easy to create a comfortable standing height for when I'm using the desk and for when my wife (who's nearly a foot shorter) uses it.
The big consideration is what you put on the desk. Not wanting to overdo it, I added a laptop and two 24-inch monitors to this desk. That's not because of the weight considerations since I don't have a couple of hundred pounds of tech to put on the desk.
The laptop is charged with a cable. A USB hub connects the laptop to those two monitors, which also have power cables. My point is that proper cable management is important.
Get a 6-ft. (at least) surge protector that's rated for computer equipment and place it on the backside of the desk. This Belkin surge protector is a good option. Plug all your equipment into that, so you only have one cord from the desktop to the wall. That way, you don't risk accidentally pulling cables or equipment off the desk when raising it.
Standing to be more productive
A relatively recent study from Texas A&M found that people who could raise and lower a desk throughout their workday were 46% more productive than counterparts with traditional desks. I often use a standing desk when I work remotely and a traditional desk when I'm working at the office.
Have I noticed a nearly-50% bump in my productivity on the days I'm using the standing desk? Not really, but I'm not much of a math guy anyway. However, I do notice I feel more tuned in while I'm standing.
I find myself standing for three-plus hours before realizing it, and even then, I don't always feel the need to sit down for a few minutes. And productivity aside, I know I burn a bunch more calories standing than I do staying seated.
Is this dual-motor standing desk worth it?
If you can stand up while working in front of a computer all day, I'm all for it. If you already have a traditional desk that you're happy with, at least consider adding a standing converter.
If you're in the market for a new desk, I recommend considering one that can raise to a standing position, like Flexispot's Pro Series. The desk I've been using is well-made, sturdy and has worked flawlessly. The Pro Series desk reviewed retails for $399.99.
Check out Flexispot's store on Amazon or the company's site at flexispot.com. That's where you'll also find last-minute Father's Day sales happening, such as this Pro Series standing desk and this all-in-one standing desk with a drawer.
By clicking our links, you're supporting our research. As an Amazon Associate, we earn a small commission from qualifying purchases. Recommendations are not part of any business incentives.