Look around your home and think about the household staples you might really have a hard time living without. I'm sure a dependable vacuum cleaner is at least somewhere on the list.
Considering it's the 21st century, you have all sorts to choose from beyond the standard upright or canister vacuum. Cordless stick vacuums and autonomous robots have become common, and for the smaller jobs around the house or in the car, it's nice to have a compact vacuum.
This review covers one of these compact options that's also surprisingly versatile. But even with conveniences like a charging stand and attachments, does it justify the price?
Eufy HomeVac H30 Mate
This is the Eufy HomeVac H30 Mate from Anker, not to be confused with the similar H30 Venture and H30 Infinity that I'll also mention later. The H30 Mate is a cordless, handheld vacuum designed with pet hair in mind. Check out the major specs:
Up to 80 AW / 16kPa suction power (Huh? Don't worry, I'll explain this later)
Two power settings: Eco and Max Mode
Includes charging stand and two detachable tools: Mini-motorized pet brush and 2-in-1 crevice tool
Removable lithium-ion battery provides up to 20 minutes of use on a single charge (Eco Mode)
16.7″ long and weighs 1.78 lbs.
.06-gallon dust canister
Getting back to the specs at the top, AW stands for Air Watts, which refers to airflow and the amount of suction power any given vacuum cleaner is capable of. A typical upright vacuum would generally have at least 100 AW, so it's not surprising that a smaller version would have less output.
That kPa stands for kilopascal, which measures pressure. While an upright might have at least 20kPa, the 16kPa on this vacuum is still rated to handle dust, hairs and other debris like food particles.
Got all that? Great, let's move on.
First impressions
This is the second Eufy vacuum I've reviewed, following last year's G30 Hybrid robot that closely resembles a Roomba. Check out more about that vacuum by tapping or clicking here. So it's the same company, but a completely different type of cleaner.
Whether you buy a power bank, phone charging adapter, wireless earbuds or just about anything else made by Anker and its lineup of brands, the packaging is always top-notch. Still, I rarely judge a book by its cover.
Getting everything unboxed and set up was easy, including battery installation and charging. Yes, it's only a vacuum cleaner, but it doesn't look half bad on the kitchen counter.
Putting the vacuum to the test
I mentioned earlier there are three different models in the Eufy HomeVac H30 lineup:
H30 Venture with a 2-in-1 crevice tool and charging stand – $159.99
H30 Mate (being reviewed) is the middle-of-the-road model that adds a motorized brush – $179.99
H30 Infinity includes the crevice tool, mini-motorized brush and hard floor tools – $199.99
It's the exact same vacuum no matter which you choose. The only difference involves the included accessories. The H30 Mate comes with tools meant to clean up pet hair and cars, and it just so happens I had the perfect testing conditions.
The basics
Before we get to the good stuff, I decided to test the vacuum on a typical mess that doesn't require using one of the attachments. Oops, I might have accidentally deliberately spilled a few Frosted Flakes on the counter. A very basic test, but you have to start somewhere, and it got the job done.
We also had some recent home renovation work done, and this vacuum easily picked up bits of drywall in the corners of a room we previously missed. I used the crevice tool to help with that one.
I used the Eco setting in both situations and never had to crank it up to Max.
The messy child's car
Then I kicked things up a notch with my 19-year-old son's SUV. It might look nice on the outside, but the kid isn't the tidiest of people when it comes to disposing of trash. Breaking news: teenagers are stereotypically messy.
My wife used the H30 HomeVac this time around to vacuum up bits of food on the floorboards using the crevice tool and dog hair on the seats with the motorized brush. She reports the vacuum "did okay" and having to go over the same area multiple times to pick up the yuck using both the Eco and Max modes.
Just okay? Well, we're used to using pretty powerful shop vacs in these situations.
The puppy with infinite amounts of hair
Now for the big test …
Last September, we brought a new family member into our home named Daphne. Over the course of four months, this yellow lab puppy has gained 30 pounds and has easily lost that amount of hair. See the image below of three-month-old Daphne and present-day, six-months.
Okay, she hasn't shed 30 pounds of hair, but you wouldn't know it by the state of various dog beds and random blankets scattered around the house. And don't get me started about the carpet and baseboards. I digress.
For this part, I made sure the vacuum was completely clean and fully charged before taking on her favorite dog bed, which, fun fact, used to be known as my bed. I attached the motorized tool and systematically vacuumed the comforter. It worked well, although I did have to go back over a few spots of particularly stubborn dog hair.
I thought cranking it up to Max might make the job go faster, but I actually didn't notice a difference in suction. The only change was the vacuum got louder and more high-pitched.
I then tested it on a rug where Daphne likes to sit. It did fine on a section, but this was just to test since I use a full-size stick vacuum to clean this regularly. Daphne did not appreciate my efforts.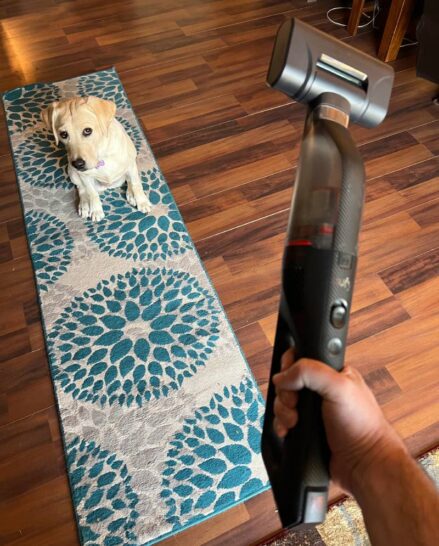 After that, I vacuumed a couple of carpeted stairs before the battery died. It lasted a total of around 15 minutes, which is what I expected since the Max mode drains the battery more quickly. And honestly, you probably don't want to use it any longer than that because the grip isn't the most comfortable and is a little thick for smaller hands.
I cleaned and charged the vacuum again and the next day once again used the motorized attachment to clean the living room furniture. It easily picked up the dog hair on the couch, loveseat and chair. Then I attached the crevice tools to get between the cushions. When all was said and done, it took about 10 minutes.
Pro tip: No matter the job, make sure you clean this thing after every use. The canister isn't all that big and it can fill up (and/or clog) quickly. Don't forget about cleaning the filter regularly, too. Ignore it and it'll lead to a malfunctioning vacuum and quite a mess when you actually remove the filter to wash it. Yes, I'm speaking from first-hand experience.
Is this small vacuum worth it?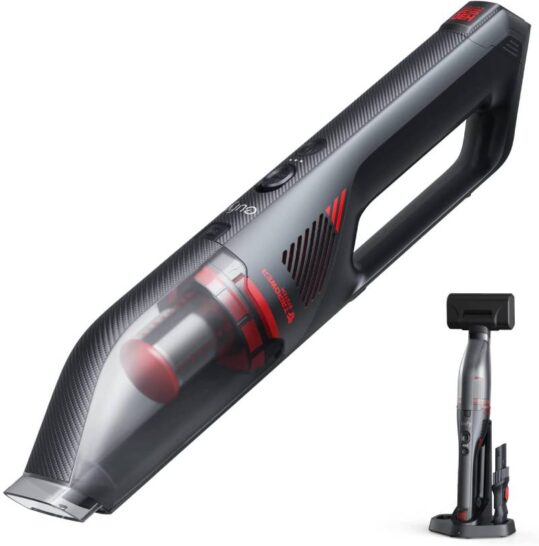 This vacuum has a lot going for it. For the situations I tested it on, here's the good and bad:
Pros
Lightweight and very easy to use
Great for hard-to-reach spots
The motorized tool works surprisingly well on surfaces like couches, carpeted stairs, car seats and floorboards
Easy to store using handy charging stand
Cons
Fairly loud, annoyingly high pitch in Max Mode
A max 20-minute runtime isn't very long
Takes 3 hours to recharge
Thick, uncomfortable grip
A high price to pay for such a small vacuum
The main takeaway for this model, in particular, the Eufy HomeVac H30 Mate, is that it's very well-suited for localized mess cleanup involving general debris and dog hair. That includes using it to clean a car. We have a couple of Dyson cordless vacuums too, but it's nice to have a smaller version around the house for jobs where the big vacuums aren't necessary.
You can find more affordable handheld vacuums from brands you know, like Shark and Black+Decker, but this H30 has longer battery life. For instance, this Shark is roughly the same size with similar features, but its battery lasts less than 10 minutes on a single charge.
It's powerful for its size but didn't blow me away. However, if you're looking for a dependable and compact vacuum for spot cleaning, the Eufy HomeVac H30 Mate will get the job done.
By clicking our links, you're supporting our research. As an Amazon Associate, we earn a small commission from qualifying purchases. Recommendations are not part of any business incentives.