Over the past few years, one tech accessory that's evolved into something I don't know what I would do without is a portable power bank — the backup battery that charges your phone or other gadgets on the go. I make sure to have at least one when traveling, especially when camping, as a way to keep my iPhone ready to use in case of emergency.
But which do you choose? Go to Amazon and search for a power bank or portable battery and you'll get well more than 1,000 results covering all different shapes, sizes and capacities.
One recently caught my eye, admittedly from a company I wasn't familiar with. Regardless, this rather large battery backup makes bold promises about how many devices it can charge at once, including your laptop computer. It also has a few other standout features, but is it worth the price?
Einova 63W Universal Power Bank
This is the 63-watt Einova (by Eggtronic) Laptop Power Bank the company sent for me to review. It's a battery backup that's nearly seven inches by four inches and a little over half an inch thick. That makes it a little larger than your typical battery pack, but it's still very portable (and TSA-approved for carry-on).
On the outside, the front and back are lined with water-repellant canvas and you'll find three charging ports on one end. There's also a charge-level LCD display that tells you how much is left in the tank.
Here are the basic specs:
20,000mAh backup battery with 63W total output
1 USB-C Power Delivery port (45W)
1 USB-A port (18W fast charge)
1 USB-A port (5W)
The USB-C PD and the 18W USB-A port are both capable of charging your compatible gadgets fast. The other USB-A (5W) is actually pretty slow.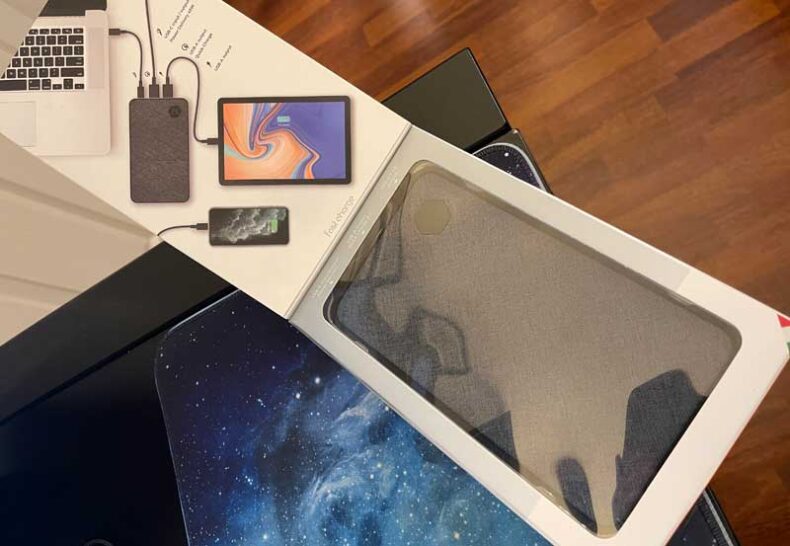 As far as capacity, that 20,000mAh number means it holds a decent amount of juice. This power bank is supposed to charge your smartphone four to eight times (depending on the model) or charge your tablet three to five times before it needs to be recharged.
That, or can charge up your laptop 1.5 times, although it's not recommended for a MacBook Pro "due to excessive power requirements."
Check out News Director Ben's review of this power bank on Kim's show:
Putting it to the test
When I first took the Einova out of the box, it was a little larger than I expected, especially when compared to an Anker PowerCore I've had for a few years. Overall, I was impressed with the quality of the design. It seemed well-built, and I actually like the look and feel of the canvas covering the front and back.
Also in the box, a USB-C to USB-C cable and a USB-C to USB-A adapter. But something was missing: a power adapter …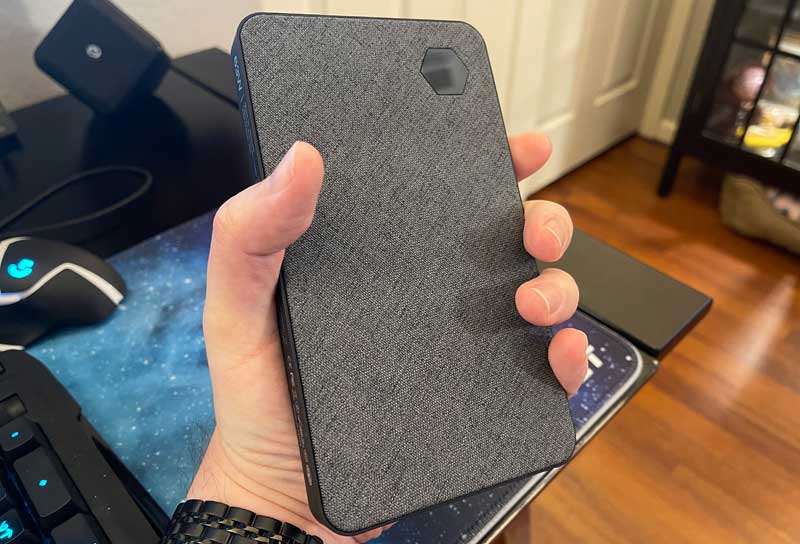 Chances are you have a few basic wall adapters that came with your smartphones, but Einova recommends one made to charge a laptop and sells a 30W version. More on that soon.
Fortunately, I already had a powerful adapter because charging this thing with a basic 5W phone block would take forever. It had mostly a full charge already, so I topped it off.
The first thing I tried was to see if it really could charge my HP laptop, iPhone, and for fun, my iPad at the same time. Keep in mind I had to supply two of the three cables.
None of these gadgets had less than a 70% battery, and the power bank was able to charge the iPhone quickly. It took a little longer for the laptop, and since the iPad was connected to the 5W port, that took the longest. When all was said and done, the Einova had about 40% left.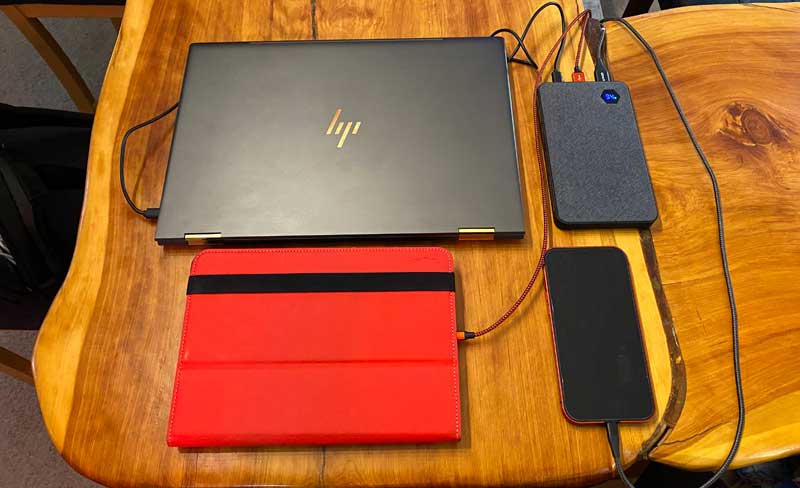 So I charged the power bank back up to 100% and the next day, decided to try it on my laptop alone. I let the laptop drain until it was below 10%, completely powered it off and then connected it to the Einova power bank. The LCD immediately lit up as it began charging. And now we wait …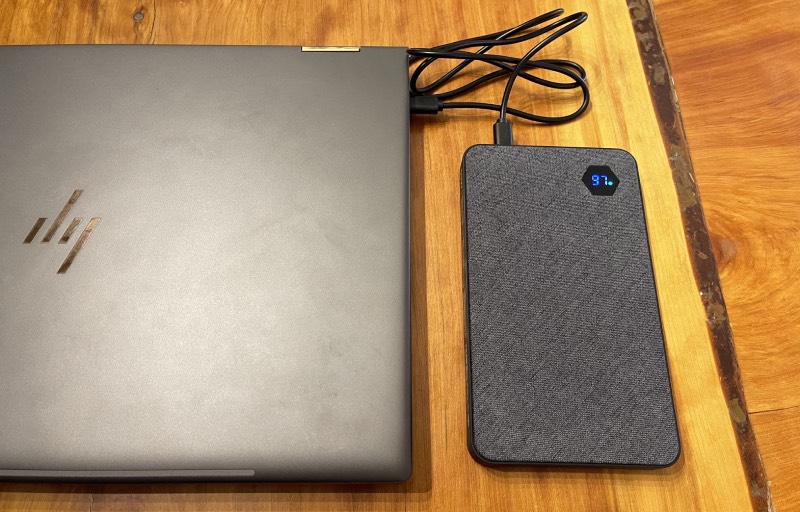 Fast forward a couple of hours and I go check in on the status. The power bank is completely dead. So I open the lid of my HP and start it up — only to find the laptop battery level at 78%.
Mind you, this is a 15-inch HP Spectre X360 — a nice PC, but not a 17-inch gaming beast or anything like that. And it was powered off. So while the description says it can charge a laptop up to 1.5 times, in my case, it wasn't able to charge this HP all the way to full even once.
The good and the bad
Here's the breakdown of Einova power bank's best features, and what's lacking.
What I like:
While larger than a typical backup battery, it's still very portable (and weighs less than one pound).
Quality, sturdy build on the outside.
The LCD is a great feature.
Appreciate three separate charging ports.
What I don't like:
Lack of power adapter included in the box.
It would be nice to have a second USB-C port instead of another USB-A.
The big miss — that it couldn't fully charge my powered-off 15-inch laptop.
Is this Einova power bank worth it?
With three ports, a relatively high-capacity battery in a compact design and a reasonable price compared to similar options, yes. The Einova 63W Power Bank is worth the cost.
However, while it's currently listed for $54.99, keep in mind that it doesn't come with a power adapter. So you'll either need to have one already or spring anywhere from $20 to $30 for a 30W option. I recommend one I already own that's made by Anker.
The other thing to consider in all this is that while this power bank will charge a laptop, it won't take it all the way to the top — at least in my experience. So if that's the primary reason you're looking for one, move along to another brand like Anker or RAVPower. Otherwise, this seems to be a solid option to keep your smartphone charged, along with your other smaller gadgets like tablets and wireless earbuds.
By clicking our links, you're supporting our research. As an Amazon Associate, we earn a small commission from qualifying purchases. Recommendations are not part of any business incentives.