I think back to my elementary school days in the late 80s, and the single computer in the library that students could take turns using. I'm pretty sure it was a Compaq, but what I remember most is the clicky keys you could hear from a classroom or two away.
So many of today's standalone keyboards or the ones built into laptops are so very quiet, but I prefer the satisfying feedback you get from a mechanical keyboard. That's why I use a full-fledged gaming keyboard for my home office setup, even though I'm not a PC gamer.
I have a decent amount of real estate on my desk, but I realize for many who transitioned to working from home over the past year-plus, that's just not the case. If you're looking for a space-saving keyboard with a retro feel, the one I'm reviewing might just check the boxes. But is it worth it?
Vissles V84 Wireless Mechanical Keyboard
Above is the Vissles V84 Mechanical Keyboard that was shipped to me for review, and here are the most important specs to know:
75% layout with 84 keys (including F key row)
Bluetooth 5.1 – wired or recharge via USB-C
Hot-swappable switches
Programmable macro keys
RGB-backlight with 19 dynamic effects
Up to 180-hour battery life (with lights off)
Pair with up to five devices
Compatible with Apple (Mac and iOS), Windows and Android
12.5" W x 4.9" H x 1.5" D and weighs 1.8 lbs.
$99 – typical retail price
If you like to customize your typing experience, the hot-swappable switches are a nice feature. That basically means the switches are removable (not soldered) so you can replace them with various other brands for a different tactile experience.
Setting it up
Let me first say Vissles was able to fit quite a bit of stuff into a relatively small box. Aside from the keyboard itself, there's a USB-C cable to charge it for a wired connection, key puller, tweezers, a wrist rest (with optional non-slip pads), magnetic feet to tilt it up and three keys.
Out of the box, the V84 is set up for default use with Macs due to the Option and two Command keys. The three replacement keys are PC-based: a Windows (Win) key and two Alt keys.
Since I would primarily be using this keyboard in conjunction with my HP x360 Spectre laptop, I made the switch. The whole process to swap the keys was a breeze and all I had to do next was to press Fn + A to switch the keyboard into Windows/Android mode.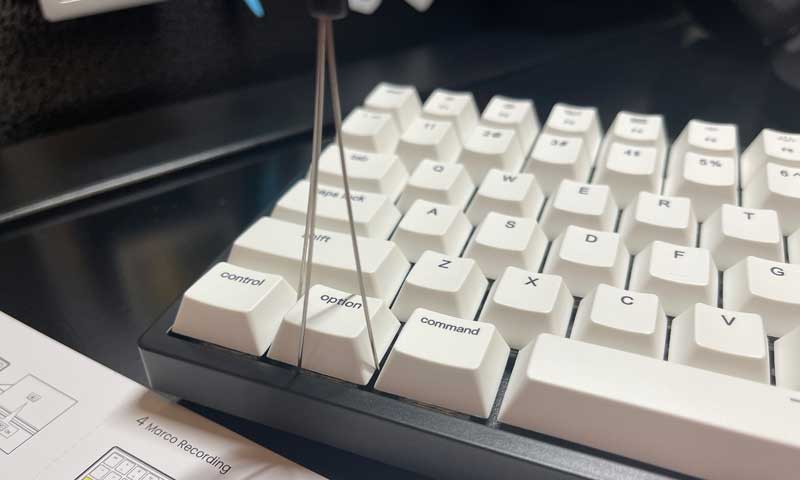 Pairing it with my PC via Bluetooth also took no time at all. Pressing Fn + Q for three seconds puts the keyboard into pairing mode, and it immediately showed up on my PC as an available device.
Then I downloaded the Vissles software and poked around the settings where you can customize how certain keys respond, record macros and more. You can also customize the RGB lighting or leave it off.
Note: To use the V84 software, the keyboard has to be connected to your computer via USB. Bluetooth alone won't cut it.
How well does it work?
With all of that out of the way, now it's time to actually see how well it works as a keyboard. And without further ado, overall it didn't disappoint.
It takes a little getting used to moving from a full-sized computer keyboard to one 25% smaller, trying to align muscle memory with tiny shifts in the location of the keys. That wasn't the part of the experience that stood out as being most different from my go-to keyboard, however.
The keys on the V84 have a nice feel to them, and boy are they responsive. I mean I barely have to put any pressure on the keys before characters appear on screen, sometimes accidentally. That's not necessarily a good thing.
Based on the "mechanical" definition, looks and weight of the keyboard, I suppose I expected more of an audibly clicky experience. But with the linear switches, the keys were more muted without much in the way of tactile feedback.
I prefer a little more tactile response from a mechanical keyboard, but not enough, in this case, to make me even consider replacing all the switches. With this keyboard, at least you have the option to do so.
I typed a large part of this review on the keyboard before remembering that it also came with a wrist rest and magnetic feet to raise the tilt. Adding those to the mix made it an even better experience.
I need my space
Did I mention this keyboard was compact? Below you can see how it compares to my rather massive Logitech G910 keyboard. The keys on the V84 are closer together and you'll notice the lack of a numeric keypad.
Personally, I thought I would miss not having the numbers off to the side but turns out it wasn't that much of a big deal. There are definitely situations where I need the numeric keypad, but not enough to notice when using a more compact keyboard.
Verdict: Is the Vissles V84 worth it?
For me, the biggest thing that stands out about this smaller keyboard is how it took me back 30-plus years with a feeling of nostalgia about the look and feel of those old terminal computers. Obviously, not everyone will feel the same way but you have to admit it's pretty retro-looking regardless.
Looks aside, the Vissles V84 is designed for a specific purpose: to save space. It does the job well.
This keyboard fits fine on small desks and cramped countertops, but it's not too small to take away from the experience of using it. If you're looking for a compact keyboard a little more geared to take with you on your travels, it's a little bulky even though it weighs just under two pounds.
What I like
Small but not too small
Well-designed with a retro feel
Responsive keys
Reliable Bluetooth connection
Good battery life
Straightforward settings in the PC app and excellent customization options
What I didn't like
A lack of tactile response
Key pressure is almost too sensitive
While this didn't directly impact me, there was one thing I found odd. While this keyboard comes out of the box ready to go with a Mac computer, the software to record macros, adjust colors, etc. is Windows-only. While you can still make adjustments using the keyboard itself, it's most definitely a longer process.
Other than that, I found very little wrong with this keyboard and when compared to similar options it also comes in around the same price. If you need to regain some real estate on your desk, you can't go wrong with the Vissles V84.
The version I reviewed with the white keys and black base is available through vissles.com. An alternate version with mostly black keys and more tactile tile keys is available on Amazon for about $10 less.
By clicking our links, you're supporting our research. As an Amazon Associate, we earn a small commission from qualifying purchases. Recommendations are not part of any business incentives.