Think about all the data you store digitally — it could be anything from health records to sensitive financial documents. And what about the ever-growing collection of photos you take on your phone?
Of course, you can back everything up on the cloud. Tap or click here for our comparison of Google Photos, iCloud and IDrive. I'm a big fan of having a backup of the backup, so I also use local storage, including hard drives and flash drives.
Who says gifts you buy for others (or yourself) can't be practical? Check out the review below of a very portable SSD and a tiny flash drive.
WD My Passport SSD
Forget about the old-style, spinning hard disk drives. Today, it's all about more storage and faster speeds using flash memory. A great example is the WD My Passport portable Solid State Drive (SSD). Check out a few highlights:
Available in four storage capacities: 500GB, 1TB, 2TB and 4TB
NVMe technology with read speeds of up to 1050MB/s and write speeds up to 1000MB/s (1MB/s = 1 million bytes per second)
Password-enabled 256-bit AES hardware encryption
Shock/vibration resistant metal case can withstand drops up to 6.5 feet
Built-in software can automatically backup files to the SSD and/or a cloud service
USB-C port and power cable, includes USB-A adapter
Compatible with Windows and Mac computers
3.54 x 1.77 x 0.39 in., and weighs only 1.62 oz.
1TB option retails for $189.99 (catch it on sale during the holidays)
It's small, it's fast, and it can store a lot of data. But does that justify how much it costs?
How this SSD performs
I was sent the 1TB version of the My Passport SSD for review and it is surprisingly small, only slightly larger than a credit card. While the metal casing is nice, it certainly doesn't feel indestructible, so I won't be testing its drop resistance.
I can confirm that it is fast. Connecting it to my MacBook, I transferred a folder containing 4.5GB of data to the SSD in roughly 6 seconds. The write speed of about 1GB per second is accurate.
Installing the included software, WD Discovery, was also a breeze. This allows you to easily import your data from the cloud or a social media account to the SSD and gives you the option to download additional applications: WD Drive Utilities (to manage the SSD) and WD Security (for enabling password protection and hardware encryption). For sensitive files, whether personal or business, that kind of security is a must.
This SSD did not disappoint after days of use, although it can run a little hot to the touch. It's a great gadget and comes with a 5-year warranty, but the price can still be a little steep. That's where the flash drive below comes in.
SanDisk Ultra Dual Drive Luxe USB-C Flash Drive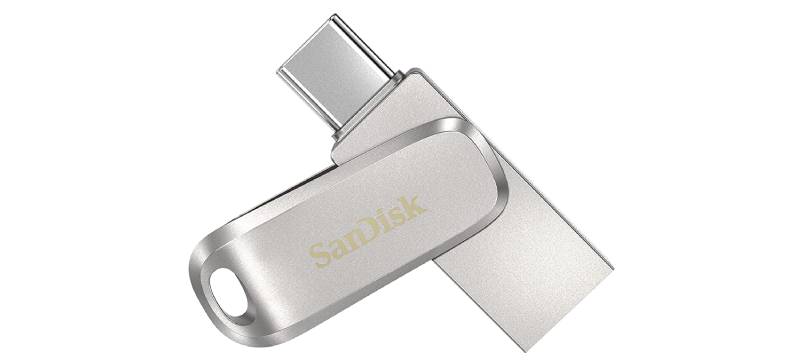 This is the SanDisk Ultra Dual Drive Luxe USB-C Flash Drive. For reference, SanDisk is WD's sister company under the Western Digital umbrella. Here's what you need to know about this tiny flash drive:
Available in six storage capacities: 32GB, 64GB, 128GB, 256GB, 512GB, 1TB
2-in-1 all-metal design with reversible USB-C and USB-A connectors
USB 3.1 with reads up to 150MB/s (write speed "lower and vary by capacity")
Designed to free up space by easily moving files between USB-C smartphones, tablets and computers
Use the SanDisk Memory Zone app to organize, browse and back up files (Android only)
1.75 x .48 x .34 in.
Retail prices range from $10.99 (32GB) to $114.99 (1TB)
Compared to the SSD above, this flash drive is much smaller but also much slower and lacks the included security features. But hey, it fits on a keychain and has that instant compatibility with both USB-C and USB-A-equipped devices.
Definitely small enough to lose
I was also sent this flash drive to review, specifically the 128GB model that generally retails for $19.99. As you can see, it's small and could potentially be very easy to lose.
Connecting it to my MacBook, I transferred the same 4.5GB folder to this flash drive. While it took only a few seconds to copy to the WD SSD, it took 2 minutes and 40 seconds for the SanDisk. Again, not surprising because the listed speeds are quite far apart.
It does its job, making it easy to transfer files from one device to another or simply back up files, photos, etc.
Are these external drives worth it?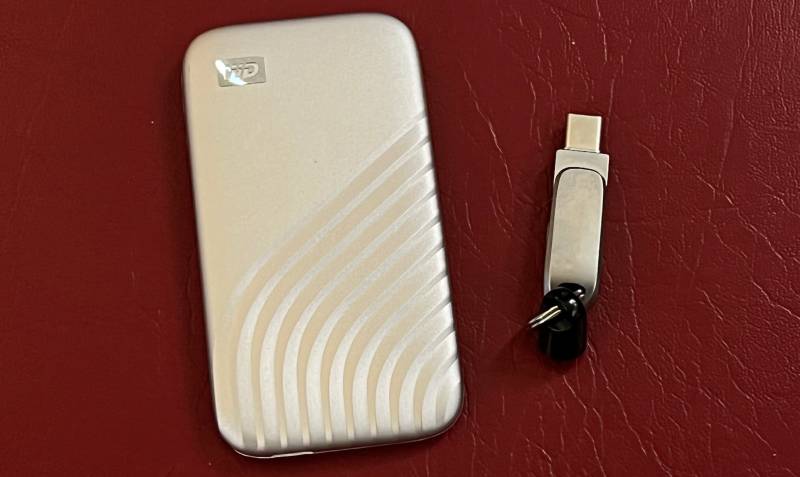 Both the SSD and flash drive are worthy of consideration depending on need — whether for yourself or a gift.
The WD My Passport SSD is best for:
Large collections of photos, videos and other files
Password-protection and encryption
Content creators who need speed and a lot of space to work with
The SanDisk Ultra Dual Drive Luxe USB-C Flash Drive is best for:
General storage and easy transfer of files
Situations where time involved is not an issue
Just remember that it lacks the security of the SSD, although you can add password/encryption using third-party software (like this) or with Disk Utility on a Mac. You simply can't beat the price starting at $10.99. Even the 128GB option stays in the $20-range.
How's that for an affordable stocking stuffer?
By clicking our links, you're supporting our research. As an Amazon Associate, we earn a small commission from qualifying purchases. Recommendations are not part of any business incentives.