I think of the mid-90s to the mid-2000s as the golden age of cell phones. It was that period between bag phones and smartphones when you really had the classics like, well, any phone that had the word Nokia emblazoned on the front.
Then you had the clamshell-shaped phones, starting with the Motorola StarTAC in 1996 and culminating with the most popular ever released, the Motorola RAZR from 2004. While you might think flip phones mostly disappeared with the emergence of touchscreen smartphones, they've slowly started making a comeback in the form of flexible screen devices from Samsung and others.
There's another that just hit the market from a brand you might not expect: Cat, the flagship brand of construction and mining equipment company Caterpillar. They actually produce several phones, including this new take on a classic design packing modern features, a rugged build and a refreshingly low price.
Meet the Cat S22 Flip
The product description page sums it up pretty well: "The Cat S22 Flip takes the cell phone back to what it should be … a phone." Sure, it's a flip phone reminiscent of what you would see 20 years ago, complete with a physical T9 keyboard and large buttons, but that's not all — this phone is also designed to take a beating.
Cat S22 Flip highlights:
Powered by Android 11 (Go Edition)
2.8″ VGA touchscreen main display & 1.44″ QQVGA external display – both protected by Corning Gorilla Glass 5
16GB storage expandable to 128GB with optional microSD card
2GB RAM
5MP rear-facing camera / 2MP front-facing camera
2,000mAh removable Lithium-ion battery
12 hours talk time / 13 days standby time
FM radio built in
USB-C port & includes 1/8″ adapter for headphones
IP68 rating: sand, dust, dirt, humidity and salt mist resistant
Waterproof up to 5 feet for 35 minutes
Drop tested up to 6 feet onto steel
Weighs 7.9 oz
As you can see, it's not just a flip phone. The color display is a touchscreen that also works with wet fingers and through gloves. Although it is a more limited version of Android 11, you still have access to the Google Play Store apps.
The most important part is the fact that it's supposed to be rugged. That could very well appeal to people in many different fields including, industrial roles, construction, drivers, first responders, military, farmers — basically any job where your phone is at risk of being damaged.
Going back in time
I was pretty excited when offered the opportunity to review the Cat S22 Flip, and opening the box was like a blast from the past. It reminded me of a bulkier version of a Samsung flip phone I carried about two decades ago.
It's 4.7″ x 2.4″ and is nearly an inch thick when closed, so it is a little larger than flip phones of days gone by. Below, see how the Flip compares to my iPhone 13 Pro Max.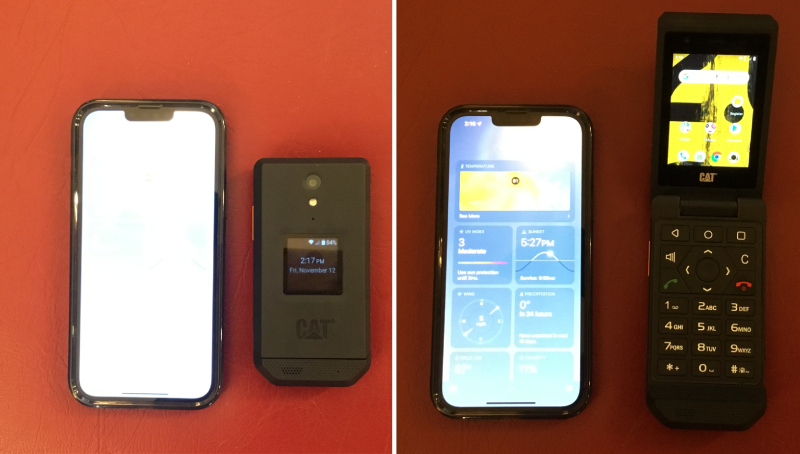 I charged it up, installed the SIM card and powered it on. Since it runs on Android, the first thing to do is sign into your Google account, where you have the option to import information like contacts, payment methods and apps.
I actually didn't mind using the smaller touchscreen, with haptic feedback that reminded me of an old Blackberry Pearl. Yes, it's a smaller screen than you're used to, so precise finger placement is a must. Another thing I noticed is that it wasn't as snappy to respond as modern smartphones, which is due to the much less powerful processor.
It's a strange experience using such a small touchscreen to try shopping on the Amazon app. Needless to say, I didn't complete a purchase.
What about the whole phone thing?
Again, the Cat S22 Flip isn't meant to take on a smartphone — it's supposed to first and foremost be a phone like these things used to be. And it succeeds.
This is an exclusive from our sponsor, T-Mobile, and service quality will depend on where you live. I'm in a northwest Phoenix suburb with typically so-so cell coverage (see my other recent review on a whole home cell booster) and as expected, I had about two bars of service.
Regardless, phone calls sounded good as I moved through the house. The speakerphone sounded okay, but the external speaker was obviously designed to be loud, not to be that perfect mix of vocals, treble and bass. You can also easily pair this phone with Bluetooth earbuds.
As far as texting goes, no, you don't have to relive the dark days of using a T9 keyboard (pressing the 9 key three times to type a Y, for instance). You can instead use the keyboard on the small touchscreen, but precision is vital.
A few other things
Since it runs Android 11 Go Edition, you can install apps from the Google Play Store. That is after you complete the initial setup.
I also tried the built-in FM radio. Reception on certain stations was acceptable, not so much on others. But it's a neat novelty to have built-in for those who have no interest in streaming music apps.
As you can see below, the 5MP rear camera works just fine, but don't expect the quality you'll find in smartphones with multiple lenses and advanced software. In case you're wondering, that's Daphne, my 4-month-old yellow Labrador.
Final thoughts: Is the Cat S22 Flip worth it?
To sum things up, this is a well-built phone that's certainly made to take on harsh conditions. With that said, that means it's also not going to be for everyone.
The Cat S22 Flip is marketed towards people who want a rugged device and one that's first and foremost just a phone. While you can't beat the $234 price tag, remember that it is a T-Mobile exclusive and will not work with any other carrier.
If that still manages to check all the boxes for what you're searching for, then this flip phone will fit the bill.