Lighting technology has certainly changed over the years — and no, I don't mean the evolution of incandescent bulbs to curly fluorescent options or even LED. Today, it's all about smart lighting and it goes way beyond bulbs, switches and plugs.
You have flexible light strips, bars, even landscaping lights (like these). And many are able to produce millions of colors, can be programmed for use in various lighting "scenes" and can be controlled using an app or your voice.
Arguably the gold standard in smart lighting right now is Philips Hue, which makes a wide range of products, including the Bloom table lamp. It has serious skills your current table lamps lack, and it doesn't look anything like them either, but is it worth it?
Philips Hue Bloom table lamp
While the Philips Hue catalog has expanded to include lights of all shapes and sizes for indoors and out, I'm focusing on one product in particular: the Bloom table lamp. As you can see below, it has a unique shape, and that's because it's meant to provide indirect lighting.
Check out some of Bloom's key specs:
Casts dimmable light in white, or millions of colors
Control up to 10 lights via Bluetooth app, including schedules and routines*
Lifetime up to 25,000 hours
4.96-inches wide x 3.89-inches tall, weighs 1 pound
Retails for $69.99
If you noticed the asterisk on the second thing on the list, that's because it's only Bluetooth compatible right out of the box. If you want to add additional smart control, such as Wi-Fi connectivity and the ability to use it with Amazon Alexa or Google Assistant, you'll need the optional Hue Smart Hub/Bridge that costs nearly as much as the lamp itself: $59.99.
See just how bright this lamp is in News Director Ben's review on Kim's show:
Setting up the smart table lamp (and the optional bridge)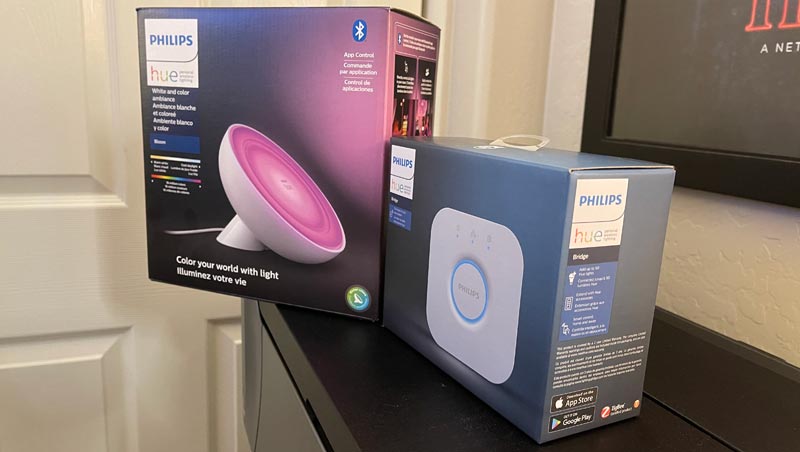 My personal experience with smart lighting began a few years ago by adding smart plugs and wall switches to set routines and schedules for regular ol' bulbs and fixtures. Over the past year or so, I've branched out into different lighting like actual smart bulbs and LED light strips.
Philips Hue sent me the Bloom lamp and Bridge to review, and it's my first experience with any of the company's products. Looking at the size of the box, you might think it packs a larger lamp. As you can see, it's fairly compact.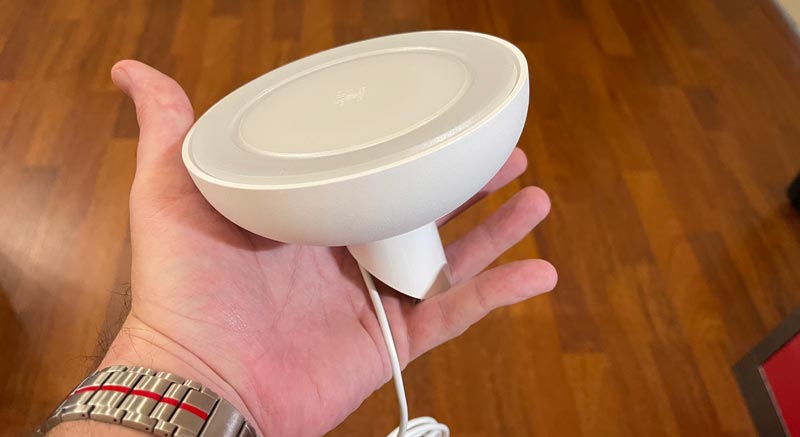 Instead of setting it up via Bluetooth only, I added the Hue Smart Hub for Wi-Fi connectivity. I plugged in the lamp and hub, then downloaded the official Philips Hue app (iOS version here and Android here).
After a firmware update, I had the app scan for the Hub, which it found almost immediately. Once connected, it was just as easy to add the Bloom lamp along with a custom name and assigning which room it was located in.
From there, you can fully operate the lamp from the app, turning it on or off, choosing color, brightness, setting routines and adding scenes using Hue's gallery or creating your own. It was more full-featured than any other similar app I've used by lesser-known brands.
I also enabled Out of home control through the app, which, as the name suggests, lets me control the light while away from home. I had to create a Philips Hue account to activate that feature, which was also a very quick process.
Custom routines with Alexa
Once that step was complete, I opened the Alexa app and searched for the Philips Hue Skill and linked the accounts. That allowed me to add the Bloom lamp to an existing Routine in the Alexa app. Now one command controls the existing lights in that room and the Bloom.
I also set up a specific routine for the Bloom alone to illuminate the media room in low light when watching a movie on the projector. Again, easy to do.
Placement options
Since this lamp is made for indirect lighting, don't just plop it down on the nearest end table — because it can get bright. Pick a place where an accent light would work well or behind a TV.
Because of all the options, you don't even have to limit it to a living room or den. Try it out in the kitchen or dining room, or maybe it'll work best in a bedroom. It really depends on how you want to use it, which can include ambient lighting, entertainment or both.
While I knew exactly which room I would place the lamp in, I struggled with deciding on an exact location. You can't exactly place the Bloom behind a projector screen that's attached to the wall.
I tried the lamp in a couple of different corners of the room and found a spot that worked really well in a particularly dark area. Adjusting the color temperature was easy, and even the brightest setting wasn't over-the-top bright.
Because it's compact and so easy to move, I might just change my mind — and that's very easy to do with this lamp.
Verdict: Is the Philips Hue Bloom table lamp worth it?
For a relatively unique smart light, $70 isn't unreasonable. But if that's all you're willing to spend, be prepared to use the Bluetooth-only features. You'll need to be in close proximity of the Bloom to control it with the app in that case.
While I've historically shopped budget smart lighting, this lamp's build and the app's quality have me second-guessing that approach. Sometimes, you really do get what you pay for.
By clicking our links, you're supporting our research. As an Amazon Associate, we earn a small commission from qualifying purchases. Recommendations are not part of any business incentives.