Nearly a year ago, Apple released the iPhone 12 and resurrected a feature once exclusive to certain Mac computers: MagSafe. That opened the door to all kinds of magnetic chargers, mounts, wallets and just about any other kind of accessory you can think of.
Consumer electronics company Belkin was quick to release MagSafe charging stands (like this one) that were even available for sale on Apple's official online store. No doubt Apple will keep MagSafe for the iPhone 13 when it's released as early as this September, and Belkin is ready with a bunch of new compatible accessories.
From face-tracking mounts to wireless chargers, Belkin's new products are designed for a wide range of situations. But there's a difference between products that are Made for MagSafe and Compatible with MagSafe that you should know about first …
Differences between MagSafe and not-MagSafe
MagSafe isn't just a ring of magnets built into iPhones. Sure, any accessory that's roughly the same circumference of that ring can connect — but the key feature to be aware of is wireless charging.
Connect an iPhone 12 to an official MagSafe charging accessory and you'll get up to a 50% battery charge in an hour. Even though that's not as quick as using a fast-charging cable and adapter, it's still double the speed of using a standard Qi (7.5W) wireless charger.
And while Belkin's existing 2-in-1 Wireless Charger is made for MagSafe, its latest products will only allow for standard wireless charging speed. With that in mind, check out quick reviews for the latest MagSafe-compatible charging gear and mounts Belkin recently sent to me for testing.
Magnetic Face Tracking Mount
Let's start with the most unique gadget in the bunch: Belkin's Magnetic Face Tracking Mount. Download the companion iOS app, add three AA batteries (not included), connect your iPhone 12 via MagSafe and get to broadcasting. Highlights:
Motorized mount follows your facial movements while you're creating video content
360-degree rotation and adjustable angles
Works in landscape and portrait mode
While other face-tracking products like the Facebook Portal and new Echo Show 10 are meant for video calls, this is not. This magnetic mount is for shooting content and broadcasting on compatible services including:
Facebook
Instagram
TikTok
YouTube
Twitter
Camera (native iPhone app)
Is it worth it?
This is a worthwhile accessory — for those who like to broadcast themselves on social media. That's about it.
It can only track one face (no groups), has no option to use a power cord instead of batteries and has to be used in conjunction with the app. It's also just a mount — it won't charge your iPhone 12. The biggest limitation, though, is the inability to use the mount to make video calls.
Unless you're a very specific content creator, skip this one.
Boost Charge Magnetic Wireless Power Bank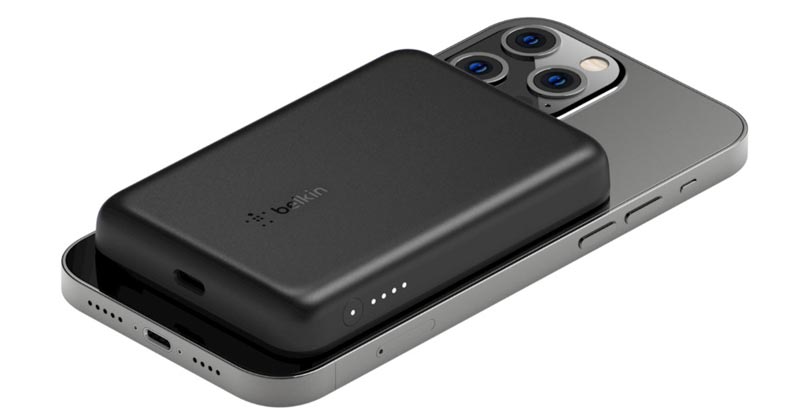 Next up, a portable power bank that connects via MagSafe to the back of an iPhone 12. No wires to worry about, just click it into place to give your phone's battery a boost. Highlights:
MagSafe compatible
2500 mAh of power up to 50%
LED indicator for charge level
Is it worth it?
I took this with me on a recent trip out of town and really got to test it out when my battery was running low. When my iPhone 12 Pro Max hit about 50%, I connected this power bank and started the charging process.
Again — this is only MagSafe compatible, meaning it's going to charge at the standard Qi speed. Yes, it takes a while.
When all was said and done, I only got about a 20% boost to the battery before the power bank died. Contributing factors no doubt include that I have the largest iPhone 12 available and that I was using the phone a bit while it was charging.
I have plenty of more powerful portable batteries that can charge my iPhone from 0 to 100%, but this is a nice power bank in the sense that it connects easily and doesn't add too much bulk to your pocket. You also have the option to charge the power bank while it's charging your iPhone if you're near an outlet.
Yes, this one is worth the $39 as long as you don't expect it to fully charge your iPhone. It comes with a USB-C to USB-C charging cable, but you'll have to provide your own wall adapter.
Magnetic Fitness Mount
This one is quite simply just a magnetic mount you attach to your home exercise bike, treadmill or other workout equipment. The magnet on the front connects to the iPhone, while the one on the back of the strap connects to metal handlebars or any other magnetic surface.
As a bonus, there's an internal ball joint so you can rotate the mount 360-degrees for any angle. Highlights:
Dual magnets
Secure and vibration-proof
Attaches to handlebars up to 1.5-inches thick
Is it worth it?
Having attached this to my home treadmill, all I can say is that it works great. The mount never slipped and my iPhone stayed in exactly the same spot the entire time. I also stuck the mount onto the side of a metal filing cabinet and it held on well there, too.
This is great for home workout equipment, but the price is a little steep for a relatively simple magnetic mount.
Boost Charge Magnetic Wireless Charger Stand
Back to chargers, this stand is designed to line up perfectly with the MagSafe tech in your iPhone 12. Highlights:
Is it worth it?
For the price, this stand is … fine. From an aesthetic standpoint, I like that it's not very noticeable and simply disappears into the background.
Like the power bank above, the base version ($34.99) comes with a charging cable but no wall adapter. The one I tested did come with the adapter and that one retails for $44.99. Once again keep in mind that it's only MagSafe compatible and charges at half the wattage of official MagSafe accessories.
Boost Charge Magnetic Portable Wireless Charger
Think of this wireless charger as the big brother to the power bank I went over earlier, packing 10,000 mAh of juice. It also serves two functions: as a wireless charging pad when plugged in or a portable battery backup.
Charging it via MagSafe is still the typical 7.5W Qi speed — but if you charge your smartphone (not just an iPhone 12) with this power bank using a USB-C cable, you'll get 18W fast charging. Highlights:
Dual use as a charging pad or portable power bank
Can (supposedly) charge an iPhone 12 two times on a single charge
Power bank can fully recharge in 3.5 hours
LED indicator for charge level
Is it worth it?
By far, this is my favorite Belkin product on this list. This also tagged along on my recent trip and it charged my iPhone 12 Pro Max more than once. My wife was also able to charge her iPhone 11 Pro Max using a cable at the same time.
It's a little bulky, but it's a good-sized battery. Once again, you get the cable but not the wall adapter. Even so, this really is a handy accessory for you iPhone 12 owners out there.
Boost Charge Magnetic Portable Wireless Charger Pad
This charging pad/cable clicks to the back of your iPhone 12 and charges at the standard 7.5W Qi speed. Other highlights:
Is it worth it?
This is a fine charging pad, although there's something else to consider. If you don't need the 6-foot cord, you can often get the official Apple MagSafe charger for the same price. It only has a 3-foot cord, but you get the full-speed MagSafe charging. Long cable or faster charging — the choice is yours.
A few final thoughts …
Without question, Belkin makes fine tech across the board. It's not one of those sketchy brands you'll come across on Amazon selling uncertified and otherwise questionable gear. On a side note, I'm particularly fond of Belkin's line of surge protectors. I own a few of these.
Even so, not every product on this list is going to solve a problem for everyone, especially that face tracking mount. For everything else, there are pros and cons.
I mentioned the lack of wall adapters for many of the products. If you don't already have a decent USB-C adapter, here's a solid option from Anker that won't break the bank.
By clicking our links, you're supporting our research. As an Amazon Associate, we earn a small commission from qualifying purchases. Recommendations are not part of any business incentives.