Webcams have long been an important part of life at the office, but never to the level of necessity they've become over the past two years. Since the start of the pandemic, jumping on a video meeting every so often has become something that, for many, now happens a few times a day.
With that increase, picture quality suddenly became more important. The historically bad cameras built into laptops just didn't cut it.
There are more standalone webcam options than ever before, including a new all-in-one device that combines a camera, speaker, microphone array and a light bar. Throw in artificial intelligence for good measure, and you have one that stands out in the crowd, but is it worth the price?
AnkerWork B600 Light Bar
Above is the AnkerWork B600 Light Bar that just went on sale at the end of January. As you can see from the following specs, it's not your typical webcam.
Camera with up to 2K resolution and 30 frames per second
4-mic array with Voice Radar that amplifies your voice and lessens background sounds with "AI-powered noise reduction"
Low-distortion dual speakers
Built-in light doubles as a lens cover for added privacy
MagicSight automatically balances color temperature and brightness
Adjustable settings using with AnkerWork software
Includes USB-C to USB-C cable, and USB-C wall adapter
For that price tag, it must be pretty impressive, right? It has some notable features, but it's not perfect.
A bigger gadget than I expected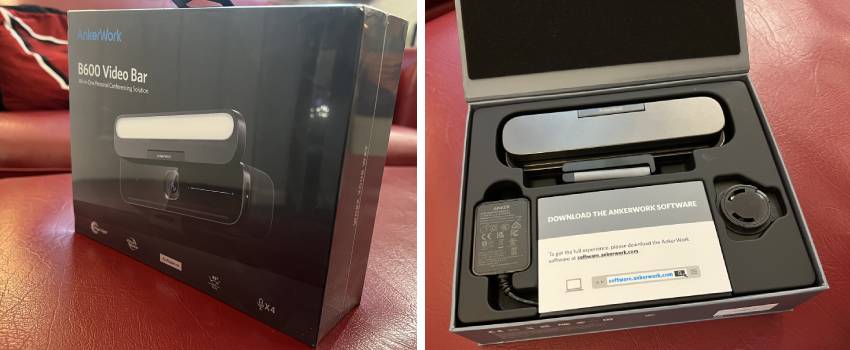 When I received the B600 Anker sent me to review, I was a little surprised by the size of the packaging. At first, I thought there must be a lot of padding to keep it from getting damaged. Nope.
Put simply, it's big for a webcam. The AnkerWork B600 is just over seven inches wide and weighs close to one pound.
So my immediate observation is that it's not the most travel-friendly webcam. That's also because it requires two cables to work: a cable that connects to your (hopefully USB-C) computer and another that plugs into the wall.
How the Video Bar compares to my Logitech webcam
I'll make the quality comparison brief because it's not exactly fair to directly compare a device released in 2022 with a Logitech camera that's been on the market since 2013. Nine years is a very long time when it comes to tech. Now check out the size difference between the two:
I've owned the Logitech C930e since 2016, and the main takeaway is that it's still on my desk because it still works. Its 1080p resolution has always been more than enough and leaps and bounds over the usually grainy 720p laptop webcam.
I can also easily adjust the various aspects of the image using Logitech software. The only consistent downside has been the microphone and speaker quality, but I prefer using wireless earbuds on video calls anyway.
The AnkerWork B600 goes beyond 1080p with 2K (1440p) resolution, dual speakers and an array of four microphones. But even catchy marketing names like "Voice Radar and "MagicSight" don't matter if they're not useful.
The Video Bar's biggest features tested
Getting the Video Bar set up was relatively easy, although its large size did play a factor. My MacBook Pro is connected to three external monitors, and I had to be mindful when picking a location as not to block any visible screen areas.
That part was never an issue with a smaller webcam. Even though the AnkerWork is also heavier than a typical webcam, it didn't weigh down the monitor's left side. Even though I had to place it pretty far to the left, what's nice is that you can also swivel the camera.
Then you have to connect it to your computer or docking station with the supplied USB-C cable. If all you have are older USB-A ports, you'll need a different cable or add an adapter like this one. You might consider a different cable anyway because the one supplied isn't very long (less than three feet). It's not ideal if you keep a tower on the floor.
The second USB-C port on the back of the Video Bar is for the power adapter. Once that's all set, you'll need to download the AnkerWork software.
I won't go through all the settings, but as you can see from the screenshot above, you have a few options for the built-in light, such as brightness and color temperature. You can control the light manually or automatically turn it on and off based on the lighting conditions it detects.
In a room that's already reasonably well-lit, you won't notice much going back and forth on the brightness. It's a different story for darker rooms, but the light bar still isn't very bright even on its highest level. I imagine part of that deals with the fact that it's not designed to be bright enough to blind the user.
I enabled automatic light adjustment, but it was hit or miss the first few days I used the Video Bar for work meetings. Sometimes the image looked fine, while other times seemed a little too dark, and the light never activated.
There are a few physical controls on the Video Bar for adjustments on the fly. Turn the light on and off by tapping the right side, then adjust the brightness just to the right of the lens. Tap the left side to mute and unmute the microphone.
There were also times when I seemed out of focus for no reason. At the beginning of March, a new version of firmware was released that addressed a few issues, including optimizing autofocus accuracy. That did indeed seem to clear up that particular problem.
You can also adjust the framing, angle, zoom, and resolution. The 2K picture is sharp.
The resolution was noticeably better than my 1080P Logitech, but the colors on the Video Bar seemed more washed out, so I manually adjusted the saturation level in the AnkerWork settings.
The speakers are excellent for this type of device and sound a little better than what's built into a typical laptop, but still no match for a standalone computer speaker system. During calls, the speaker sound quality was crisp, and those on the other end could hear me just fine, too, but not as well as when I'm using the mics in my AirPods.
That's unfortunate since this thing packs a four-microphone array, although "VoiceRadar" active noise cancellation seems to work since they didn't hear the dogs barking on the other side of my home office door.
When not in use, it's nice to fold down the light bar to cover the lens. Just make sure to use both hands to avoid shifting it out of place.
Is this all-in-one webcam worth it?
The AnkerWork B600 Light Bar combines a few gadgets into one, but that only matters if you're someone who uses them all. Here's the good and bad:
Pros
4K would be better, but 2K is a definite improvement over 1080p
The light bar is bright enough
Nice range of customizable settings
Decent speakers
Fold-down cover is a great privacy feature
Cons
It's big and bulky, requiring two cables to operate
USB-C cable to connect to computer is too short
Microphone quality is so-so
Really expensive, especially considering it's not 4K
Overall, the AnkerWork B600 Light Bar is solid. In fact, it's the nicest webcam I've ever used, and it's well-suited for the professional who's constantly in video meetings. The price is pretty hard to swallow for the everyday user who doesn't need all the extras.
Check out a few well-reviewed alternatives:
By clicking our links, you're supporting our research. As an Amazon Associate, we earn a small commission from qualifying purchases. Recommendations are not part of any business incentives.