Last month, I took a camping trip to the Grand Canyon. We had the typical gear you would expect: a tent, tarp, cots, sleeping bags, camp stove, flashlights and more.
I also brought along a home theater of sorts that included a projector, Apple TV and a 100-inch screen designed to attach to a portable canopy. It was all powered by a high-end Lithium-ion power station and four solar panels.
Check out my full review on that one here, but I get that not everyone has or would be willing to spend $2,700 on a solar generator set. If you don't need that much juice for camping trips or to power large appliances during outages, other options are far more affordable …
Say hello to the Anker PowerHouse II 800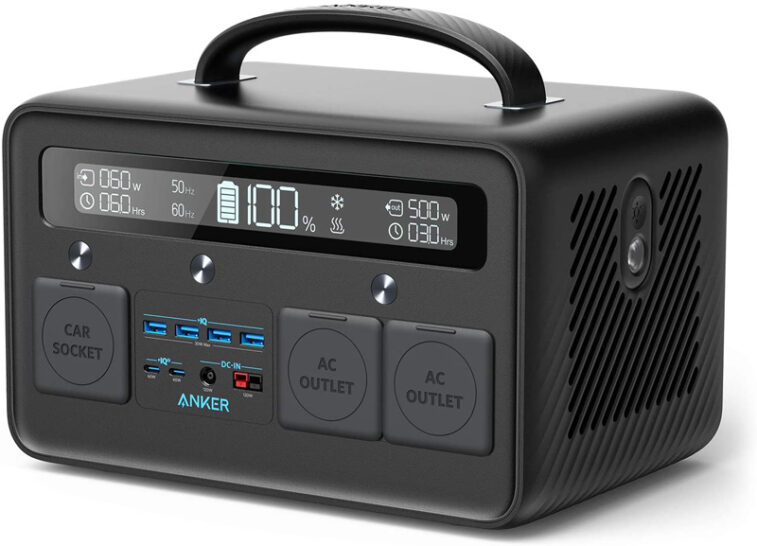 The Anker PowerHouse II 800 is a portable power station with some pretty impressive specs for its relatively small size. Here are the highlights:
777 watt-hours
2 AC outlets
2 DC outlets (including specialized "Anderson" ports)
2 USB-C ports
4 USB-A ports
11.8″ x 8″ x 7.2″
18.3 lbs.
Retails for
This power station is also capable of recharging via solar panels, which are not included. What is included in the box is an AC adapter, USB-A to USB-C cable, USB-C to USB-C cable and a DC cable to plug into your car.
It's powerful enough to handle your mobile devices like smartphones, tablets, laptops and more, along with certain small appliances rated under 500W. So it'll power lamps, TVs, blenders, mini-fridges, etc., but don't try to plug in bigger appliances like toasters or microwaves. More on that later.
The best part about this whole thing is that you can have everything plugged in simultaneously. That's up to 11 devices total.
Getting to know this power station
This power station had roughly a 30% charge out of the box, so the first order of business was to plug it in. It reached 100% in a little over four hours.
Also in the box were the cables mentioned above, but really not all that much in the way of documentation. While the various ports are pretty self-explanatory and the quick start guide covers the operation basics, there's just not much in best practices for maintaining the power station — only a few tips on the last page of the booklet.
On the front, you have a nice, large LCD showing charge percentage remaining in the center along with input/output metrics on either side. Right below the screen is three power buttons for AC, car and USB ports.
Look to the right side of the power station and you'll find a built-in flashlight. Push once for low, twice for high, three times to strobe and a fourth time to turn it off.
On the back, another light. This is more of ambient light like a lamp and has three brightness settings that you could use during a power outage or at a campsite.
Otherwise, it features a solid build that wouldn't worry me if rattled around a little in the car or during a camping trip. Just keep in mind that 18 pounds aren't easy to maneuver, so don't plan on carrying it around in a big duffel bag all day.
What it can do
While I didn't have a chance to take this one on a camping trip, I can tell you that it'll definitely be coming along the next time I go. According to product specs, the PowerHouse II 800 can charge a smartphone with a 3,100mAh battery up to 55 times on a single charge. I have an iPhone 12 Pro Max with a slightly larger battery.
I didn't try charging it dozens of times, but I did charge it up (via USB-C) when it was below 20% a total of three times over a few-day stretch, and it barely made a dent in terms of total power consumption. It was still above 90%.
My 15-inch HP laptop drew a little more power to charge from 10%, knocking the power station below 75%. Not exactly surprising.
After topping off the power station, I plugged in my small office fridge that draws about 180 watts. It's definitely not the mini-est of mini-fridges, and it drained the PowerHouse at a considerable rate after about three hours.
Who is this power station for?
Like I mentioned in the other review, these types of power stations (while cleaner and less dangerous) are NOT meant to replace portable generators when it comes to keeping most of your house running during an outage. Again, you can pick a few key devices to power for a few hours as long as they don't draw more than 500 watts. That rules out a lot of appliances like full-size refrigerators.
While I didn't test this aspect, something else to note is that this Anker can also keep certain medical devices running. According to product specs, it can power a CPAP machine for 14-plus hours.
Note: Anker recommends that this power station be charged every three months if not used often.
This is absolutely a great way to keep electronics and gear like flashlights charged for the duration of a trip for the camping enthusiasts out there. Add solar panels (like this one), and you can even keep the power station itself charged up. Just know that it can take hours longer to charge via solar versus wall outlet.
Is the Anker PowerHouse II 800 worth it?
While this power station doesn't cost thousands of dollars, several hundred can still be a bit much to swallow. The Anker PowerHouse II 800 retails for $699.99, but you can occasionally catch it on sale through Amazon.
If you like the idea of having one but don't need that kind of battery capacity, you should also consider checking out the PowerHouse II 400. It's about half the size across the board and can power machines that don't draw more than 300 watts. It'll still charge your smartphone at least a couple dozen times on a single charge and retails for $399.99.
By clicking our links, you're supporting our research. As an Amazon Associate, we earn a small commission from qualifying purchases. Recommendations are not part of any business incentives.