The age-old (okay, not really) question: buy a TV with a really big screen, or save some cash and get a projector that throws an even bigger picture. Which do you choose?
For me, it's been a projector paired with a 100-inch screen for the past eight years and doing so saved me thousands of dollars, even as TV prices have decreased. The trade-off is that the projector is not as bright as a TV and the picture isn't quite as sharp.
That debate aside, projectors today aren't all massive contraptions with loud fans that hang from your ceiling. Some made-for-home theaters are far less visible, and others can fit in a backpack. You can't say that about a TV.
A projector you can take with you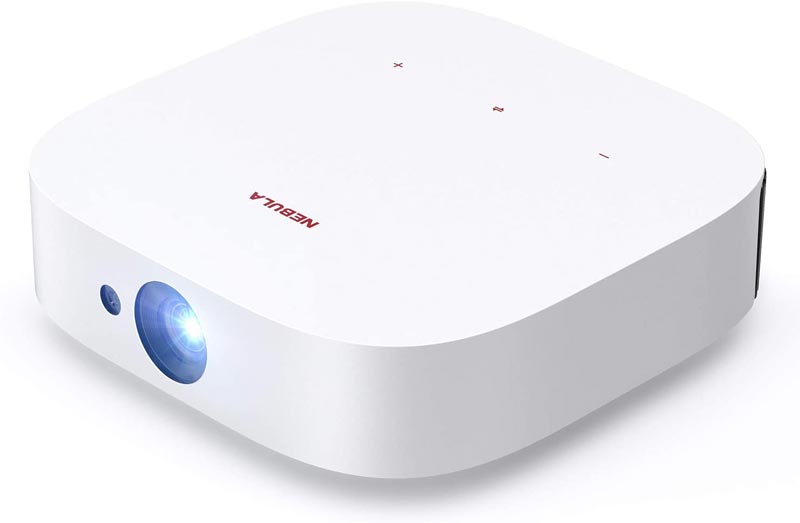 This review focuses on one such portable projector: The Anker Nebula Solar that the electronics maker sent me to test. Based on the name, you might think it's solar-powered. Let's get that out of the way first — it's not.
All things considered, that's not really a big deal because it has a considerable number of other features to create a true all-in-one projector. Here are the standout specs:
FHD 1080p resolution that can throw up to a 120-inch image
400 ANSI lumens / 30,000-hour LED life
Auto focus and image adjustment
HDR10 for extra layer of picture detail
Up to a 3-hour battery life on a charge
Built-in stand to adjust angle
Android TV 9 with 5,000 app library
8GB internal storage
Bluetooth with control from companion app
Mirror content from your smartphone
Three ports: HDMI, USB-A and USB-C
Compact size: 7.6″ x 7.6″ x 2.3″ and weighs just over 3 lbs.
Retails for $599.99
As I mentioned, it has a lot going on — especially when you consider the projector itself isn't all that large. It's easily a third of the size of the five-year-old Epson projector I use in my home theater.
So how well does this one work?
The Nebula Solar projector
Aside from the aforementioned Epson, I also own another portable projector that I use for backyard movie nights or to project Halloween displays on a window. I'm pretty sure I spent about $60 on that budget projector and its very basic features.
The Nebula Solar is in a completely different orbit (see what I did there?) and blows that one right out of the water. But it absolutely should when you consider my other one cost $60 and this one goes for $600.
First, taking it out of the box, it has a fairly minimalist design. Three buttons on top and the back, a remote sensor, three ports for accessories and to charge it, along with the power button.
Setup was easy, but that starts with charging the battery. This projector comes with an Anker USB-C to USB-C charging cable and its PowerPort III 65W wall adapter. Not only is that a fast charger, but it'll also charge laptops.
Putting it to the test
Once the battery was topped off, I just waited until it was dark one night and took it out to the backyard. I picked a spot, pointed it at a wall, powered it on and wow — I really love the autofocus and image adjustment feature. It took seconds before a clear image was projected on the wall.
And I do mean a tan, concrete wall that encompasses my backyard. I didn't even try to use a projection screen at this point. What's nice is that in the settings, you'll find an option to select the color of the surface you'll be projecting onto, so it adapts the colors of the image.
To use the Android TV platform, I connected the projector to my home network's Wi-Fi and signed in using my Google account. After that, I downloaded a few streaming apps that weren't already installed.
I opened Apple TV+ and started playing an episode of "Ted Lasso." Considering it's being projected onto a wall, the picture was sharp, and I only had to make slight adjustments to the actual image size using the supplied remote (which is actually pretty nice, although it could be better if backlit).
It can also be adjusted using the Nebula Connect app that's available for both iOS and Android.
The Nebula Solar also has dual 3W speakers built in that are described as able "to produce immersive audio that fills any room." To me, the sound was fine, but I certainly wasn't overly impressed with that aspect.
Side note: Holding down the center button on the top of the projector switches it to Bluetooth speaker mode so you can stream music or other audio from your phone. Again, the speakers are fine but don't expect it to compete with a good standalone Bluetooth speaker.
I tried it out in the house the next day, once again charging up the battery first, then projecting onto my existing home theater screen. The built-in kickstand was a nice feature to line the picture up with the screen.
Once again, the picture was sharp, or at least as sharp as 1080p can be.
Let me reiterate that this is a small projector and 400 lumens isn't exactly an immersive amount of light. We had to close the curtains and shut off most lights to see a bright enough image.
It made it through an entire 2-hour, 10-minute movie, although it died about 25 minutes later. That's close enough for me to the 3-hour estimate in the product specs.
Verdict: Is this all-in-one portable projector worth it?
My overall feeling about Nebula Solar is that it is a solid solution … for a portable projector. I love the ability to change the screen size anywhere from 30 inches to 120, along with the fact that you can use it without any wires or accessories connected to it. My absolute favorite part, though, is the autofocus.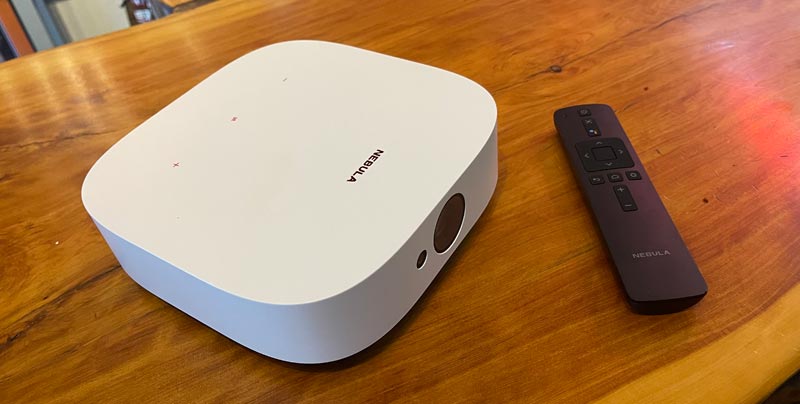 Pros
A true all-in-one projector, with an internal battery and streaming apps
Small enough to take with you and to store out of the way
Great autofocus and image adjustment features
Good picture and good sound (not great on either)
Doubles as a Bluetooth speaker
Cons
Expensive
Not very bright
Limited to 1080p
If you're looking for a portable projector with a lot of options and settings, this might be for you — as long as you can get over the sticker shock. At the time of publication, there's an Amazon coupon that knocks $100 off the price.
If you're looking for a home theater projector, the Nebula Solar is NOT it. Its 400 lumens is sufficient in really dark environments, but that's about it. For comparison, my old Epson has an output of 3,000 lumens.
Overall: 3.5 out of 5
By clicking our links, you're supporting our research. As an Amazon Associate, we earn a small commission from qualifying purchases. Recommendations are not part of any business incentives.