As America's tech pro and a small business owner for over 20 years, Kim has partnered with a few hardware and software vendors and companies.
These companies may sponsor The Kim Komando Show and Komando.com, but she honestly trusts their time-saving tools, security features and money-saving innovations. Kim only partners with companies she is proud to bring to you and uses herself, and she arranges special deals to make these products even more affordable.
If you're in the market for a new computer with all the power you need, a printer that helps reduce ink costs or the ultimate cloud storage solution, read on.
Workstations and servers that stand the test of time
This is a photo of the servers here at Komando headquarters.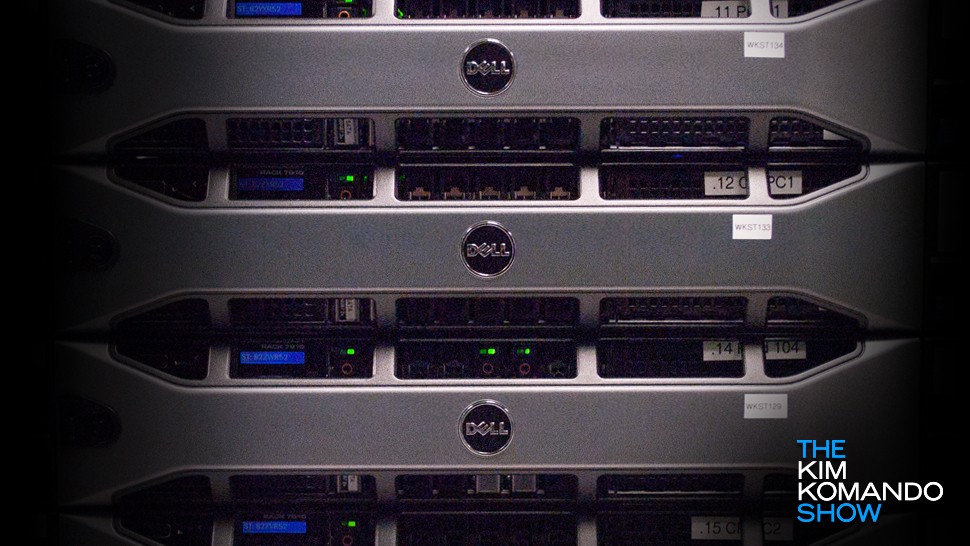 We've used Dell computers and tech to run the Komando website for more than 15 years. Dell is Kim's go-to for work-from-home tech, too.
If you own your own business, you may be wondering if you need a server. Well, the answer is likely yes if your team is growing, you want to work remotely and you need to store data securely. Tap or click here for our tips on selecting a server.
What if you're just looking for a desktop or laptop computer? We use Dell Optiplex and Precision workstations at Komando HQ, and these workhorses get any job done.
We went with Dell because it prides itself on providing customers with security, manageability and reliability. Moreover, it produces the latest technology that is most relevant to its users.
Call 877-ASK-DELL or visit Dell.com to find out how Dell's Technology Advisors can help your small business.
What to look for in a printer
Kim uses an Epson EcoTank printer every show to print out her scripts — and that's a lot of pages. She rarely has to fill the tank with ink.
The Epson EcoTank line comes in various shapes and sizes, but one constant is its ability to make printing easier and more affordable over an extended period of time. How? It's all about the ink.
Epson's EcoTank printers use built-in reservoirs, which hold up to two years worth of ink. That's the equivalent of 30 ink cartridges. The tank has one more surprising benefit: Simply pour ink straight into the tank instead of buying new cartridges.
Add the Epson EcoTank Pro to your online shopping list at Amazon, Dell, Micro Center and Epson.com/EcoTankKim.
Cloud backup you can rely on
There are many cloud storage options out there, from Google Drive to Dropbox, but Kim trusts one to back up all her devices at one low monthly price: IDrive.
A reliable backup service is one of the best ways to protect your data.
What would happen if all the files on your computer and smartphone disappeared? Your important work documents and precious photos and videos — memories you couldn't replace if something happened.
With IDrive, you can back up all your devices — PCs, Macs, tablets, Androids and iPhones — into one account. For just a few dollars a month, you can rest easy knowing all your photos, videos, documents and files are safe.
Save 50% on 5 TB of cloud backup. That's less than $40 for the first year!