You've heard us talk about targeted ads before, and you've probably experienced them firsthand. This is when ads for an online store you shop at or a product you've looked at recently seem to follow you around the internet.
Most of the time, this is thanks to ad networks. An ad network is made up of companies that share information they know about you so you see ads you're more likely to click on. While that's scary, it also means you can opt out in one place and it applies to many companies, as in the case of Facebook and the Digital Advertising Alliance; however, Google has another ad-targeting system you need to know about.
If you weren't aware, Google owns and operates one of the largest ad networks around. It's called DoubleClick, and it serves ads on a high percentage of internet sites, including Komando.com.
Where things get tricky is that Google also owns and operates Google Search and YouTube. People use both to find websites and videos that interest them, which means Google can quickly compile a list of your interests from what you look for. Enter Google's interest-based advertising.
Interest-based advertising lets Google act like a one-company ad network. It doesn't really need to know what other companies know about you because it can use information it gathers itself to show you targeted ads on any site that uses Google Ads.
That isn't to say it doesn't get information from other companies, but that's not the only way it gathers it. Fortunately, you can turn off interest-based advertising. We'll also discuss a feature Google added that lets advertisers use your email address to target you.
To start, go to https://www.google.com/settings/ads. You'll see a different screen depending on whether or not you're signed into a Google account.
If you're signed in
If you're signed in, you'll see a list of the interests or topics Google has collected, and you can deselect the ones that aren't really interests of yours or that you don't want to see, period. You can also add topics.
Maybe a friend told you to watch a "great" new video, but it turned out to be about snakes, which you hate. Google doesn't know that and might have added "reptiles" to your interests, which would explain the ads that contain snakes, lizards and iguanas. This is a quick way to stop that.
If you don't want to see interest-based ads, you can turn them off completely. Just set "Ads Personalization" to "Off."
Once you opt to turn off ad personalization, a popup window appears so you can confirm your decision.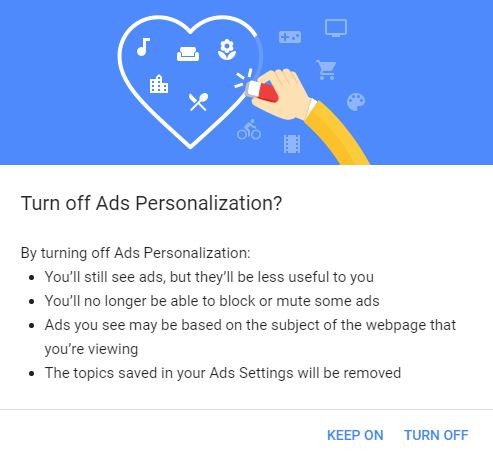 As you can see, Google included some helpful bullet points to explain why ad personalization is better for you. It's true that if you're going to see ads online, they might as well be for something that interests you, but when you consider Google is using these ads to build a profile of your interests, you'll probably opt to turn them off.
If you're not signed in
If you're not signed in to your Google account when you visit https://www.google.com/settings/ads, you'll land in the area where you control what happens to your information off of Google's sites and in Google Search.
This is a good reminder that even if you aren't signed in to a Google account, Google still records what you search for on Google Search and builds an interests list using cookies stored on your computer. The upside is that it can't link your information to a name, but Google still tracks your interests and uses them for ads.
You can get around this by deleting your cookies after every session or using your browser's privacy mode to refuse cookies when you're browsing; however, that's also going to mess with sites you want to store cookies for future convenience.
This is also a good time to point out an ad feature Google has called "Customer Match." It allows advertisers to send you targeted ads based on your email address in their records. Facebook does something similar.
For example, if you use your Gmail address to create an account on a shopping site, the site can submit your address to Google. When you're signed into Google, Gmail or YouTube with that email address, Google will show you ads from that advertiser.
The place to disable this, though, is on the page that controls what you see when you're signed out of Google. So, let's take a look at those options.
The first option you'll see on the "not signed in" page is "Ads Personalization Across the Web." This controls the Google ads you see on other sites. If this is on, you can see ads based on your interests; if it's off, you'll just see whatever ad happens to be showing based on your location or that fits with the site you're browsing. Turning this off also opts you out of "Google ads that are based on visits to advertiser websites."

Once you turn the setting off, you'll see this popup confirmation: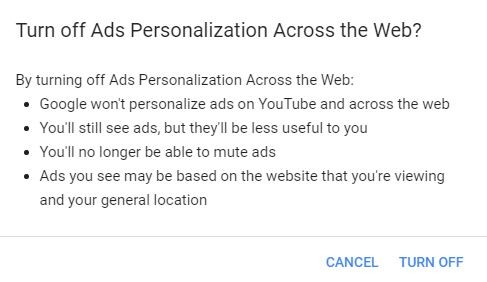 Next is the "Ads Personalization on Google Search" option. These are the ads that show at the top of a Google search that look like search results. If you turn this off, the ads will relate to what you searched for, but not as targeted to you.

Once you turn the setting off, you'll see a popup confirmation:
Turning this off also means "An advertiser can't factor into their ads your previous visits to their website." In other words, you won't see ads for a specific product you've looked at in the past.
Of course, you can sidestep some of the targeted ads by using a search site that doesn't track what you do. Here are three great options.