Facebook loves targeted ads like a dragon loves each golden coin in its mountain of treasure. That's why Facebook is breathing fire at the thought of Apple's iOS 14 update.
Later this spring, Apple will launch the "App Tracking Transparency" feature, which requires your consent before an app can track your activity across websites and apps. Mark Zuckerberg was none too happy. He painted the privacy changes as self-serving and anti-competitive during a recent earnings conference call.
Luckily, you don't have to wait for the update to protect your browsing history. Tap or click here for simple ways to keep your private info private. If you want to clap back at Facebook specifically, we've got a step-by-step guide on hiding your app data from Zuckerberg's prying eyes.
Yes, ads are following you on Facebook
The bothersome ads we're talking about are called targeted ads, and you can put a stop to them. Facebook offers up an explainer on how it serves up ads based on your activity through Facebook and Instagram, as well as your visits to other websites like online retailers. Those factors include:
The pages you and your friends like
Information you have added to your Facebook and Instagram profile
Your location, including where you connect to the internet and use your phone
The places you check into using Facebook
Sites you visit that use Facebook's data tools
Information you share with businesses through Facebook, like your phone number or email address
Now that you know what's going on, let's tweak your settings and take the target off your back.
Related: See how taking a break from Facebook can actually make you feel better
1. Adjust your Facebook ad preferences
These instructions use Facebook's desktop website, but you can also access ad preferences through your Facebook app. From the site, click on the downward arrow in the upper corner and click Settings & Privacy. Then, tap on Settings.
Click Ads on the left side. This opens your Ad Preferences page. You'll be taken to a page that looks like this one (although instead of being blank, it will have icons representing your interests).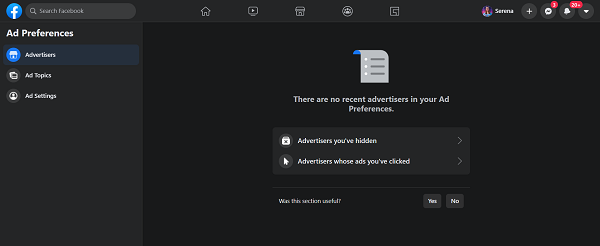 Want to stop seeing a certain ad? Navigate to the Advertisers section. Then, tap Hide Ads next to the ads you don't want to see, which appear beside any advertisers you've seen recently.
Click on Ad Topics to control the topics that target you. Below Manage Ad Topics, you'll see the different titles, like Alcohol, Pets, Social Issues or Politics. Want to see fewer ads about one of these topics? Just click See Fewer.
This section lets you choose whether Facebook can show you personalized ads based on your online activity. You can also review the information advertisers use to reach you — and you can choose whether they can use this data for ads.
2. Adjust your Facebook ad settings
While you're under the Ads Preferences section, take a look at the third option: Ad Settings. This section is a game-changer. Basically, it lets you see how Facebook is using data to shoot specific ads your way.
In other words, this is where you can make substantial changes to get rid of that unsettling "I'm being followed by ads" feeling. At the top, you'll see a list of common questions, like, "What information is used to show me ads?"
Scroll down to the section called Manage Data Used to Show You Ads. You'll find four different ways to take back control of your data.
For example, click on Data about your activity from partners. This details the personalized ads you'll see based on your activity on other websites, apps or offline. The screen will look like this:
Here, you can stop Facebook from using its partners' data to show you personalized ads. Adjust the toggle beside your Facebook and Instagram accounts to stop them from sending you specific ads based on your activity.
As you can tell, this is a super helpful section with many ways to take back your privacy. There's a lot more you'll find under Ad Settings, so root around and adjust the features to maximize your experience. Now, here's another great step to take.
3. Clean up the information Facebook has on you
To review your information on Facebook, click the downward arrow in the top right of Facebook. Select Settings & Privacy, then click Settings. From there, click Your Facebook Information.
Here's what the steps will look like on your screen:
Once you've clicked Your Facebook Information, you can view and manage many different tools and resources. You can:
Access your information
Download your information
Look at your activity log
Review and manage what you share
Manage your information
Delete your account
You can even clear the activity from businesses and organizations you visit off of Facebook. Fiddle around with these tools. There's a lot you can adjust to get the privacy settings that are best for you.
RELATED: Find out how to restrict Facebook's access to your phone number
What can you expect in spring?
Zuckerberg has made his feelings on the new iPhone update crystal clear. We wonder if he may go to Congress in protest. After all, Facebook was one of the top spenders in 2020's lobbying efforts, according to a Wall Street Journal analysis.
Until then, we will have to wait for Apple's new feature. While some people are choosing to ditch Facebook, you may not want to if that's where your friends and family virtually congregate. If you're in the "stay" camp, you can make using it much less creepy by adjusting your advertising preferences.
Following these steps won't completely stop ads, but at least you won't see the same pair of shoes tracking your every move, begging you to buy them.