Robocalls are quite simply the most annoying modern tech scourge for many people. You know what they are. These are the unsolicited prerecorded telemarketing calls to landlines and wireless phones that seem to strike at the most inconvenient times.
Telemarketing calls are certainly nothing new, annoying us for decades now. Aside from trying to sell you stuff, robocalls can be downright deceptive and malicious. Robocall scams are actually trying to rip you off or steal your identity.
This is why the rising number of robocall complaints is alarming. It's a plague that the world can do without. But is relief in sight? If anything, the robocall problem is just getting worse each year.
We can blame advancements in technology, especially with Voice Over Internet Protocol (VoIP) services, for the increase in automated telemarketing calls.
With cheap internet access and the available software tools like auto-dialers and Caller ID spoofing, illegal telemarketers can make increasingly higher volumes of calls inexpensively from anywhere while concealing their identities.
Ways to stop annoying robocalls and spam calls
According to an FTC report, here are the top six spam call types reported by consumers in 2017:
Reducing your debt (credit cards, mortgage, student loans)
Dropped call or no message
Vacation & timeshares
Warranties & protection plans
Calls pretending to be government, businesses, or family and friends
Medical & prescriptions
So how do you protect yourself from these robocall and telemarketing scams?
To fight back against all kinds of nuisance calls, you have several smartphone tools at your disposal. You can block numbers, turn on Do Not Disturb mode, use your carrier's tools, use third-party apps or a phone with built-in spam filtering, and more.
In this tip, we will explore these options and hopefully, you can pick up valuable pointers on how to minimize and even eradicate all these unwanted calls.
Block individual numbers
Here's a feature that's available on any iPhone and Android – the ability to block specific numbers. Although this cannot possibly stop every robocall and spammer number out there, you can at least block the recurring ones.
iPhone
On an iPhone, open your Phone app, go to your Recents tab, then tap the circular information icon on the right side of the number you want to block. On the next page, tap "Block this Caller" to put the number on your block list.
Android
On Android, you can likewise open your Phone app, navigate to the Recents section, do a long press on the suspicious number then select "Block/report spam."
Use Do Not Disturb
To block every number except your most trusted contacts or favorites, you can turn on your iPhone or Android phone's built-in Do Not Disturb Mode. It's an extreme solution but it will definitely stop all unwanted calls, including robocalls, telemarketing calls, and spam calls.
Keep in mind that you will certainly miss some legitimate calls when this mode is on but unknown callers will always have the option to leave a voice message. You can also add any number to your Contacts list to let them through in the future.
iPhone
To customize your Do Not Disturb preferences on an iPhone, go to Settings  >> Do Not Disturb. Here you can turn the mode on, set a Do Not Disturb schedule and set your allowed calls to either all your saved contacts or just your Favorites list.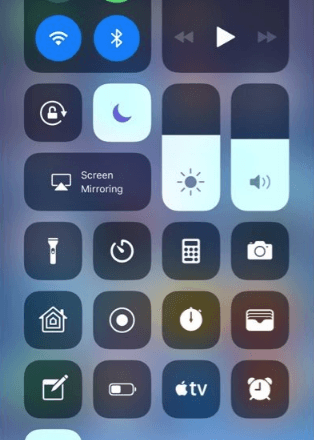 To quickly activate Do Not Disturb, go to your iPhone's Control Center (swipe down for the upper-right corner on iPhone X, swipe up from the bottom for other iPhones) and simply toggle the Do Not Disturb switch (the icon looks like a moon).
Android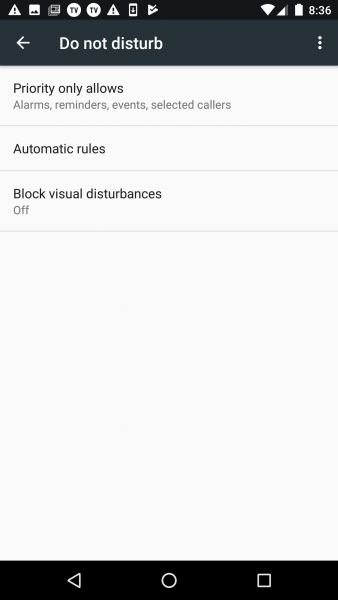 On Android, go to Settings >> Sound (or Sound & Notification in other phones) >> then Tap Do Not Disturb to customize your Do Not Disturb settings.
To activate Do Not Disturb, simply swipe down from the top of your display to access the Quick Menu then tap the Do Not Disturb icon to turn it on.
Use your carrier tools
All four of the major carriers have specific tools to identify, filter, and block suspected nuisance numbers from calling or texting your phone. Most require you to shell out an extra monthly fee to activate the caller ID service but network-level blocking is free of charge across all the carriers.
AT&T
AT&T subscribers can use a free iOS and Android app called AT&T Call Protect. It has automatic fraud blocking, suspected spam warnings and you can also use it to manually block unwanted calls.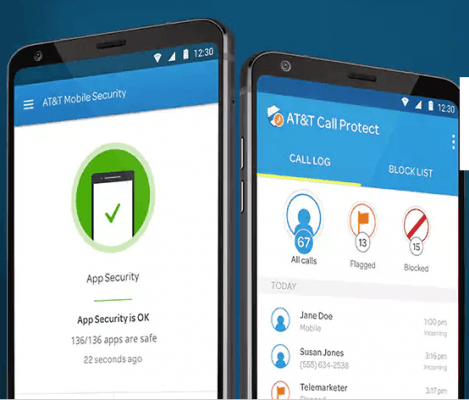 If you don't have a smartphone, you can subscribe to AT&T's Smart Limits. Once you're signed up, log onto MyAT&T and hover over "Wireless" to see "Smart Limits." Select it and then choose "Blocked Numbers" to add a number. It costs $5 a month for one line or $10 a month for up to 10 lines.
Verizon
If you have Verizon, you can temporarily block up to five numbers for 90 days for free. To add or edit your blocked numbers, just log into the MyVerizon website, go to the "My Plan & Services" tab then go to the "Blocks" section.
The caveat is that after 90 days, you'll have to manually block the numbers again. This service is also ineffective against number spoofs and robocallers who constantly change their numbers.
For better spam and robocall control on Verizon, you'll have to get its "Caller Name ID" service. This will add automatic spam detection, spam blocks and caller details to your Verizon line. This costs $2.99 a month per line. If you think that's too much, you can try it for 10 days for free and see if it's worth it.
T-Mobile
T-Mobile provides two free ways to combat robocallers and spam calls.
First is Scam ID, an automatic system that identifies spam numbers when your phone rings. T-Mobile automatically does this on its network and there's no app to install nor service to turn on.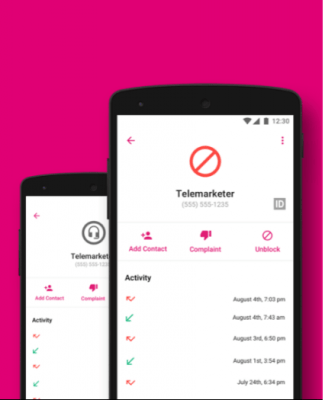 The second free method is Scam Block. Unlike Scam ID, which simply identifies known spam numbers, Scam Block gives you an option to block those numbers. To turn this on, just dial #662# on your T-Mobile handset. To turn it off, dial #632#.
Similar to Verizon's Caller Name ID, T-Mobile also has its own paid "Name ID" service. This costs $4 a month and it identifies and provides caller information like the name, location, and type of organization and block them as needed.
It also has a dangerous caller identification that immediately identifies robocallers, scammers, and other nuisance callers even before you answer.
Sprint
Finally, Sprint customers can sign up for its "Premium Caller ID" service to protect themselves from robocalls and caller ID spoofers.
This service is $2.99 a month and it provides a threat level indicator to give customers an idea of how suspicious a call is. It does this by flagging calls with real-time data trends gathered across the U.S.
However, this service doesn't automatically block known spam calls but based on the threat level, you can then choose to answer the call, block the number or report it to prevent future calls.
Use third-party apps
Another way to stop nuisance calls on your smartphone is via call blocking apps. These apps can identify who is calling you and also block unwanted calls that show up on a crowd-sourced spam and robocaller list.
Here are the top call blocking apps you can use right now.
Nomorobo
Nomorobo is an iOS and Android app that offers real-time protection from a growing list of robocallers, telemarketers, and phone scammers.
Here's how it works. It lets the phone ring once, then tries to identify the caller. If the number is on the Nomorobo list, the app will automatically block the call for you.
Nomorobo is free to use for 30 days, after that it costs $1.99 per month or $19.99 for an entire year. To sign up, you will need to provide Nomorobo with some information. List the type of phone you have – wireless or landline – and select your carrier. Note: Not all major cell carriers support Nomorobo.
Click here to learn more about Nomorobo and download it today.
Truecaller
Next is the free Truecaller app for iOS and Android. This service lets you find out who's behind that unknown number. Just copy and paste the number into the search bar embedded in the app.
Truecaller will then search the unknown number to find out who it is. With a community-based spam list from over 250 million users, it's a great resource to avoid answering an unwanted robocall.
Another great feature of Truecaller is its ability to block spam calls. When a pesky telemarketer calls, there will be a big warning in red, telling you that it's a spam call. Simply swipe up when this happens to automatically block that caller and add them to the spam list.
The Truecaller app is free for both download and use. However, there is a professional version that can be bought as an in-app purchase and it costs $1.99 per month.
With the pro version, you won't see ads, you get 30 contact requests a month to ask for numbers when searching for names and you get a Pro Badge beside your avatar.
Click here for Truecaller download instructions.
Hiya – Caller ID & Block
The Hiya – Caller ID & Block app is perfect for identifying calls that you want to accept and blocking calls and texts you want to avoid. The app is free, with no ads, and is extremely simple to use. If you had to choose one, this is the best choice.
It allows you to block calls, blacklist unwanted phone numbers and text messages, reverse phone search incoming call information and receive spam alerts. The app is powered by a database of hundreds of millions of phone numbers confirmed to be spam by other users.
The Hiya app is available for free on both Apple and Android gadgets. Click here to download the app for iOS. Click here to download for Android.
Call Control – Call Blocker
The Call Control – Call Blocker app automatically blocks spam calls and calls from other numbers you don't want to hear from. You can also block entire area codes like 888 if you're getting tons of calls you don't want from a particular location.
Worried about missing out on important calls? Call Control gives you your own personal Whitelist and Contacts Protection to make sure people you know get through.
The app's users actively report their spammers so its catalog is always up to date. That means it provides you the best protection possible from these fake callers. It even works for spam texts, too!
Call Control will automatically block active spammers, and the reverse lookup allows you to track them to their source. You can even add numbers to the Community Blacklist and choose to block specific numbers that won't leave you alone.
The Call Control app is free and available for both Apple and Android gadgets. Click here to download for iOS. Click here to download for Android.
Use a phone with auto-spam filtering
Did you know that some smartphones already have built-in spam and robocall protection in place? Samsung's flagship Galaxy and Note smartphones have a native feature called Smart Call that automatically screens and flags suspicious numbers.
Google's own Android smartphones like the Pixel, Pixel 2, and even the old Nexus and Android One, also have built-in spam call protection.
With this feature turned on, users with Caller ID enabled will get a warning if a suspected spam call or robocall is received.
Aside from ignoring the call, the user then has the option to either block the number or whitelist it if the spam flagging is deemed an error. Any blocked number can be unblocked at any time. An option to report the call to Google is also available.
Join the National Do Not Call Registry List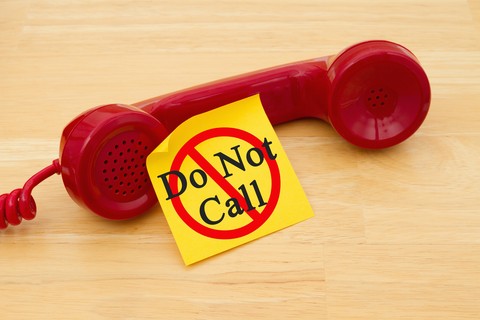 In a perfect world, adding your number to the FTC's National Do Not Call Registry should stop telemarketers from calling you. Technically, it's illegal for telemarketers to call you if you are on this list.
Unfortunately, scammers don't follow the rules nor do they care about this list. However, it's still good practice to register your number as an added layer of protection against unwanted calls.
Joining the National Do Not Call Registry is actually very simple. You go to the website https://www.donotcall.gov/ and enter the landline or cellphone number you want on the list. Note that fax numbers are governed by different regulations, so signing them up won't do anything.
After going through a quick email verification, you're done. You can also call 1-888-382-1222 from any phone you want on the list. That's all it takes, and your number stays on the list until you ask for it to be removed or you give up the number.
Once you sign up, the Do Not Call list takes you off of for-profit business call lists, but it isn't immediate. Telemarketers only update their lists periodically, so the FTC says it can take up to 31 days to take full effect.
Also, political organizations, charities and survey takers are still permitted to call you. Businesses you've bought something from or made a payment to in the last 18 months also have a right to call. When they call, however, just firmly tell them to take you off their list and they have to honor your request, although they might still try to talk you into reconsidering.
Click here for 3 things that you need to know about the National Do Not Call Registry.
Do Not Answer
This is actually the easiest solution to eliminating robocalls. If you receive a call from an unknown number or one that doesn't show up on caller ID, don't answer. If it's an important call, the person will leave a message and you can get back to them.
If you answer the phone and the caller (often a recording) asks you to hit a button to stop receiving calls, just hang up. Scammers often use these tricks to identify and target live respondents. Once they know the number is active, you will receive more calls in the future.
Listen to Kim's free podcast on ways to outsmart robocallers
You've heard them – the annoying robotic calls that try to scam you with free vacations or false threats from the IRS. In fact, it is estimated that scammers make 2.5 billion robocalls in one month alone.
This poses a very real risk to consumers as it gets harder to identify and avoid malicious automated calls. In this Komando on Demand podcast, you'll learn how to protect yourself and your family from falling victim to these tricky and downright dangerous phone calls.
BONUS:  
Block all nuisance calls at the touch of a button using caller ID with this 
CPR V5000 Call Blocker.
Share this article and let's fight robocalls together
Taking the steps in this article will help cut back the number of robocalls that you receive. It could save you from falling victim to a scammer.
Remember to share this article with your friends and family so they can block those annoying calls too. Simply click the share button along the left side of this article to post it on Facebook.
7 signs you've been hacked that you need to know now
We have tons of other tech security tips at komando.com. Knowing the signs that your gadget is hacked or compromised is critical. Why? Time is of the essence when you're dealing with malware and data breaches and detecting them early enough is key. To help you out, check out these 7 sure signs that you've been hacked and what you can do about it.