Unsolicited phone calls from unknown numbers are not only annoying; they can be extremely dangerous and malicious too. Automated scam calls are even worse. Known as robocall scams, telephone fraudsters are always looking for ways to steal your hard-earned money.
If you're not careful, these calls can turn your whole financial world upside-down and ruin your life. That's why it is extremely important to stay vigilant against robocall scams and know your options for fighting back.
Read on and I'll tell you about the most popular robocall scams out there and one essential trick you can do to reveal who you're up against.
What are robocalls?
According to the Federal Communications Commission (FCC), robocalls and telemarketing calls are consistently the top sources of consumer complaints. It estimates that in 2016 alone, U.S. consumers received nearly 2.4 billion robocalls per month. 
Robocalls are unsolicited prerecorded telemarketing calls to landline home telephones, and all auto-dialed or prerecorded calls or text messages to wireless numbers, emergency numbers, and patient rooms at healthcare facilities.  
FCC rules limit many types of robocalls, though some calls are allowed if prior consent is given. Rules differ between landlines and wireless phones. To make matters worse, some robocalls are actually scams.
Types of robocalls
There are infinite variations of robocalls out there. From scammers pretending to be government officials or collection agents to fake charities, robocall fraudsters never run out of ideas to dupe you. As a general rule, you must always be suspicious of any call and prerecorded message you receive from unknown numbers.
Impersonation phone scams
The most common types of phone scams are prerecorded messages from people that pretend to be representing government agencies like the DHS, IRS or the FBI. These messages can sound authentic and are always extremely threatening.
For example, you may receive a message from the IRS stating that you owe them money due to tax fraud and there is a warrant out for your arrest. The scammers will then demand payment and if the payment is not received, they claim that you will go to jail.
Threatening and scary as they are, please don't fall for these impersonation scams. Government agencies like the IRS, DHS and the FBI will never call you to initiate contact, demand money nor threaten you with arrest. It's such a problem that these types of calls have resulted in a more than $36 million in taxpayer loss.
Sales calls
Less dangerous types of robocalls are telemarketing and sales calls. Granted, sales calls are still annoying and they can flood your phone and voice mailbox with junk, but here's a fact that most people don't know about – phone messages that are trying to sell you something are against the law unless you have granted the company written permission to call you.
However, there's a new sales call scheme that can scam you out of your money. It's called the "Can You Hear Me?" scam and in this scenario, fraudsters are calling victims hoping to get them to say the word "yes" during the conversation that's being recorded. The fraudster will later use the recording of the victim saying yes to authorize unwanted charges on the victim's utility or credit card account.
Protect yourself from robocalls
Don't answer
This is actually the easiest solution to eliminating robocalls. If you receive a threatening message or call from an unknown number, hang up immediately. Never say "yes" or enter any numbers that the scammers are asking you to press. These may only lead to more robocalls coming your way.
If you receive a scam call, write down the number and file a complaint with the FCC so it can help identify and take appropriate action to help consumers targeted by illegal callers.
Use BeenVerified's reverse phone lookup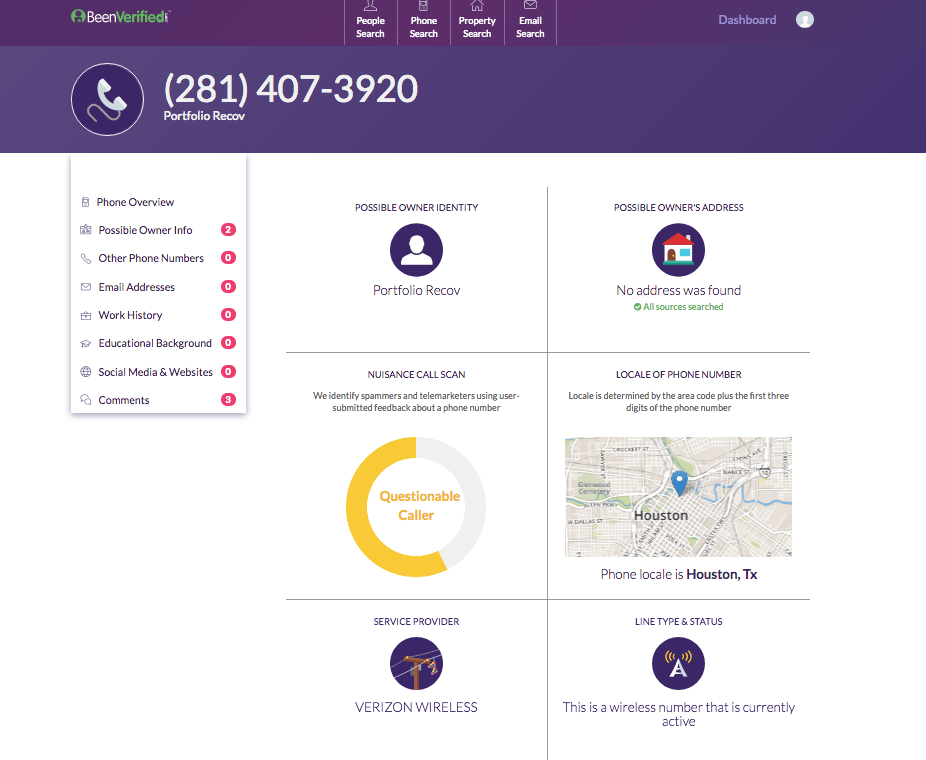 If you get a missed call and you're not sure, don't call back! You can use BeenVerified's reverse phone lookup to uncover the name of the owner and where the number is from. Additionally, using reverse phone lookups instead of calling back will also prevent robocallers from knowing that your number is active.
Unlike other reverse phone lookup services, BeenVerified's reverse phone lookup can provide you with in-depth detail about the phone owner's identity including address, location, service provider and if the number is a known nuisance caller.
If available, BeenVerified can even provide you with significant information like related phone numbers, email addresses, work history and associated social media accounts and websites about the owner.
This is important since you'll have a better understanding of who you're up against if you ever need to take legal action against these robocall scammers.
Why BeenVerified?
BeenVerified is an online service that promises to "make public records easy, affordable, and accurate for everyone." With the help of its data partners, BeenVerified sweeps through several databases of publicly available information including data from social media sites to track down anyone you're searching for.
Make sure you've got the best information available by using our sponsor, BeenVerified, for all your people search needs.