As a regular listener of my national radio show, reader here at Komando.com and subscriber to my newsletters, you know my top goal is to keep you informed of the ever-changing landscape of cyberthreats and ways you can protect yourself. One of those critical steps is backing up important files that could easily be lost if your computer crashes, or if you're hit by ransomware.
For the past 14 years, I've recommended Carbonite backup services to protect your precious files, and I've used it myself and for my studios. This year, however, there has been a huge change you that need to be aware of.
You can always count on me to be honest with you. After a very long and successful run with Carbonite, the company has changed its focus and is now moving into the business enterprise space. Because of this, and because backing up your files on not only your computers is so essential, I've found another solution that I believe will meet the diverse needs of consumers and small businesses.
After thoroughly evaluating numerous backup services, I'm thrilled to welcome IDrive as a new sponsor of my show and Komando.com. This decision was not made lightly. Let me share what sets IDrive apart from the rest, and why I'm recommending you make the switch or signup.
Why IDrive?
There's no shortage of options when it comes to backup services. But, when you compare these services, the best solution becomes clear. IDrive offers the most protection for the lowest price, which makes the value of the product incredible.
Unlike most backup services that charge per computer or device, IDrive lets you backup data on every internet enabled device in one account. This means you get one account for your computers, laptops, tablets, phones as well as your online accounts like Facebook and Instagram.
Plus, plans start at just $5.95 per month for 2 TB of storage, which is less than your morning cup of coffee! And there's even a free option for up to 5GB of storage.
Note: As a listener of my show you can save even more! Click here to save 50% on 2 TB of cloud backup storage!
Another advantage that sets IDrive apart is the speed of the backup of your files. While many other services clog your bandwidth, IDrive Express jump starts your initial backup, using a shipped drive method. Love that!
For me, however, the key reason IDrive stands out is because it offers a wide scope of features with its plans.
Whether you're an individual who just needs to back up a single computer or a small business with servers full of customer data and financial records, IDrive offers a solution for you at an affordable price. 
Here's a quick breakdown of the features included in IDrive Basic, Personal and Business accounts.
Basic:
FREE backup option: Store up to 5GB absolutely free!
Never expires: You'll always be covered with your free IDrive account, with no expiration dates, and no credit card required.
IDrive Personal:
Backup options for multiple devices: Keep all of your data safe with unlimited backup for PCs, Macs, iPhones, iPads, and Android devices – all within a single account.
IDrive Express: Retrieve up to 3TB of data in less than a week as a physical storage shipment.
Hybrid backup options: Backup data locally for faster restores, and to the cloud for easy access in the case of an emergency.
Powerful security and privacy features: IDrive protects your data with 256-bit AES encryption. Plus, you can set your own encryption key, so no one but you has access to it.
Faster backups: IDrive uses incremental and compressed backups so that your network's bandwidth won't be bogged down.
Share your files: With IDrive you have the ability to email your files and folders to others or share them on social media.
Backup your social media accounts: Your computer, laptop and mobile devices aren't the only things holding your data these days. This is why IDrive also offers the option to backup your Facebook and Instagram accounts.
Backup Office 365: Don't forget about data you've stored in cloud services, such as Office 365 and OneDrive. IDrive offers protection for data loss scenarios that isn't even available from Microsoft.
Archive Cleanup: Have peace of mind that the files you need will always be there. No data is ever deleted from your IDrive account unless you delete it manually or initiate an "Archive Cleanup," which matches the data on your device to your IDrive account.
Rewind: Need to go back to a previous version of a backup batch? This feature makes it possible!
Real-time file sync: Link your devices and your files and folders will be synced automatically.
Real-time backup: No need to initiate backups on a particular schedule. IDrive recognizes changes you've made to files and backs up your devices as these modifications happen.
Recover data: Have you ever accidentally deleted something? No problem. You can recover deleted files from the Trash within 30 days.
IDrive Smart Docs: Easily backup documents by taking a photo. Smart Docs will store a copy, identify key details and even generate reminders if you need them.
Business
Dashboard: Manage your entire backup with your administrator dashboard, and take advantage of the built-in reporting tools.
Server backup: Protect data on S SQL Servers, MS Exchange Servers, Hyper-V, MS SharePoint Servers, Oracle Servers, Linux Servers and VMware.
DataCenter Edition: Using Linux servers? Get secure backup without having to work with confusing scripts and commands.
Sub-accounts: Use sub-accounts to stay organized and easily monitor backups from different departments within your company, such as Finance, Marketing, Sales and Research. All of these sub-accounts can be managed within your single administrator console.
Business compliance: Stay compliant with government regulations such as HIPAA, SOX, GLBA and SEC/NASD. IDrive keeps you in check.
IDrive Nearline: Access your archived bulk data within seconds.
Disk Image Backup: Create a copy of your original drive.
Multiple Express Transfers: Go beyond the initial jump start for your business, and receive three free IDrive Express transfers per year, each up to 3TB.
Premier Installation: Get help installing IDrive on your business computers.
IDrive pricing
Basic
IDrive Personal
2TB, $52.12 for first year

5TB, $74.62 for first year
IDrive Business:
250GB, $74.62 for first year

500GB, $$149.62 for first year

1.25TB, $374.62 for first year
Note: As a listener of my show you can save even more! Click here to save 50% on 2 TB of cloud backup storage!
How to transfer from other backup services to IDrive
Now that you've seen all of the benefits IDrive offers, you're probably wondering how to make the switch from other backup services. Don't worry! It's not too complicated.
Transferring your computer backup from another service (such as Carbonite) is really simple. Just download the IDrive software for Mac or PC and select all the folders you have configured for backup on your old service.
For example, to view all the files and folders that are backed up by Carbonite's desktop software: Here's what you can do:
On a Windows PC, open your File Explorer then open a device called "Carbonite Backup Drive." The next window will list all the contents of your online backup. To view files and folders in your backup, double-click the "Backed Up Files" icon.
On a Mac, click on the Apple icon on the left side of your menu bar then click "System Preferences then click on the Carbonite icon on the "Others" section. On the next window, choose the "Backup" tab. Again, this will list all the files and folders on your Mac that are currently being backed up.
To copy all your Carbonite backed up files and folders to IDrive, download and install IDrive's software for Windows or macOS. Follow the installation steps then once it's IDrive is up and running, simply log in to your IDrive account. Once in, click on the Backup tab.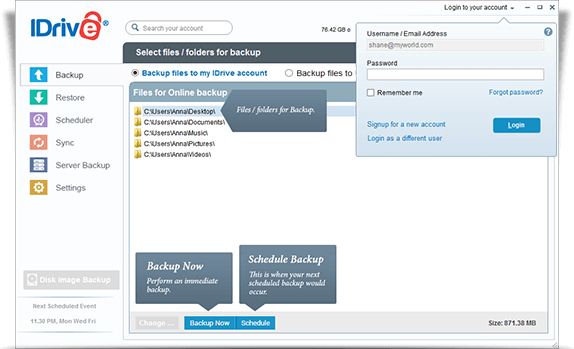 If this is the first time you're running IDrive software, you might notice that some of your folders are already tagged for backup. That's because IDrive automatically preselects all your critical folders like Desktop, Documents, Pictures, Videos and Music for backup (similar to how Carbonite preselects user folders by default). These settings can be changed at any time.
To copy your old backup folders (for example, from Carbonite's Backup Drive), simply reselect them in IDrive's software.
You can also set your own day, time, and frequency for the scheduled backup jobs using the "Scheduler" tab but if you want to perform an immediate backup of certain files and folders, click the "Change" option then select "Backup Now."
Before canceling your old backup service, it's important to ensure that all your local files are current and up-to-date. It's also vital that you review all your files and make sure you download and restore everything you may need to your local computer.
Having a few days of overlap between backup services is also a good idea. This way you can go back to an older version of a backup file if needed. (Services like Carbonite keeps old versions of your backed up files on their servers for 30 days.)
Needless to say, before you uninstall your old backup service's software, make sure all the folders and files you need are completely migrated to IDrive first.
Canceling Carbonite and getting a refund
If you've just signed up for Carbonite, you have up to 30 days to cancel your subscription if you'd like to receive a full refund. If you cancel your subscription beyond those first 30 days, no refund will be issued. However, if there are any discrepancies on your account for fees billed, you may contact Carbonite within 60 days of the occurrence.
Once your Carbonite account has been canceled, sign up for IDrive and begin your first backup. Don't forget to use this link to save 50% as a listener of my show!
Now that your account is set up, follow the steps in this helpful video to backup data on each of your devices.
Like what you see?
Don't wait! Click here to save 50% on 2 TB of cloud backup storage!