What do you love most about winter? Is it having family and friends over for Thanksgiving, Christmas and New Year's Eve?
Do you love getting cozy in a blanket in front of a fireplace? Do you love knowing your family and home are secure as you look out the window at the season's first snow?
There is so much to love about winter. Yet, there is something a little unnerving about it, too.
When it's cold outside and the temperature is falling, your home is vulnerable to damage. For instance, frozen water in your pipes can cause them to burst.
You could be putting your family in danger when all the windows and doors are locked. Carbon monoxide could be leaking inside your house, especially if you have an oil-burning furnace or garage where you let your cars warm up.
A huge snowstorm can make it difficult for the police and fire department get to you if you have an emergency. Are you prepared for the winter?
We've got three tips to keep your family and you safe during the winter season. It starts with having a professional come out to inspect your furnace.
Furnace
You should have your furnace inspected every year. When was the last time you had yours professionally inspected?
If you're like most people, it has probably been a while. But there are several good reasons to have it serviced right now.
A professional will make sure that your furnace belts aren't corroded and airflow isn't blocked. That can save you a lot of money by preventing costly, emergency repairs or higher utility bills.
They'll perform an amp-draw test on the blower motor to ensure it's working properly. They'll check the electrical connections to make sure they're secure, so the unit is working efficiently and doesn't pose a fire danger.
Carbon Monoxide Detector
Your home is cozy when it's locked up tight. Your windows and doors are shut and locked. They're secured with extra sealants so the frigid air stays outside.
That's great, but it opens up your home to a danger: carbon monoxide. That's the odorless gas that can be deadly when it's floating around your house in large amounts.
That's a real danger in any home, but especially if you have an attached garage or fuel-burning appliance. You may have an oil-burning furnace, for instance, or a wood-burning fireplace.
First, make sure you have a carbon monoxide detector. You should place it near your bedrooms.
Second, once installed, make sure it's working. Most detectors look and function like smoke detectors. There is usually a button on the front of the detector to make sure it's working.
Home Security System
There is nothing better than peace of mind. If you're like most people, you'll do whatever it takes to keep your family and your belongings safe.
One way to do that is with a home security system. Don't panic!
We are not talking about those old-fashioned systems that required a technician to spend a half a day wiring your house. What good is all that wiring anyway when a criminal could just slice one in seconds?
Modern home security systems can be set up by you in about an hour. Our sponsor SimpliSafe's home security system is wireless.
The best thing about SimpliSafe is that it provides multiple layers of protection. You'll know your family is safe from in-home dangers as well as intruders.
SimpliSafe has entry sensors that will alert you if an uninvited person is walking around your home. Motion sensors provide full-room coverage with a 90-degree field of vision up to 30 feet.
The SimpliCam Security Camera detects motion and alerts you wherever you are. You can watch the HD video on your computer, smartphone or tablet.
There is also a glass-break detector and water sensors to alert you if there is flooding in your home. This time of year, the Freeze Sensor comes in handy.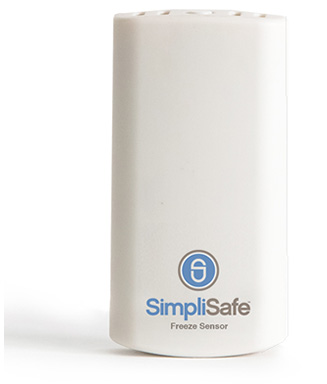 The SimpliSafe Freeze Sensor will alert you if the temperature falls below 41 degrees in your home. You'll receive a phone call or text message.
Note: Do not place your Freeze Sensor in the garage or anywhere in your home that regularly falls below 45 degrees or so.
Thanks to SimpliSafe you can protect your family from many different dangers. Incredibly, it costs less than $15 a month.
Click here to get 10% off SimpliSafe because you're a Komando.com reader!
Test Your SimpliSafe Security System
Make sure your SimpliSafe system is working properly this winter. You'll want to test each system.
On your SimpliSafe keypad, select option No. 5. That's the test mode.
You can test your alarm. You'll see a test signal on your dashboard.
Motion Sensor: To test it, press "test." Leave the room for a few seconds. When you come back in, it will say, "motion sensor."
Glassbreak Sensor: Press "test," then clap your hands near the window. You'll hear, "glassbreak sensor."
Entry Sensor: You will hear "entry sensor" when you open and close windows and doors armed with an Entry Sensor.
Panic Button: Hold down the button for about one second. The base station will say, "panic button."
Smoke Detector: You'll hear three beeps and "smoke detector" when you hold the "test" button for about three seconds.
Carbon Monoxide Detector: Press the "test" button for four seconds. It will beep four times and you'll hear the base station say, "carbon monoxide detector."
Water Sensor and Freeze Sensor: For each one, press "test." You'll hear either "water sensor" or "freeze sensor" from the base station.
I learned about SimpliSafe the hard way, but you don't have to
Many people install a home security system when it's too late: After they have been a victim of a crime.
You want to protect your family and belongings before you become a victim. This home security solution is easy to install, it doesn't lock you into a contract and, for many families, it's quite affordable.
Click here for a real-life story about a victim who learned about crime the hard way!