In this era of online activity tracking, profiling, and surveillance, privacy-minded individuals have turned to anonymous browsing software to conceal their digital tracks from prying eyes.
One of the most popular inconspicuous tools out there is The Onion Router or Tor, for short. Originally developed in the mid-1990s by the U.S. Navy to protect U.S. online communications, it is now a free global network that is available for public use.
By rerouting your internet traffic through Tor, you can make it difficult for would-be snoops to trace your location and online activity back to you. From privacy advocates to journalists to internet denizens who are concerned about surveillance and monitoring, Tor is the go-to tool for web anonymity.
However, setting up your computer to exclusively route its traffic through Tor can be a challenge.
Thankfully, there's an easy-to-use a web browser that will automatically route all its traffic through Tor even without advanced computer and networking knowledge.
It's appropriately called the Tor Browser (also known as the Tor Browser Bundle) and in this tip, I'll show you how to download, install and anonymously browse the web with it.
Why use the Tor Browser?
Basically, the Tor Browser allows you to conceal your identity when you're online by using encryption to scramble your data and by automatically routing your browsing traffic through Tor.
The Tor browser is actually a modified version of Mozilla's Firefox browser and both share a similar user interface. In fact, if you are already using Firefox, you'll feel right at home when you're using the Tor browser.
Keep in mind that although the Tor Browser is an effective privacy tool, it is still not immune to software vulnerabilities and flaws. As such, please use it carefully and never assume that you are completely safe from surveillance.
How to download Tor
The Tor Browser is available for Windows, Apple macOS and Linux operating systems. The good news is that it is a self-contained portable software. This means you can use it right away without the need to install it. You can even stick it on a USB flash drive and run it from there.
To download the Tor Browser, navigate to the Tor Browser download page by clicking here.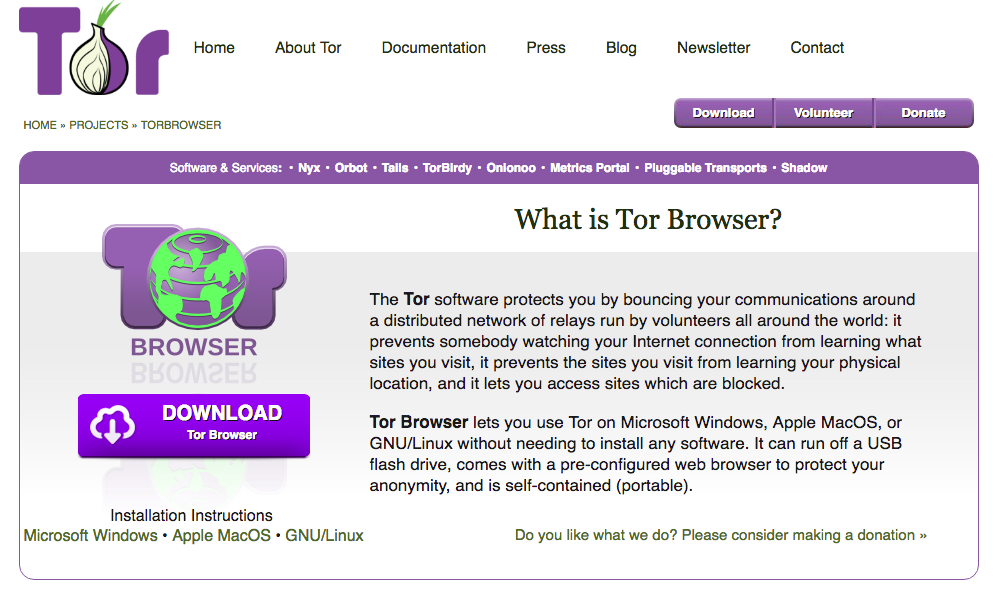 You will be redirected to the Tor download page. From here, just click the purple "Download Tor Browser" button to get the appropriate package for your operating system.
Your download should begin immediately. When the download is complete, simply run the Tor Bundle.
On Windows, click "Run," select your language, click "OK," select your folder location then click "Install." This will merely extract all the package files to the specified folder. There's no actual installation process that occurs.
On macOS, click on the downloaded .dmg file to open it then simply drag the "TorBrowser" icon to your Mac's "Applications" folder.
How to configure the Tor Browser
The first time you run the Tor Browser, you're presented with two options – "Connect" and "Configure." (You can also change these settings at any time.)
For most people, simply clicking "Connect" should be enough to get started.
The "Configure" option is for people who are in countries where Tor is banned or if you're connecting from a proxy.
Once you choose your connection settings, a window with your Tor Browser's connection status progress bar will appear.
Connecting to the Tor network for the first time may take some time but be patient – after a minute or so, you'll be greeted by a "Welcome to Tor Browser" page, signifying that your Tor Browser has successfully connected. Now, it's time to browse anonymously.
How to browse with Tor
Once you are connected, your Tor Browser's incoming and outgoing traffic will be completely routed through the Tor network. Your activity will be encrypted, anonymous and its origin will be concealed with a Tor network IP address.
Note: To view your current Tor IP address, the "Welcome to Tor Browser" page has "Test Tor Network Settings" link.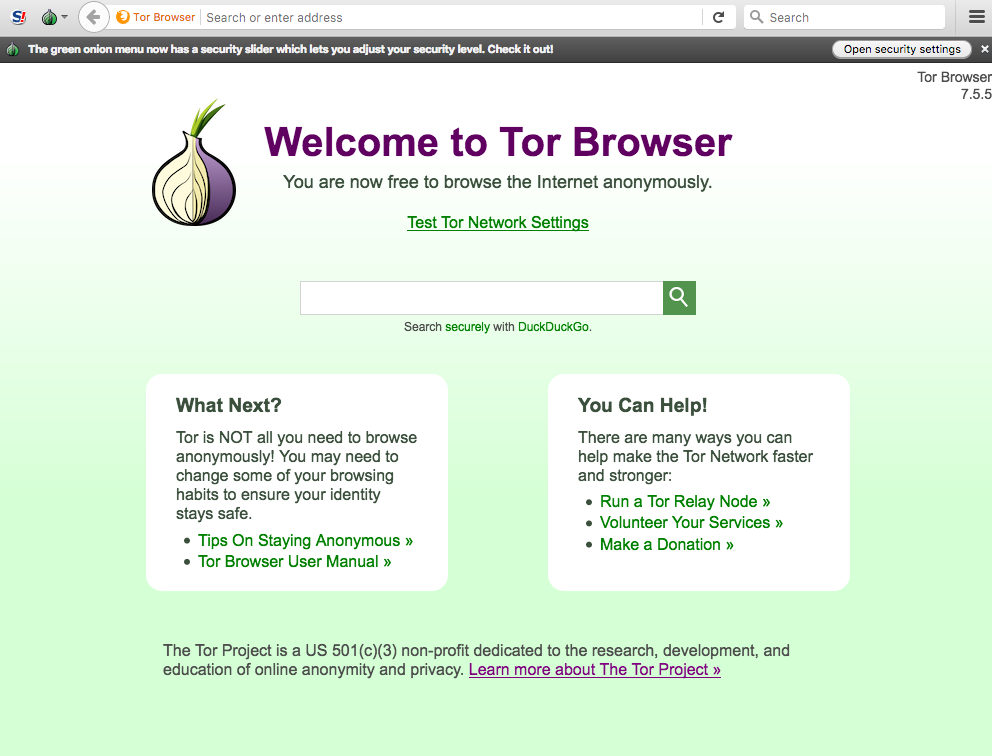 Using the Tor Browser is as simple as using a regular browser. Just type an address or a search term on its address bar to get started (for extra privacy, the default search engine for the Tor Browser is the non-tracking search engine DuckDuckGo).
Since the Tor Browser is a modified version of the Firefox browser, they share similar features like tabs, history, menu system and even bookmarking.
Tor settings
Aside from the standard Firefox style options, the Tor Browser also has a bunch of exclusive options that add extra functions and privacy controls to your anonymous browsing experience.
These options are available via the "Torbutton," a green onion-shaped icon on the Tor Browser's address bar. Clicking this button will give you these options:
New identity – Used for generating a new Tor Network IP address for your browser. This requires a restart of the Tor Browser to take effect.
New Tor Circuit for this Site – This creates a new identity and IP address only for the active tab.
Security Settings – This lets you access a slider that specifies your Tor Browser's security level. Options range from Standard, where all the browser features like HTML and JavaScript are still enabled to High, where rich multimedia content like HTML5 video and audio, JavaScript and certain fonts are disabled.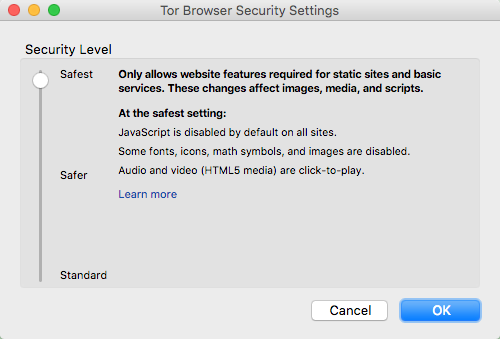 Tor Network Settings – This option is similar to Tor's initial configuration page. Here, you can specify if Tor is banned in your country, set to proxy or configure your firewall port settings.
Check for Tor Browser Update – As its name suggests, this option will check if you're running the latest version of Tor Browser.
Add-ons
The Tor Browser also has two other useful buttons on its address bar. These add-ons or extensions add more security and privacy options to your Tor browsing experience.
One is for NoScript, a custom extension that can block all website scripts from running. You can also set it to block or allow scripts from specific websites.
Another extension is HTTPS Everywhere. This extension keeps your communications with most of your websites to be encrypted. As you may know, using the more secure "https" rather than "http" will protect you against many forms of surveillance and account hijacking and some forms of censorship.