It's so easy to get hooked on Facebook that no one will blame you for mindlessly spending hours on the social media site. After all, you have family, friends and social media buddies to catch up with.
You can spend hours sharing photos and commenting on your Aunt Sally's Christmas party photos. You'll read political headlines from news outlets around the world. You'll go down a rabbit hole from one click on a funny video that'll take you to many others like it. Naturally, you have to share those with your hundreds of followers.
Still, there's a creepy feeling hanging over all the fun, isn't there? You've experienced one of Facebook's darker sides when, in the corner of your eye, you spot an ad for a brand or product that you were just talking about.
It may be an ad for a Hawaii hotel after you clicked on an advertisement about your dream getaway. It may be an ad for an online university that your teenage kids sent an email to.
We've got good news and bad news. The bad news first: Facebook advertisers are tracking you – as it turns out, you're not paranoid, those ads really are targeting you.
The good news is, we've got straightforward tips to stop advertisers from tracking you. Keep reading for step-by-step instructions to stop them.
How to see which advertisers are tracking you
Facebook has been doing a marginally better job of giving you control over your privacy. That's not saying a lot for a company that allowed Cambridge Analytica to mine the profiles of countless users to influence political elections.
There was also the Facebook data breach that exposed the information of tens of millions of members. Was your private information exposed?
Still, Facebook has been making it easier for you to see your privacy settings, and then change them. That includes the advertising that targets you.
Here's how to see which Facebook advertisers have your information.
Go to your Facebook page and click on the down arrow in the menu to the right of your name.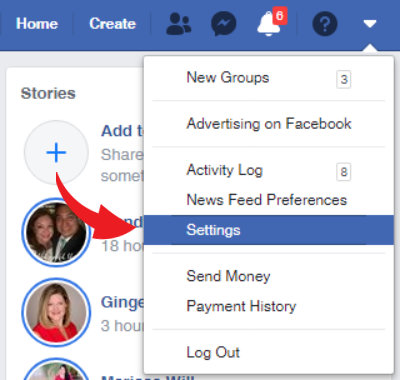 From there, click on Settings and then Ads on the menu on the left side of your computer screen. Click on Advertisers You've Interacted With.
There are tabs, including Who use a contact list added to Facebook, Whose website or app you've visited and Whom you've visited. You'll see several advertisers who have your personal information.
You'll see messages from Facebook like, These advertisers are running ads using a contact list they or their partner uploaded that includes info about you. This info was collected by the advertiser or their partner, typically after you shared your email address with them.
How to turn off specific advertisers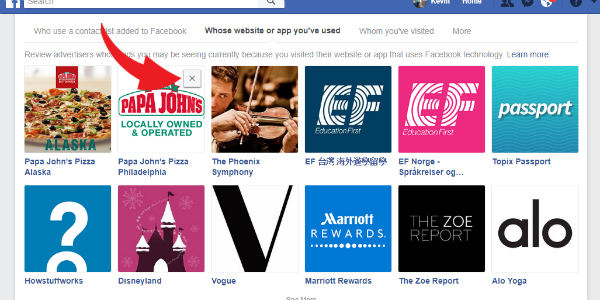 Facebook makes it pretty simple to remove advertisers. Hover your cursor over a specific advertiser, like Papa Johns in the image above.
You'll see an X pop up in the ad. You'll see the word, "Remove" when you put your cursor over the X.
Click on the X to get rid of that specific advertiser. You'll notice there are many advertisers tracking you, so take the time to remove the ones you don't want following you.
How to set your Facebook ad preferences
Facebook gives you some control over which ads you see. Although, it seems you're never completely not tracked by Facebook or its advertisers.
Still, you can control some of it. Follow the steps above to get to the Ads menu.
One of your options is to hide ads that you don't want to see. Specifically, you can turn off "sensitive topics," like alcohol.
Scroll down to Hide Ad Topics. Facebook gives you the option to temporarily or permanently turn off some ad topics.
You can also control your ad settings. Scroll to the tab that says Ad Settings.
This is where you'll have the option to control almost all the ads that are targeting you. You'll see three categories: Ads based on data from my partners, Ads based on your activity on Facebook Company Products that you see elsewhere, and Ads that include your social interactions.
Click on each one to set your preferences. For example, click on Ads that include your social interactions.
You'll see that it defaults to Only my friends, meaning your friends can see when you Like an advertiser's page. Scroll down to the drop-down menu where it says Only my friends. You can select the option, No One.
Here's a tip. Spend some time on Facebook's Ad Settings page.
You'll be surprised or shocked by how many advertisers have your information. Take the time to control those settings so you're information remains somewhat private.