There's only so much a person can do in terms of cybersecurity. If you're in the know about the threats you face online, you've probably already downloaded an antivirus, use different passwords across different platforms and avoid opening emails from people you don't know. But beyond all this, is there anything else that can bolster your defenses and protect your identity from being stolen or compromised?
As it turns out, most platforms have a few extra layers of protection built into their systems — and users need only activate them to reap the rewards. Of all these extra methods, however, two-factor authentication sets itself apart as one of the most useful cyberdefenses, as well as one of the easiest to activate.
You might have seen options for two-factor authentication while setting up an account for the first time, but what are the real benefits of turning it on? We're breaking down why two-factor authentication is absolutely worth your time, as well as how to set it up on some of the biggest accounts you may have. All you'll need is a computer, a phone and an internet connection.
What is two-factor authentication and why is it important?
Despite its name, two-factor authentication isn't a particularly complicated concept. All it means is that another layer of protection, or "factor," has been added to your login process to protect your account security.
Sometimes, it's in the form of answering a security question or typing in a captcha. Most commonly, however, two-factor authentication has you receive a text message with a code from the platform you're trying to access. This code verifies your identity and makes sure you're the person you say you are online.
This makes sense for several reasons. Most notably, you're probably the only person with your phone (unless, of course, your phone has been stolen — in which case, you have far bigger problems). Furthermore, the platform having your phone number on hand allows them to contact you in case of an emergency like a security breach.
And on that note, if someone ever tries to hack into your account, the login text message will still go to your phone no matter what. This means you'll be fully aware of any attempts to steal your identity.
Considering how many platforms offer this feature, it can be tempting to try and add two-factor authentication to every account you have. However, the specific services of some platforms might not always be the best fit for such stringent security.
Two-factor authentication adds a literal extra step to your login process, so it might not be in your best interest to enable it for a service you need information from on the fly.
That said, some accounts and platforms are important enough to warrant the extra security due to the data they contain. Accounts like Facebook, which contains valuable personal information, or your Dropbox containing important files would be well served by adding two-step authentication. And of course bank accounts and any financial services
How to set up two-factor authentication
No two platforms offer the same process to enable two-step verification. Because of this, some confusion can ensue when trying to secure multiple accounts on multiple websites and apps. To help you get started, here's a quick rundown on setting up two-factor authentication on some of the most popular platforms on the web.
Enable two-factor authentication for your Google account
Google has a specific page here where you can activate two-factor authentication for your account. To begin, open the link, sign in with your Google account and tap Get Started. You might be asked to sign in again after this step. Then, add your country from the dropdown menu and enter your phone number in the field that appears.
From here, you'll be able to choose whether you want a verification text message or phone call. Tap Next, and you'll have your authentication sent to your phone. Enter the code you receive and tap Next. Once Google has verified your code, tap Turn On to enable the service on your account.
Enable two-factor authentication for your Facebook account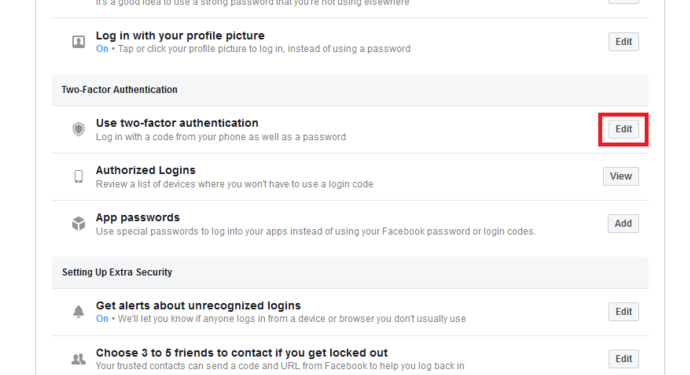 To activate on Facebook, sign in to your account and click Settings from the dropdown menu, followed by Security and Login. Scroll down to Setting Up Extra Security and click or tap Use two-factor authentication.
You'll then be required to enter your phone number and receive a text. Enter the code you receive to complete the setup.
Enable two-factor authentication for your Twitter account
Sign in to your Twitter account on the web and click your profile picture on the top right of the screen, followed by Settings and then Privacy from the dropdown menu. Scroll down to the Security section and click add a phone under the Login verification: Verify login requests checkbox.
Select your country, enter your phone number and type in the code you receive to complete the process.
Enable two-factor authentication for your Instagram account
Unlike the examples above, you'll need to sign in to Instagram using the app on your mobile device.
Once you're signed in, open your profile by tapping your profile picture in the bottom right corner of the screen. Then, tap the gear icon to open Settings. Scroll down until you see Two-Factor Authentication under Account Options and tap it. Next, tap Require Security Code followed by Add Number.
Proceed to add your number and confirm the code that's sent to you to complete the process. It's also worth tapping OK on the popup to take a screenshot of the backup codes Instagram provides you in case you get locked out of your account for whatever reason.
Enable two-factor authentication for your Dropbox account
Sign in to your Dropbox account and tap your profile picture in the top right of the screen and select Settings from the dropdown menu. Navigate to the Security tab from the Account Settings menu and scroll down to the Status option for two-step verification and tap Click to enable.
Follow the instructions that appear on the screen, enter your phone number and type in the code you receive to complete the process.
That's it, it's that simple. Now, all of your important accounts are protected on a higher level.