The digital world can be a scary place. There are cybercriminals from every corner of the world looking to steal our credentials, rip us off, and cause all kind of chaos.
But of course, with all the malware, viruses, and phishing threats lurking in every corner, if you don't take basic security precautions, your computer's functionality will ultimately not last. All it takes is one installation of a malicious application to ruin your PC and worse, have all your information stolen.
If you're running Windows 8 or 10, you may have noticed that your system already has built-in antivirus and malware protection software called Windows Defender. It's actually a decent program for guarding your PC against virus and malware threats.
Note: Windows Defender is not available for Windows 7 machines. If you're looking to protect an older Windows 7 machine, you can download the comparable Microsoft Security Essentials.
Get yourself some protection
For real-time protection against potential threats, you should enable Windows Defender's Potentially Unwanted Application (PUA) protection to automatically block downloadable programs that may cause harm or compromise your computer with further malicious programs.
Although these flagged items may not be immediate threats themselves, they could open your computer up to all sorts of problematic items like browser hijackers, adware, spyware and other add-ons that can affect performance.
How to enable Windows Defender PUA protection
Here's how to turn it on the Windows Defender Potentially Unwanted Application (PUA) protection feature on your Windows 8 or 10 computer:
1. On your Search bar, search for Windows Powershell
2. Right-click on the best match then select Run as Administrator
3. Type (or copy and paste) this command on the Windows PowerShell Window:
Set-MpPreference -PUAProtection 1
4. Hit Enter
That's it! Your Windows Defender Potentially Unwanted Application (PUA)  protection feature is now on.
How to check if it's enabled
Here's how to check if your system's Windows Defender Potentially Unwanted Application (PUA) protection feature is working.
1. Visit this Microsoft Windows Defender Potentially Unwanted Applications page
2. Under the Scenario section, click the provided link
3. That link will open an Anti-Malware Testing Standards Organization (AMTSO) webpage
4. On that page, click the "Download the Potentially Unwanted Application 'test' file…" link
5. If your system's PUA protection feature is set up properly, Windows Defender should automatically block and quarantine the provided program if you attempt to download it.
How to remove quarantined files
Here's how to remove quarantined files from your Windows Defender history:
1. On your Search bar, search for Windows Defender Security Center then click the Best match
2. On the new window that opens, click on Virus & threat protection
3. On the next section, click on Threat History
4. A list of all quarantined files will appear under Quarantined Threats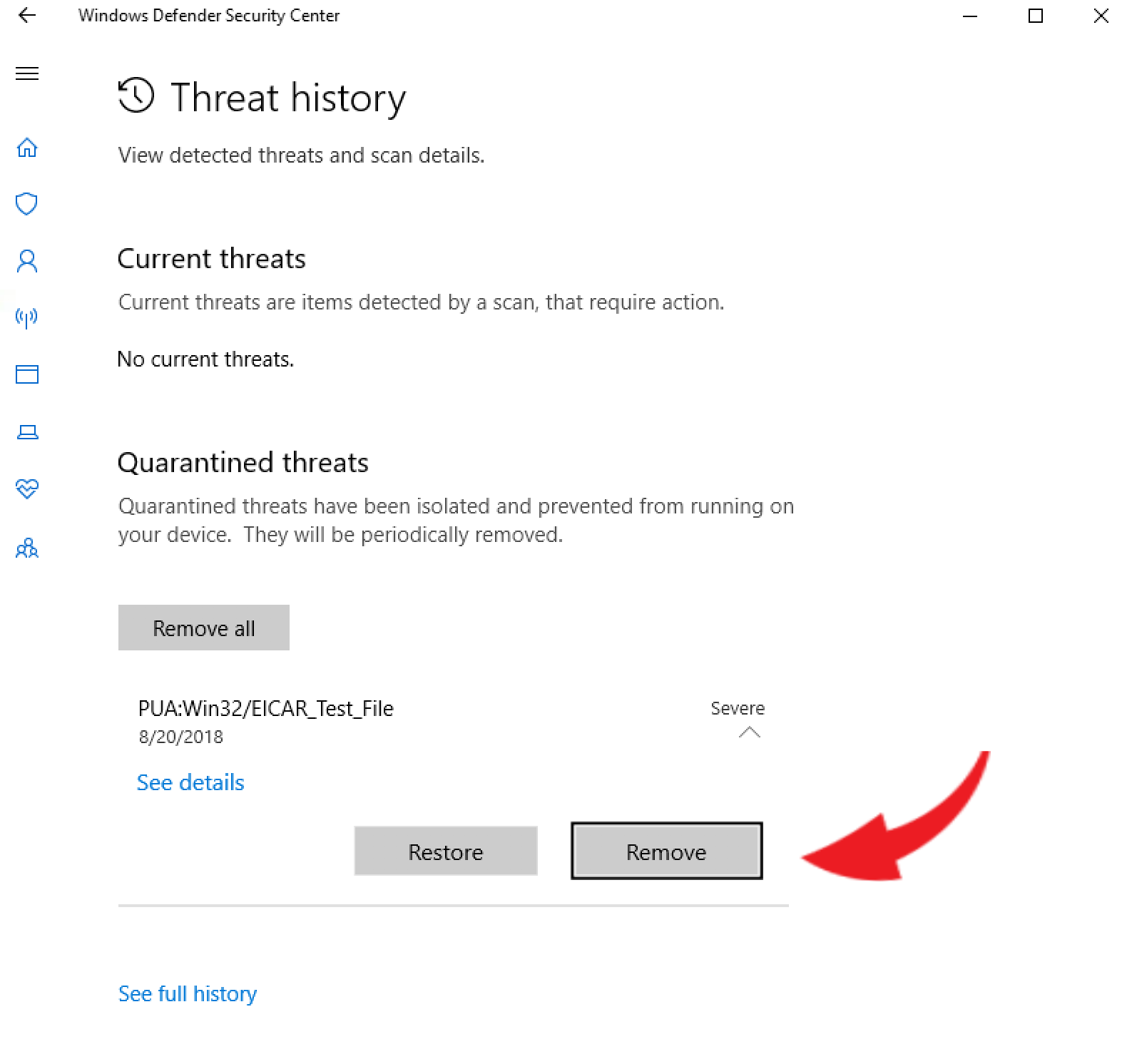 5. Click Remove to permanently remove the file.
Note: You can also restore and allow quarantined downloads in this section, but for your safety, proceed with caution!