The smart home revolution has finally made its way to TV, and people could not be more excited. Now, you have the ability to stream content to your living room without even buying a set-top box like an Apple TV or a Roku. Some even include free live programming, device integration and eye-popping 4K HDR options for the best image quality possible.
But when any technological steps forward, there is almost always a drawback. And in the case of smart TVs, the downsides hinder on your privacy. Yes, just like how smartphones keep tabs on your usage and spending habits, smart TVs often snitch back to their makers with reports of what you're watching and for how long. This data is then compiled and sold to marketers and content providers, which allows them to craft more material to get you hooked.
But if you're not in the game to be watched, you won't want to miss our breakdown of how TV is tracking you and what you can do to opt out of these invasive data collection services.
Smart TVs: the only game in town?
If you've been paying attention to your receipts from the electronics store, you've probably seen how much cheaper TVs are these days compared to yesteryear. Even stranger, most of these TVs are smart TVs with all the bells and whistles you've come to expect. Fully equipped smart TVs were once top of the line, so why are these flagship devices priced so competitively in today's market?
As it turns out, a guiding factor for the industry has been marketing and advertising related kickbacks. Just like a smartphone, a smart TV is often equipped with analytic software that keeps tabs on your viewing habits. This data is then sold to ad and data firms, which pay the TV manufacturers for their data collection. The savings are then passed on to the consumer.
As we've said on several occasions here at Komando.com, if a service is free, you're probably the product being sold. Although these TVs aren't free, the discount margins are in the order of several hundreds of dollars, which amounts to substantial savings.
A $500 dollar TV is, on average, about $200 dollars cheaper than in previous years. Since you are effectively getting a major discount at no cost, the difference is made up by selling your data.
And from the looks of it, this business model works. You can tell based on how many TVs for sale today are smart TVs versus basic monitors. According to a report from IHS Markit, 70% of TVs shipped in 2018 were smart TVs, which makes traditional monitors a shrinking market.
If manufacturers don't have a way to subsidize the cost, they end up selling their product at a loss. So if you've been hesitant to switch to a smart TV, you may not even have a choice in the future. This makes taking control of your TV even more of a priority.
How your TV tracks your activities
Most smart TVs get the information they need about you using something called ACR technology, or "automatic content recognition." These algorithm work at the pixel level — identifying every ad, show or movie that you're watching.
This includes content from streaming devices, broadcast TV and home video media like Blu Ray discs. Even legacy tech like DVDs isn't safe from the watchful gaze of ACR!
Once ACR has identified and matched the content you're watching to its massive database, the information is then compiled and sold to marketing and analytics firms. This lets content creators tailor their advertisements and show recommendations to suit your tastes more appropriately.
Still, it's understandable to be uncomfortable with the idea of tech companies knowing what you're watching, and thankfully, most smart TVs have methods to disable ACR right on the device. We'll show you how you can do it for some of the most popular makes and models on the market.
How to disable ACR and tracking on your smart TV
Every manufacturer organizes its settings options in different ways. These are some of the top TV brands with smart TVs that use ACR and similar technologies to monitor your activity, as well as how you can disable the setting on your own device.
Disable tracking on Vizio TVs
If you're an owner of a Vizio smart TV, you might be entitled to settlement money from a class-action lawsuit. Ironically, this lawsuit was for the very thing you're attempting to disable, and the company had already been fined by the FTC previously for similar violations.
Here's how you can turn off the ACR features to protect your privacy:
On legacy Vizio TV sets that use Vizio Internet Apps (VIA), go to the TV's System and then Reset & Admin, followed by Smart Interactivity. Then, select Off.
On newer Vizio smart TVs equipped with the "SmartCast" system, go to System and then Reset & Admin, followed by Viewing Data. Then, select Off.
Disable tracking on your Samsung TV
Samsung smart TVs don't only tend to use ACR for tracking. Some voice-enabled TVs even use voice recognition services as part of their analytic tools. Thankfully, Samsung gives users the option to disable both features.
On newer Samsung TVs, go to Settings and then select Support. Then, scroll down to Terms & Policies. Here, you'll be able to disable Viewing Information Services (what Samsung calls their ACR technology), Internet-based Advertising (the ad tracking feature) and Voice Recognition Services. Turn each of these settings off.
On older Samsung smart TVs, navigate to the TV's Smart Hub menu and select Settings, then Support. Select Terms & Policy, and then turn off SyncPlus and Marketing. Voice Recognition Services can also be disabled from this menu.
Don't forget that disabling voice recognition will remove your Samsung smart TV's ability to recognize voice commands. Still, once disabled, it won't be able to record you and analyze your voice data the way Alexa or Siri does.
Disable tracking on your LG TV
Many manufacturers call their own version of ACR by a unique trade name — and LG is no exception. For them, the system is called "LivePlus." To disable it on your LG smart TV, go to Settings and open All Settings. Next, scroll down to General, then scroll down to the setting labeled LivePlus and turn it off.
LG smart TVs also let you specifically disable ad tracking. To remove it, open Settings and then All Settings like before. Scroll down to General, then open About This TV. Next, open User Agreements and turn Personalized Advertising off.
Disable tracking on smart TVs powered by Amazon Fire TV
Amazon's Fire TV system is built-in to a number of smart TVs — including sets made by Toshiba and Insignia. Amazon claims that it doesn't use ACR to match content on the TVs it's included with, but it can still collect data about broadcasts you watch and streaming platforms you subscribe to.
To disable this, open your TV's Settings and select Applications. Then, turn off Collect App and Over-the-Air Usage Data.
You can also opt to turn off ad tracking by navigating to Settings, selecting Preferences and scrolling down to Advertising ID. Open this and turn Internet-based Ads off.
Disable tracking on smart TVs powered by Roku TV
Just like Amazon Fire TV, Roku TV also powers a range of smart TVs across different manufacturers. Fortunately, they still allow you to disable ACR and personalized ads.
To disable ACR on your Roku TV-powered smart TV, open Settings and scroll down to Privacy. Then, select Smart TV Experience.
Next, uncheck Use Information for TV Inputs. This will disable ACR.
To turn off ad tracking for your Roku account, open Settings and scroll down to Privacy. In this menu, open Advertising and check "Limit ad tracking."
Is there any escape?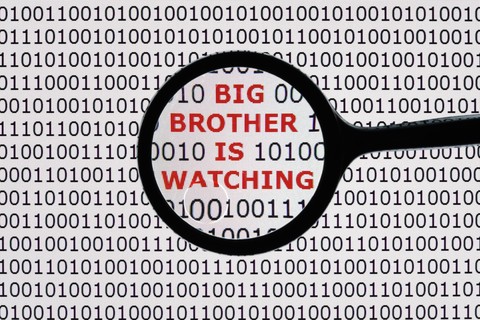 Keep in mind, however, that even if Amazon and Roku powered devices aren't using ACR to match content at the pixel level, they are still monitoring your activity to an extent based on app usage. The same goes for any algorithm-driven entertainment platforms like Netflix or Hulu.
At the very least, though, disabling ACR via your TV removes an additional layer that corporations can use to watch your activities.
For a truly private watching experience, you might want to consider renting a physical disc from a Redbox system, or perhaps even disabling your TV's internet connection. Sure, you'd be without access to your streaming services, but getting a chance to decompress from our ad-infested world is its own reward.
So in the end, Big Brother doesn't have to watch you. All he needs to know are the shows you've been watching. Who would think a techno-dystopia could be so…entertaining?