Just about every connected device you have can be used to spy on you, and this isn't limited to smart speakers and webcams. Many smart TVs come equipped with cameras that you don't even know exist. Tap or click here for tips on stopping your TV from tracking you.
You probably know a few people who prefer texting over calling. It's a convenient and familiar way to stay in touch and exchange information. If you prefer text messages over voice calls, you're not alone!
But those texts should be kept between the people writing them, right? That's not always the case, as there are numerous ways others can intercept your messages. Here's how to know you're being spied on.
iPhone owners should look to their families
Apple iMessage texts can get intercepted by someone close to you using a connected device. There are a couple of ways they can do this.
First, there's message forwarding. You can use this feature to forward messages to another device automatically. The thing is, someone else can do the same. Here's how to check if it's enabled:
Go to Settings > Messages > Text Message Forwarding.
If you don't see Text Message Forwarding, go to Settings > Messages. Turn off iMessage, then turn it back on. Tap Send & Receive > Use Your Apple ID for iMessage.
See any unfamiliar devices? Turn them off.
You can also use a code to see if your calls and texts are being forwarded:
Open the Phone app and tap on the Keypad.
Dial *#21# and hit the green call button.
You should get a screen like this: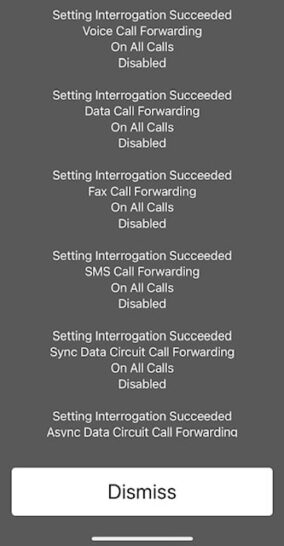 Here you'll see details on the activity of your calls, SMS messages and even faxes. If they are listed as Disabled, you're OK. Tap Dismiss when you're finished looking at the data to go back to the regular screen.
Tap or click here for more details on how to check up on your call forwarding settings.
If you find any issues with your phone settings, someone likely got into your phone, iCloud account or both. Change your passwords and PINs immediately.
Spyware can be used by anyone, not just hackers
Developers advertise their spyware as a way to protect your children from predators and make sure bad actors aren't scamming your loved ones. Sure, it makes sense, but there's no preventing someone with bad intentions from using this software to keep tabs on you.
One popular app, mSpy, boasts the ability to monitor text messages, calls and social media interactions. The app can be installed remotely on an iPhone if you have the proper iCloud credentials. For Android phones, someone will need to install it on the phone directly.
Once that's done, your messages and more can be intercepted. Someone can access your past messages via iCloud and Android backup apps such as Dr. Fone, which can be installed on a PC. Once they're in there, they can see all your past messages.
mSpy certainly isn't the only app of its type out there. The people behind these apps aren't shy about naming their apps. Other apps to watch out for include SpyBubble, XNSPY, Cocospy, Spyera, EyeZy, uMobix and Hoverwatch. This is not an exhaustive list, but for the most part, the clues are in the names themselves.
Change your PINs and passwords if you suspect someone is spying on you. Tap or click here for 10 tips to secure your devices with strong passwords.
Check your phone now
Start by checking your apps. Are there any unfamiliar ones that you don't remember installing? Get rid of them! This is a good practice to perform regularly.
Delete apps on your iPhone
Touch and hold the app icon on your iPhone.
Tap Remove App > Delete App and then tap Delete.
Delete apps on your Android phone
Open the Google Play Store app.
At the top right, tap the Profile icon.
Tap Manage apps & devices > Manage.
Tap the name of the app you want to delete.
Tap Uninstall.
There are signs to know if your phone is infected with spyware, malware or viruses:
Spyware can eat up a lot of resources, causing your phone to heat up.
Is your phone battery draining faster than usual? It may be infected with spyware.
Spyware constantly sends data from your phone to another device, causing significant spikes in data usage.
Spyware can slow down your connection speed by redirecting or forwarding your messages elsewhere.
Look out for strange incidents like your phone shutting down on its own or constantly losing connection during calls.
Besides deleting those nasty spy apps, you'll want to keep your phone safe from future infection, domestic or otherwise. A good antivirus solution is vital to secure your devices. We recommend our sponsor, TotalAV.
TotalAV's industry-leading security suite is easy to use and offers the best protection for all your devices, including your phone, tablet and computer.
Not only do you get continuous protection from the latest threats, but its AI-driven Web Shield browser extension blocks dangerous websites automatically, and its Junk Cleaner can help you quickly clear out your old files.
Right now, get an annual plan of TotalAV Internet Security for only $19 at ProtectWithKim.com. That's over 85% off the regular price!
Keep reading: New iPhone and Android security features to turn on