You may have heard of something called a Virtual Private Network or VPN, for short, as a way to boost your online security, especially when connecting to public Wi-Fi networks. It is also a good way to hide your internet tracks from would-be snoops.
Simply put, a VPN service lets you create an encrypted connection with one of its servers, and you use that server to browse the internet. The connection is encrypted through the server, so the VPN can't see your traffic either. OK, it's a bit more complicated than that behind the scenes, but that's the result.
Think of it as a middleman that provides a tunnel between you and the websites you're visiting. With a VPN, your IP address can be concealed from prying eyes, even from your ISP, so your browsing activity can't be readily tracked to you.
A VPN is extremely useful when connecting to public Wi-Fi spots since it prevents snoops from intercepting your web traffic. Using one can also cloak your activity from advertisers, hackers and even spying from government agencies or your ISP.
Although using a VPN is a good way to increase your security, there are trade-offs. First, since your connection is passing through the VPN service and making more stops, your browsing experience may slow down.
Second, depending on the country your VPN service is routing you to, some activities that are blacked out in certain regions may be inaccessible to you.
Third, using a VPN doesn't guarantee that your identity is 100 percent secure. Most VPN services claim that their connections are encrypted and they don't keep activity logs but it's still prudent to stay careful with your online activities even when going through a VPN. Make sure you're still practicing safe browsing habits that boost your safety online.
Click here to learn more about VPN basics.
Ready? Here are 2017's top free VPN services you can try right now:
Windscribe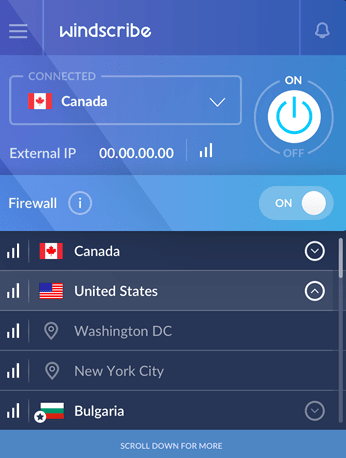 Windscribe VPN is another service you can try. It claims to be "more privacy-obsessed" than its competitors and the company maintains that it deletes all your tracks three minutes after your session closes.
Their free service also has a high monthly cap of 10GB and a choice of eight server locations. It even has an ad-blocker and firewall built-in.
To start using Windscribe, you are required to sign up for an account by providing a username, password, and an optional email (required for the 10GB allotment). To get even more power-user features, you can upgrade to Windscribe's unlimited plan and get unlimited data and connections from over 45 locations.
Windscribe is available for Mac, Windows, iPhone or as a Chrome extension (unfortunately, no Android app yet).
TunnelBear
TunnelBear provides fast, simple, lightweight and easy-to-use VPN software and add-ons.
Its free version allows for only 500MB of data a month but you can upgrade and pay for its unlimited "Giant" premium plan. For safety, TunnelBear has a "Vigilant Mode" that blocks all traffic until the VPN service is reconnected, vital when moving from network to network. Users can also configure it to start automatically when a computer boots up.
To use TunnelBear's service, keep in mind that users are required to create a free TunnelBear account with a valid email address first.
TunnelBear is available for Windows, Mac, iOS, Android and as a browser add-on/extension for Chrome and Opera.
Speedify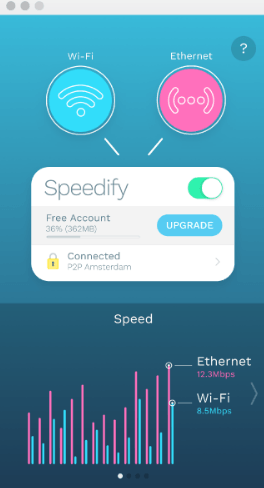 Speedify prides itself on its speed, even while on an encrypted VPN connection. It achieves this by combining all your available internet connections while still encrypting your connection with the latest technology available.
Aside from its speed, it also claims it has a strict "no log" policy, meaning they don't save any persistent user data on their servers.
Speedify's free version gives away 1GB worth of data each month (4GB worth of data for the first month of new users) but you can upgrade to its unlimited data plans.
It is available for Windows, Mac, Android and iOS.
More from Komando.com
How to delete yourself from the internet