Google now processes over 1.2 trillion searches per year, equating to over 3.5 billion searches per day, and 40,000 searches per second! There's no denying it, Google is the go-to search engine for the majority of web denizens.
We use it so much that "Google" has become a verb synonymous with searches – "Just Google it" is now part of our modern lexicon. It is truly an amazing resource for your research, or when you're just looking for something to pass the time away.
However, if you're looking for something specific, like what streaming movie to watch on a late night, a funny GIF that captures a moment, or maybe a search engine that's safer for kids, there are other resources that are up to the task.
For those special searches, here are seven search sites you can use other than Google.
1. Find streaming movies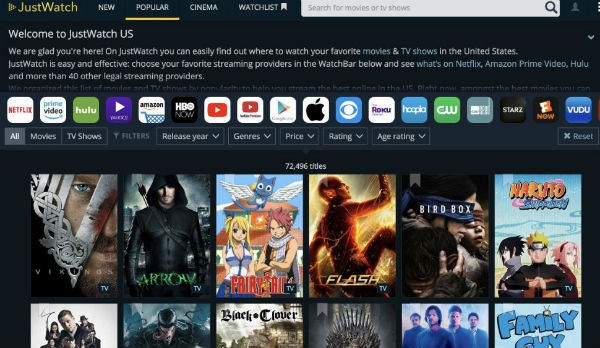 With all the video streaming options available nowadays, it can be terribly difficult to keep track of what's on and what's not. And with all the content scattered among different services, searching for a particular movie or TV can be challenging.
Thankfully, there's a service that will do the hard work for you. It's called JustWatch.
JustWatch crawls through all the streaming sites including Netflix, Amazon Prime Video, Hulu, HBO, YouTube, iTunes, Roku and Vudu, and it will show where a particular movie is available to stream (free or otherwise).
You can even fine-tune and filter the results any which way you like – by year, rating, price, genre, quality and age rating. This is extra useful if you're wondering if a movie or TV show is something you can get for free on other streaming sites.
For example, if you search the cult favorite "UHF," JustWatch will show you that it's available on subscription services Amazon Prime Video and Hoopla, free to stream (with ads) on Tubi and available to rent or buy everywhere else.
Here's another cool feature. Looking for something new to watch? JustWatch's Timeline can show you what's new on any particular service at any given time.
JustWatch isn't limited to home streaming services either. It can also help you find all the latest theater movies, and give you summaries, show trailers and even let you buy tickets.
And even better, if you missed out on seeing that summer blockbuster in the theater, you can find out where to stream, rent or buy it.
Click here to get started with JustWatch.
2. Kid-safe search engine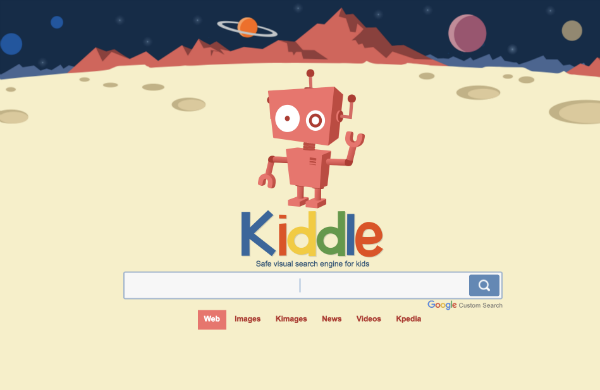 Kiddle is a kid-safe search engine that's powered by Google Safe Search, although it's not affiliated with Google. Kiddle promises a safe web environment for children. It even includes image and video search, all vetted by Google's team of editors.
Kiddle even includes a 700,000 article encyclopedia that has searchable topics ranging from the sciences to the arts.
Worried about your kid's privacy? Well, Kiddle claims that it doesn't collect personally identifiable information, either, and its logs are deleted every 24 hours.
Do you want to give your kids the best of the web without compromising their safety? Bookmark Kiddle.co now.
3. Get fun animated GIFs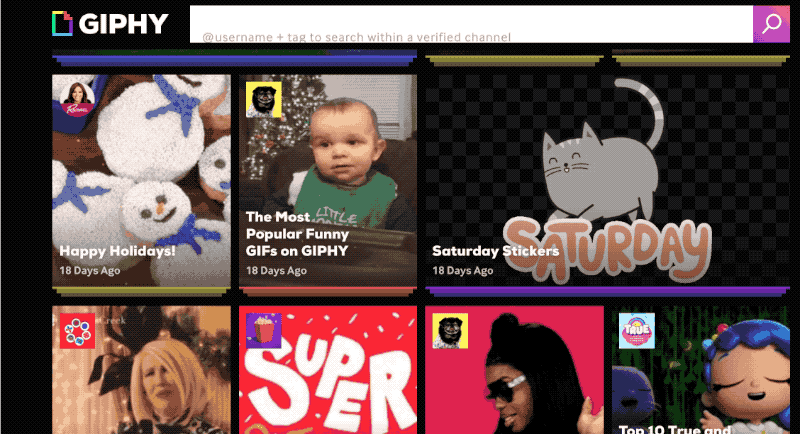 Sometimes, nothing sums up your thoughts more than the perfect GIF. What are GIFs? Well, they're the often funny, often cute, short animated images that loop continuously. You've probably seen them on web messaging and social media services or sent to you via text messaging.
If you want to get in on the fun and start sharing clever and hilarious GIFs, Giphy is the place to go.
The site is packed with GIFs dealing with pretty much everything imaginable. It's super easy to use, too. Simply enter a topic idea in the search bar on the site and you'll see tons of results to browse through.
Looking for a happy birthday GIF? A GIF that conveys gratitude, frustration, excitement? Giphy has them all!
They're easy to share too. Simply click on the GIF that you want, click on the "Copy link" button on the right pane, choose the format (short link and the GIF link works best for sharing) and you can copy and paste the link to pretty much anywhere.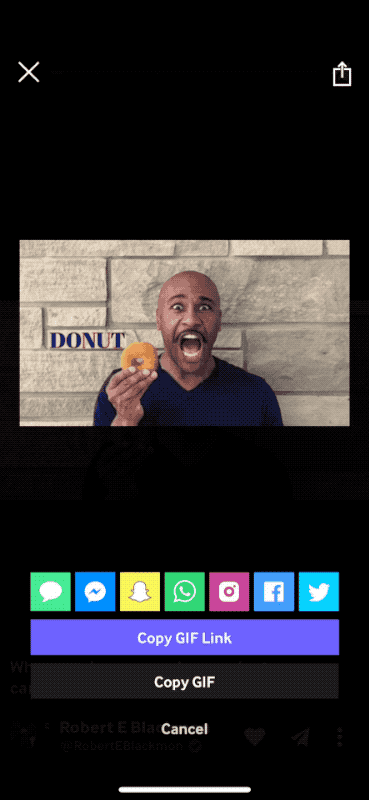 Even better, via Giphy's iOS or Android app, you can instantly share any GIF via text messaging, Facebook, Messenger, Instagram, Snapchat, or Twitter.
Click here to visit Giphy and start sharing those perfect GIFs!
4. Search space images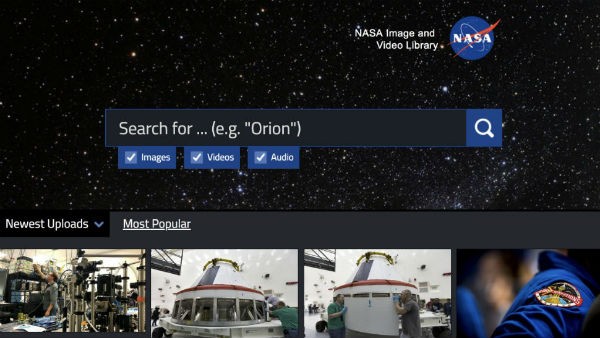 From ancient to modern man, we have always been enthralled by the heavens. It's almost instinctive that we always reach out and aim for the stars.
This fascination led the U.S. government to create NASA in the 1950s, and to this day, the agency continues to feed our hunger for the final frontier. But other than visiting outer space itself, what better way to experience the great unknown but with pictures and/or videos?
The NASA Image Library has pictures across 60 collections combined into one searchable database. This is convenient since you don't have to hop from page to page just to zero in on what you're looking for.
Searching for pictures of our solar system, far-off galaxies or the moon landings? Browse through NASA images and you're bound to find what you're looking for.
You can even download the images in assorted resolutions, share them on social media sites or embed the images on your own website. Better yet, they're all free!
Click here to explore space with the NASA image library.
5. A place for coders and developers
Are you a coder or a software developer? Then this site is for you. It's called Libraries.io and it lists thousands and thousands of pieces of open source software, packages and tools you can use for your projects.
Not only that, with a Libraries.io account, the service will alert you with software update, incompatibility and dependency notifications.
This site has a wide selection of package managers including WordPress, PyPi, Rubygems, Atom and Platform IO. If it's open source, Libraries.io has it!
Click here to visit Libraries.io, the go-to site for open source software.
6. Make money using a search site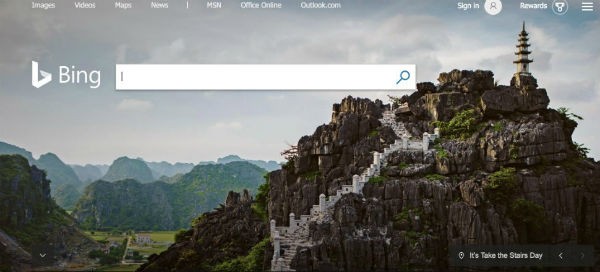 You're most likely familiar with Microsoft's search engine called Bing. Microsoft tries its best to push Bing, but it simply doesn't have the same pull as Google.
To widen its reach and user base, Microsoft has an idea. They will pay and reward you if you use Bing for your web searches.
How does it work? It works with something called Microsoft Rewards. The Microsoft Rewards program pays users in the form of Amazon, Starbucks, Burger King, Xbox, Microsoft Store or other types of gift cards (or sweepstakes entries).
After signing up for a Microsoft account, sign into Bing using the account and begin searching to earn reward points.
The system then tracks your points in the upper-right part of the screen, so you can keep track of your earnings while you do what you normally do anyway: search with Bing.
7. Use a search site that does not track you like Google
DuckDuckGo has been around for more than 10 years, and it has a small but loyal user base. In 2017, DuckDuckGo reported 20 million searches a day. To give you an idea of how that fits into the world of search, Google reports an average of 3.5 billion searches a day. Last year, it released a mobile app and browser extension.
It doesn't track you the way Google does.
It doesn't allow targeted advertising.
Search results are unbiased and not based on your search history.
It does deliver advertisements that are related to your keywords, but they are fewer than Google's.
We did side-by-side search tests with DuckDuckGo and Google, and we found very similar quality search results in both browsers, and we liked the advertisement-free simplicity of DDG. In fact, it reminded us of the old days of Google.